(Public) Organic - Hair
With the addition of this mod into your game, your Sim will experience a realistic aspect of maintaining growing hair. The goal here is to create a hair progression experience that requires the Sim to clean, cut, color, nourish and style their hair, making them more desirable or appealing to other Sims. This also should influence their emotions/moods in a variety of ways.

Mod Guide:
Summary of Changes
We added:
At-Home Styling is now available: Are you tired of waiting until the Salon opens, or your Sim has a big event and needs their hair done asap? You can now get them sorted with the help of another nearby.
Additional Mod Settings: Tired of seeing NPCs wearing that one bad hairstyle? What about creating a historical save and only wanting to see styles from that time? Well, you can now blacklist hairstyles and disable a style change!
Improved Bad Haircuts: Clown hair is quite comical after getting a bad haircut but maybe not super realistic (what can I say, I like to chuckle ever so often). Instead, the experience will result in a hat to cover their shame. But fear not, an experienced at-home Stylist or Salon visit will get them straight.
Improved Shedding: It is what it is. You, your mama, your papa, your siblings, and everyone else that has hair sheds. But it doesn't have to be such a chore to pick up in the Sims. You can now vacuum those annoying piles, and you should see a decrease in shedding with Sims that have the Fast Hair Growth trait.
Updated Hair Progression UI: Can't remember what styles you put in a Custom Progression you are considering? No worries. All Styles will preview as they should. Not to mention badly tagged Maxis Match and Alpha hair should be handled better in Progressions as well as the Hair Dye screens.
So many improvements were added to this version, and because of that, you can get the full Dev version of changes made here: https://www.simrealist.com/organic-changelogs.
NOTE: Toddlers to Teens do not have Custom Hair Progressions due to the potential for stretching between game patch updates.
Custom Hair Progression
Organic 0.2 brings in custom hair progression capabilities. With version 0.3, you can also Blacklist certain styles from randomly showing up in your Sim's World.
To customize or load a custom hair progression, you can access this feature with the Stylize Hair option. To uninstall or stop a Custom Progression, go to this same menu and choose "Unequip Hair Progression."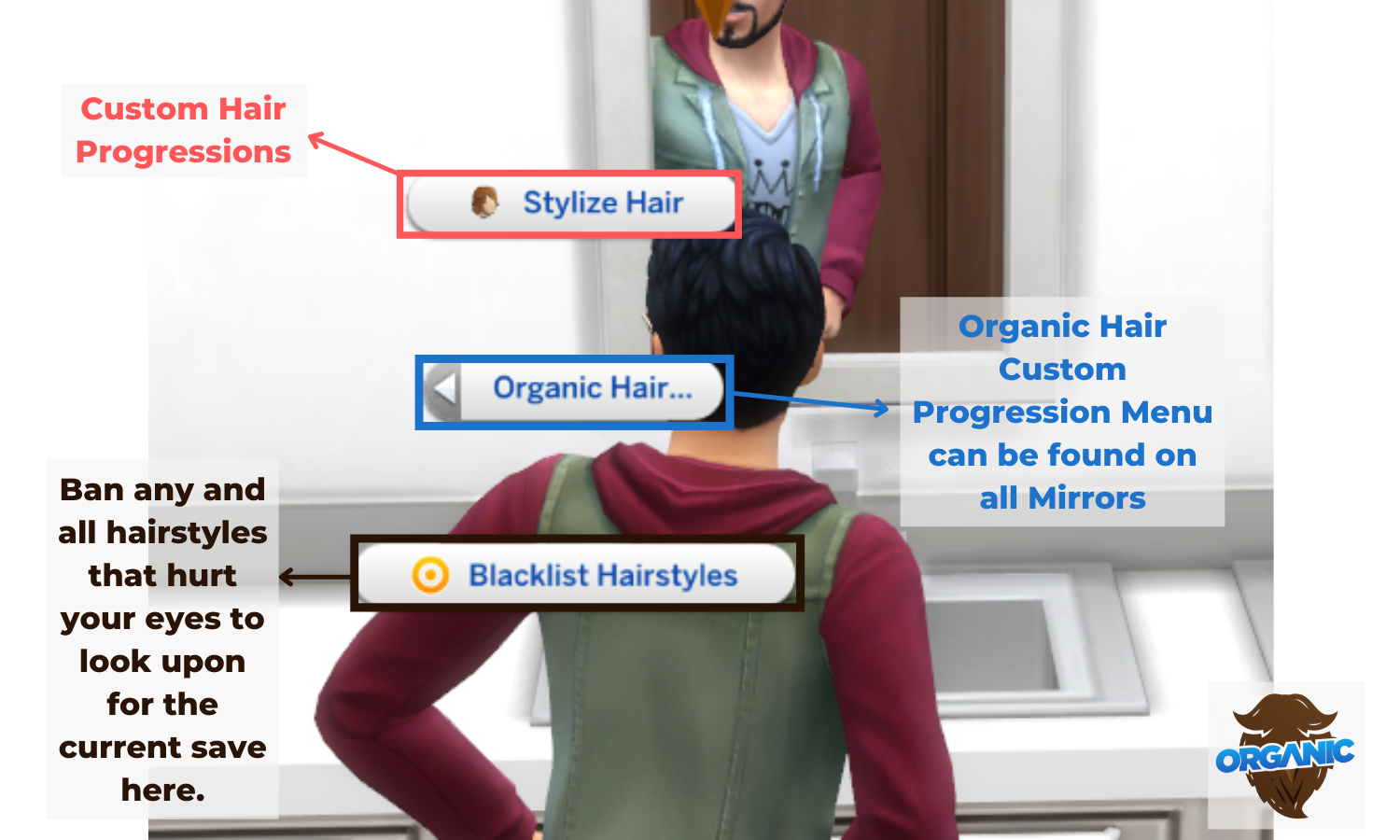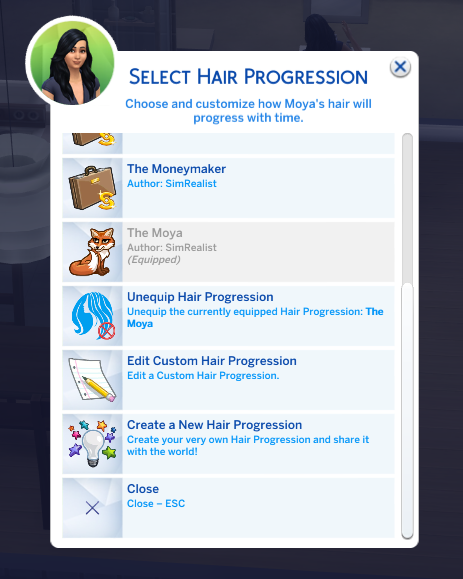 To create a Hair Progression, choose "Create a New Hair Progression" within this UI. This will then open up a new screen to set up everything down to your available Quirk-Buff System. You will need to:
Name your Progression
Put your name down as the Author so you can share it with others and they will know it was made by you
Choose your Progression Icon that will show in the Progression listings.
And then start picking out the hairstyles you want to see in each Progression State (Short, Medium, and Long). Side note: Be sure you choose the hair with the outfit your Sim is wearing currently. If you switch to a different outfit, it will not save correctly for that Hair State.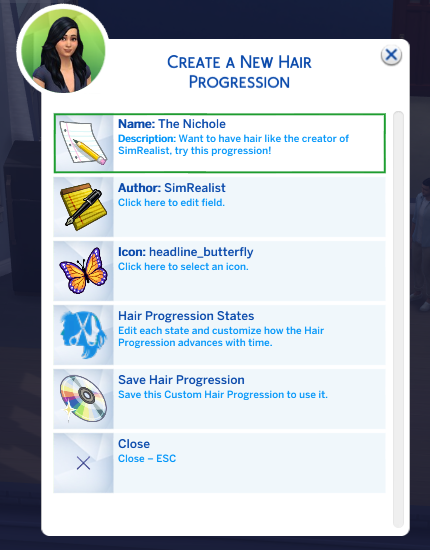 Each Hair State will have the required Hairstyle Designation with the optional Quirk Again, you're not required to have Quirks. They just add a little depth to the Progression when enabled.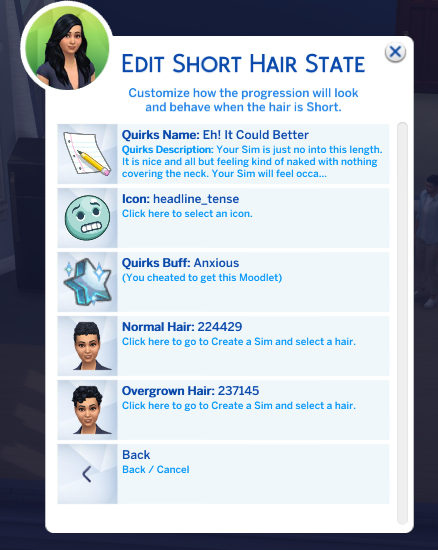 Once completed with each Hair State, Save your Hair Progression with the second to last option in the Creation UI. This will produce a custom file for this mod to "see" whenever it is in your mod folder or in someone else's mod folder. It will look like the below. To share your progression, send a copy of the OHP file. That is all they need for the Progression to show as an option in the first menu.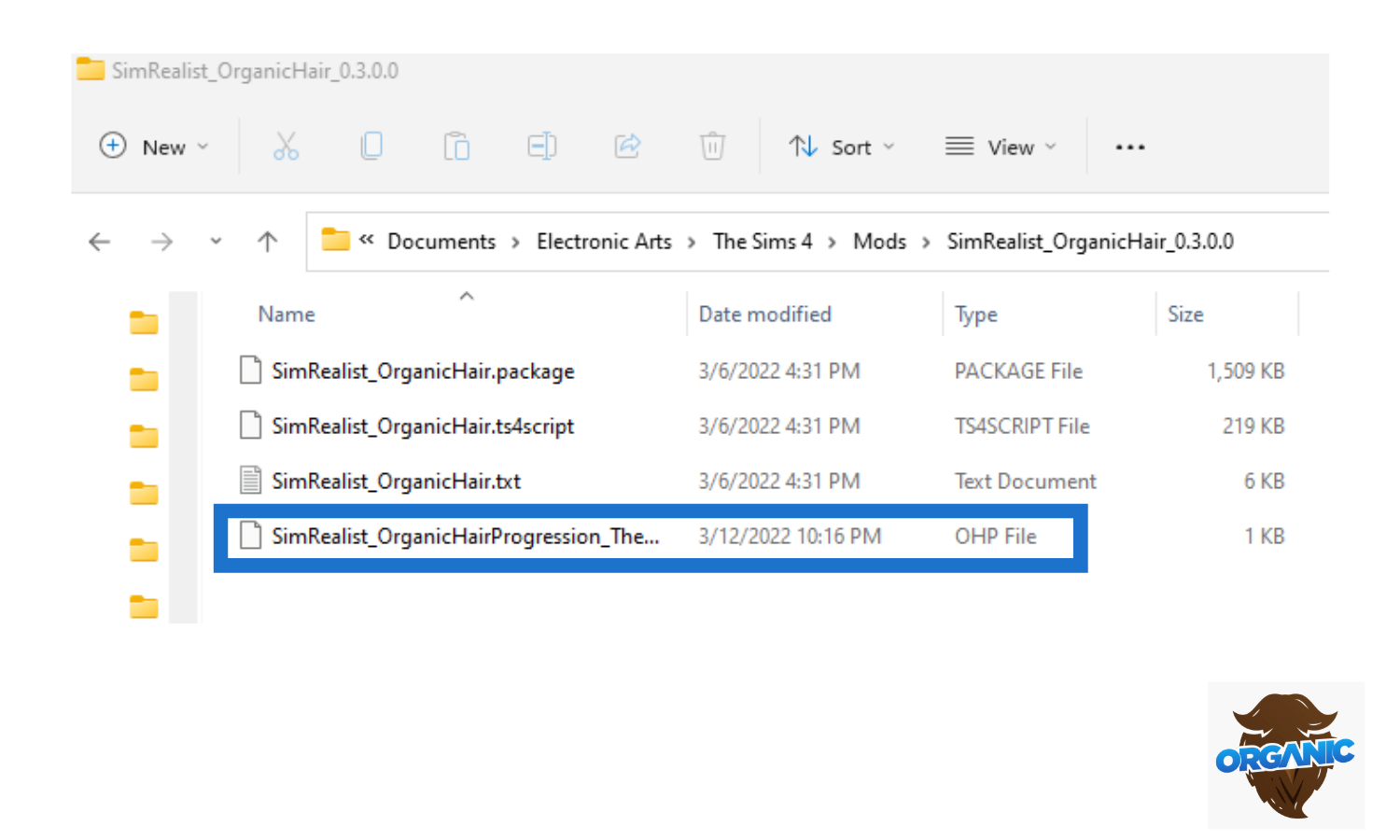 ***VERSION 0.3.0 SHOULD NOW WORK WITH ALL MAXIS MATCH AND ALPHA HAIR IN BOTH RANDOM AND CUSTOM HAIR PROGRESSIONS!!**
Quirk System
With the 0.2 version update, enhanced Custom Progressions can have Quirks. This System should influence your Sim's emotions, ambitions, and more. The Game's buff system is really your only limitation in this regard.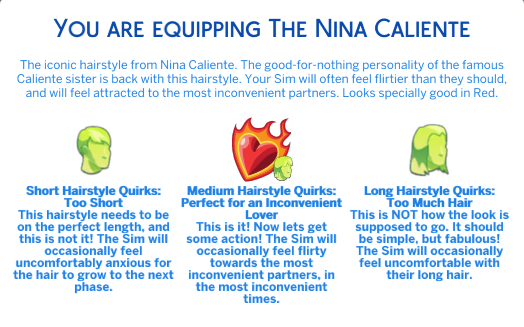 Blacklist Hairstyles
The latest and greatest version of Organic has a feature that is pretty self-explanatory and is something that I'm sure will see some heavy use. You can basically ban all Sims in the current save from using any of the Styles picked in this menu. It may take some time if you have a list of styles since you have to pull each one from CAS but in the long run, it is totally worth it. So worth it, in fact, I would love to hear if you guys would like the option to export these settings to use in other saves as you would the Custom Hair Progressions.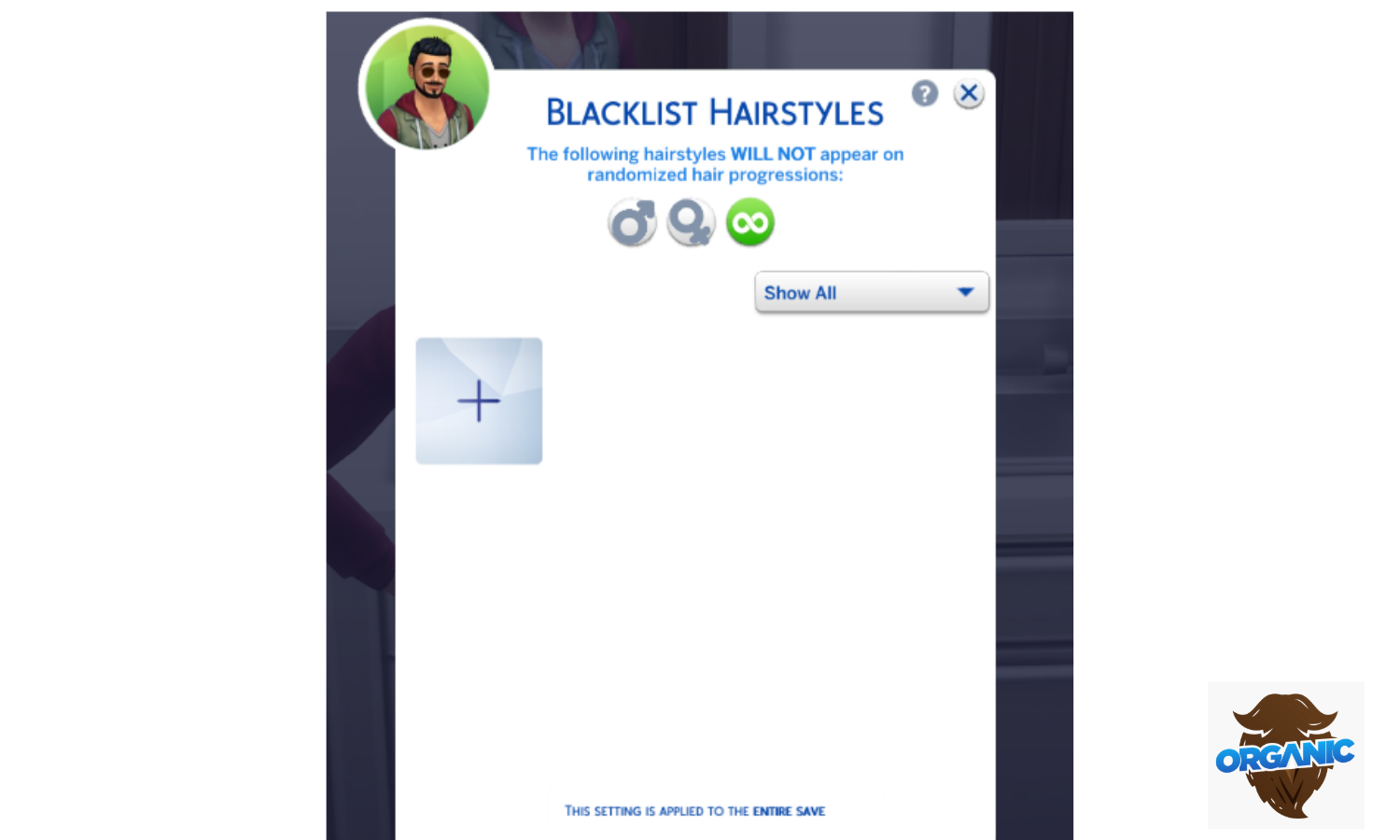 Updated Hair Dying Process
With version 0.2, we added the ability to choose the hair color you wanted your Sim to come back with when they go for a Dye Treatment. There were some issues with that on all Alpha hair, some Maxis Match, and very few EA hair. This is now resolved and with a new look as well.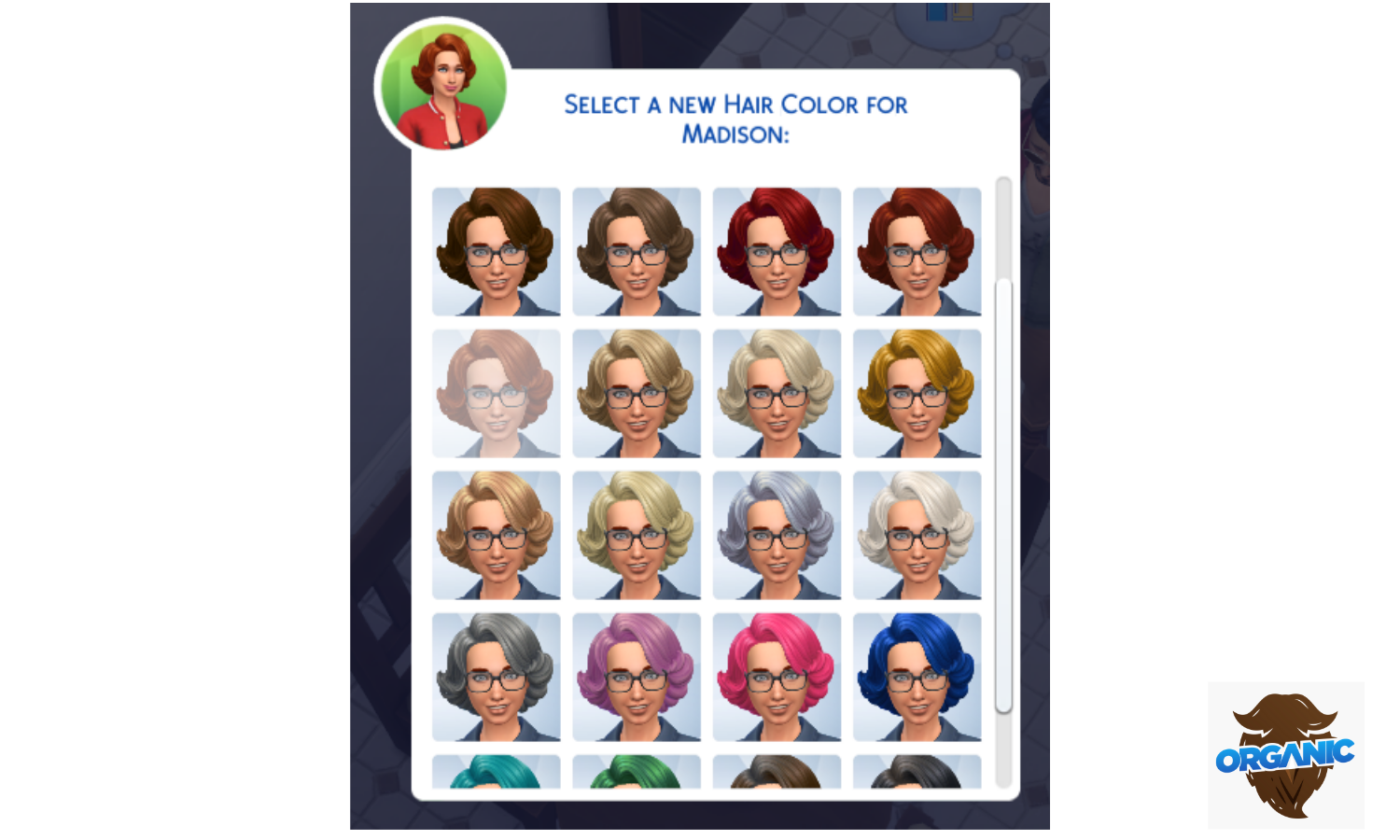 Updated Haircut Process
In addition to the ability to choose the color you want, you also have the ability to choose the length you want to see your Sim come back with. Just remember the limitations of going from a long length to a short length while not using a Custom Progression will result in a random style. Going from a Long to Medium or Medium to Short will not result in a random style if cc hair is correctly tagged.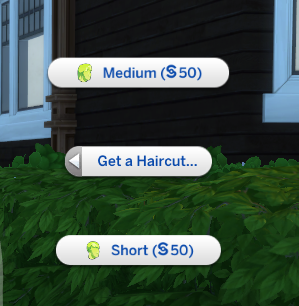 At-Home Styling

Version 0.3 allows your Sim to get their hair done by someone in their household instead of going off the lot! This is just the first step toward going to the Salon in person. We figured you would be more inclined to use this than trying to hunt down chatty NPCs. To get started, click any chair or bar stool and you will get the below options.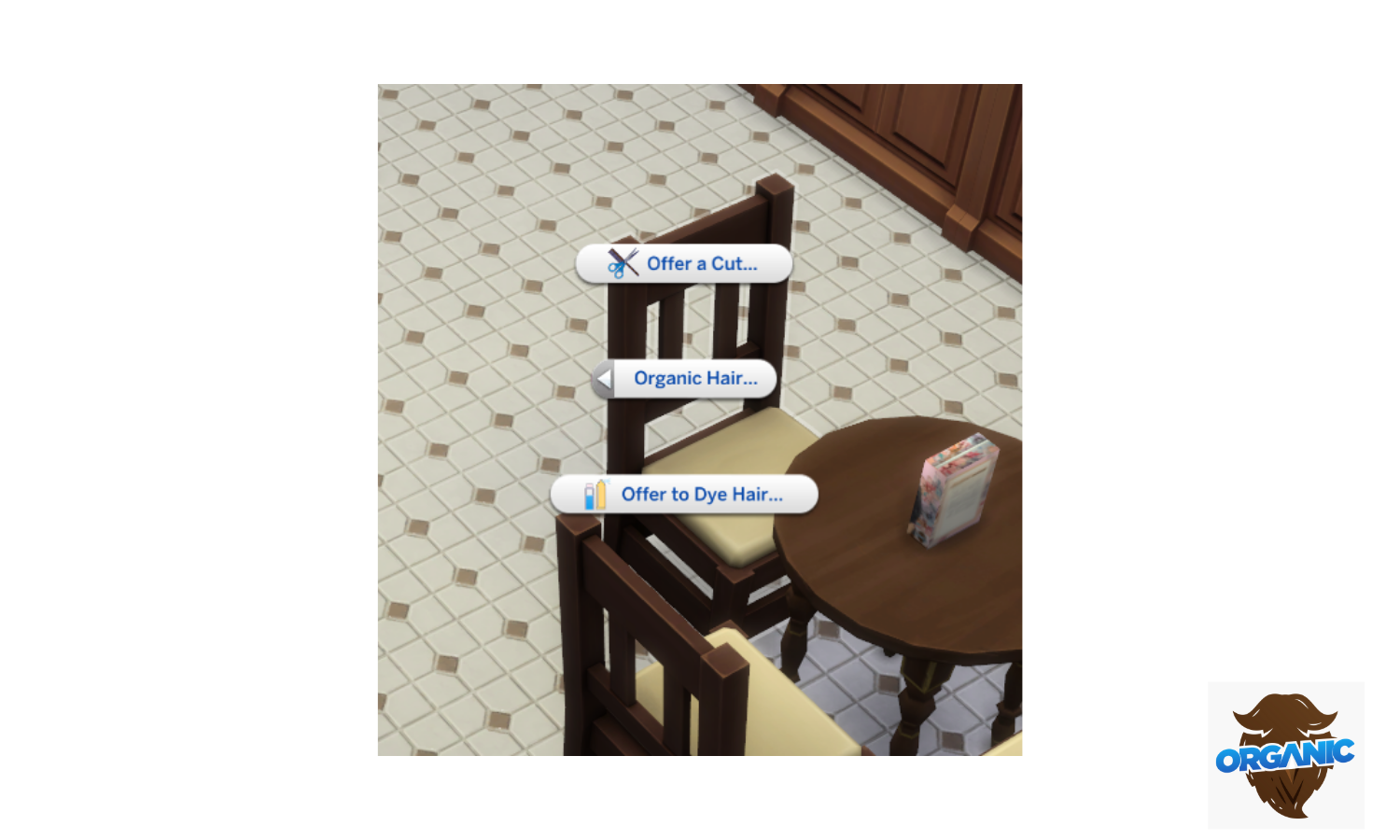 OFFER A CUT
Will give you the same Cut options you would see when sending your Sim to the Salon. The only thing is you may want to be sure your Sim is skilled enough to do the haircut or the receiver may not like their results!
OFFER TO DYE HAIR
This option will allow you to dye another Sim's hair. Be sure you have a Glow Hair Kit that can be found in BuildBuy as Organic - Hair Glow Kit (Bathroom Accents) on a surface before attempting this option.
Updated Affects
BAD HAIRCUTS
Tired of seeing Clown Hair when your Sim gets a bad haircut? No worries! Your Sim will now just wear a hat to cover their embarrassment. If the bad haircut was done at home, you can always send them to the Salon to get a corrective style to quickly clear out their embarrassment or get a more experienced styler at home to do it.
SHEDDING
Too many hair piles popping up if your Sim has the Fast Hair Growth Trait? We resolved that by bringing down the amount that sheds and allowing you to vacuum up the piles. Especially since you're going to see a lot of those insufferable, disgusting piles of hair laying about after a haircut. 😂
Organic Settings
Within the debug Sim pie menu (shift+click Sim), you now have the option to set ALL Sims', except for your active household, to have No Hair Growth, Normal Hair Growth, and Fast Hair Growth. Growth on NPCs, if enabled, only occurs when they are around your active Sims. That means, even if you choose the Fast Hair Growth their hair may not show any changes if your Sims hasn't been around them in a while. Automatically, the mod defaults to a Disabled Hair Growth setting.
Another setting that was added with version 0.3.0 is the ability to turn off style changes entirely and just allow for Organic maintenance buffs with the Disable Style Change.
Do I need to activate this mod for it to work?
No, as soon as you load up a save this hair progression takes place. No action is required.
Does this mod affect the hair of non-active Households?
Your non-active Households hair will remain maintained without your intervention. You will have to play the Household in order for their hair to grow with this mod. This is to avoid having entire neighborhoods with people with long, hair.
I have a suggestion on making this mod even more, where do I leave that suggestion?
Please post your suggestions while this mod is in Development, in our Discord channel - #patrons-forum (https://discord.gg/x6bFyNT)
What other features are you looking to add to the addition?
We have a few additions we plan on looking into, which are listed below. However, if there's great interest in this and Patron requests for certain features to be added we will look into adding more in the future.
Hair Washing Process
Hair Treatments and Oils
and possibly more
Compatible With:
Patch 09/05/2023 PC: 1.100.147.1030 / Mac: 1.100.144.1230
Conflicts/Issues:
Credits:
STRINGS INCLUDED:
Simplified Chinese
Traditional Chinese
Czech
Dutch
French
German
Italian
Korean
Polish
Portuguese (BR)

Portuguese (PT)
Russian
Spanish
TOOLS USED:
Zerbu: Mod Constructor (V4)
Mod Support:
If you are experiencing this issue with this mod, please head over to our Discord server channel: #simrealist-mod-support (https://discord.gg/W8Erfqu).
| | |
| --- | --- |
| Updated | 23 days ago |
| Status | Released |
| Category | Game mod |
| Release date | Jun 25, 2022 |
| Author | SimRealist |
| Genre | Simulation |
| Tags | beauty, personal-care, simrealist, Sims 4 |
| Asset license | Creative Commons Attribution_NonCommercial_NoDerivatives v4.0 International |
| Average session | A few seconds |
| Languages | Czech, German, English, Spanish; Castilian, Italian, Polish, Russian, Chinese (Traditional) |
| Links | Homepage, Patreon, Support, Twitter, Blog |
Download
Click download now to get access to the following files:
SimRealist_-_OrganicHair_0.3.3.3.zip
1 MB
SimRealist_-_OrganicHair_0.3.3.3 (Traditional Chinese-Portuguese (PT) Version).z
1 MB