(Public) Organic - Hair
With the addition of this mod into your game, your Sim will experience a realistic aspect of maintaining growing hair. The goal here is to create a hair progression experience that requires the Sim to clean, cut, color, nourish and style their hair making them more desirable or appealing to other Sims. This also should influence their emotions/moods in a variety of ways.

Mod Guide:
Summary of Changes
We added:
Added the"Stylize Hair" option in the mirror to access the Custom Hair Progression menu.
Added a loading screen when loading the hair progression.
Added 3 new hair progressions (more progressions coming soon).
Added the ability to choose the hair color when dying hair.
Added Hair Quirks system.
Sims can now choose the length of the hair upon getting a haircut.
NPC Sims are not affected by hair growth by default.
Added customizable hair growth speed options to all Sims under cheats, activate testingcheats and Shift + Click on the Sim.
Fixed a game-breaking bug where hair progressions would cause body distortions and genetic anomalies on affected Sims.
Fixed a bug that would cause the active Sim's portrait to blink every few seconds.
Adjusted Nina's Salon & Spa opening hours to Mo-Sa 09:00-21:00.
Fixed a whole lot of other bugs regarding hair progressions
NOTE: Toddlers to Children do not have Custom Hair Progressions yet!
Custom Hair Progression
Organic 0.2 brings in custom hair progression capabilities. You can access this feature with the Stylize Hair option on mirrors. To uninstall or stop a Custom Progression, go to this same menu and choose "Unequip Hair Progression."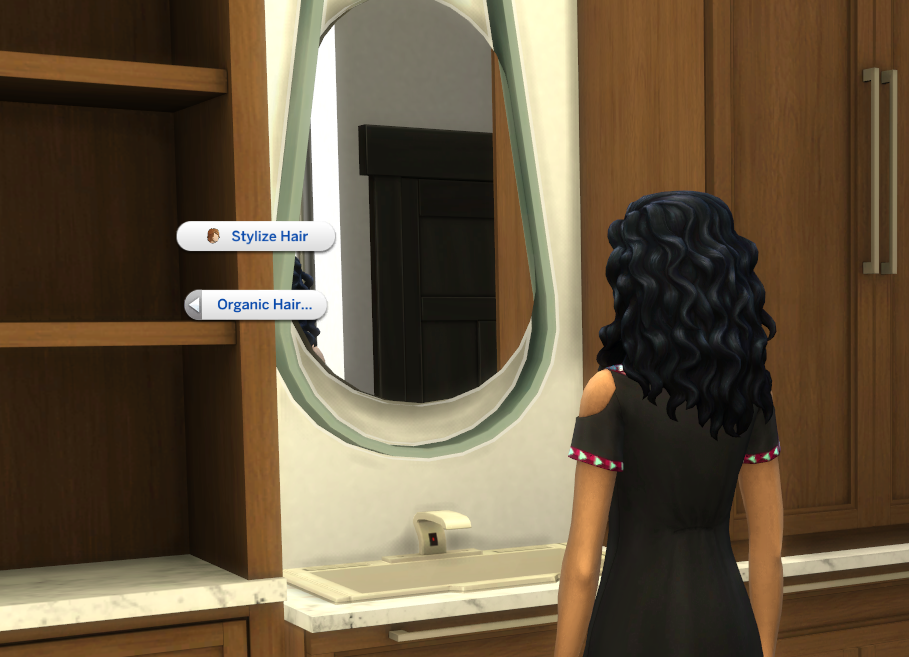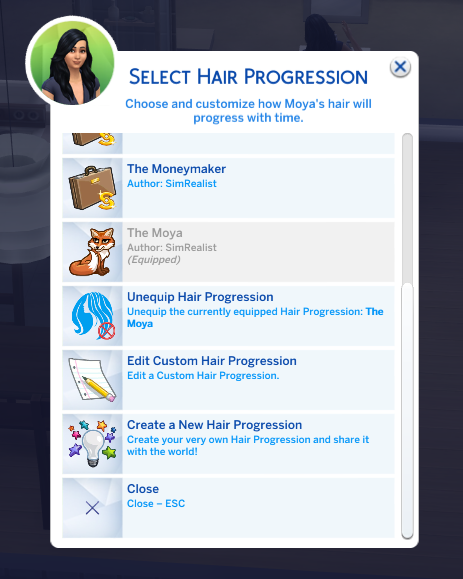 To create a Hair Progression, choose "Create a New Hair Progression" within this UI. This will then open up a new screen to set up everything down to your available Quirk-Buff System. You will need to:
Name your Progression
Put your name down as the Author so you can share with others and they will know it was made by you
Choose your Progression Icon that will show in the Progression listings.
And then start picking out the hairstyles you want to see in each Progression State (Short, Medium, and Long). Side note: Be sure you choose the hair with the outfit your Sim is wearing currently. If you switch to a different outfit, it will not save correctly for that Hair State.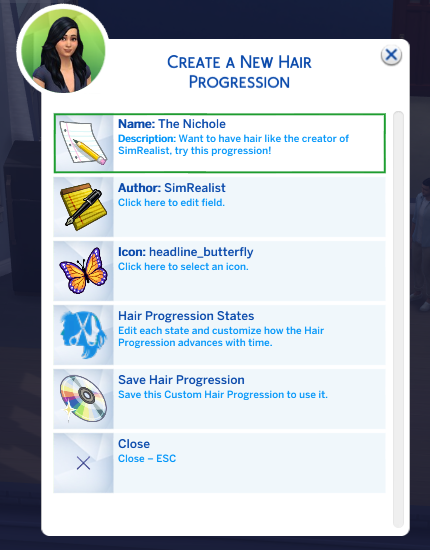 Each Hair State will have the required Hairstyle Designation with the optional Quirk Again, you're not required to have Quirks. They just add a little depth to the Progression when enabled.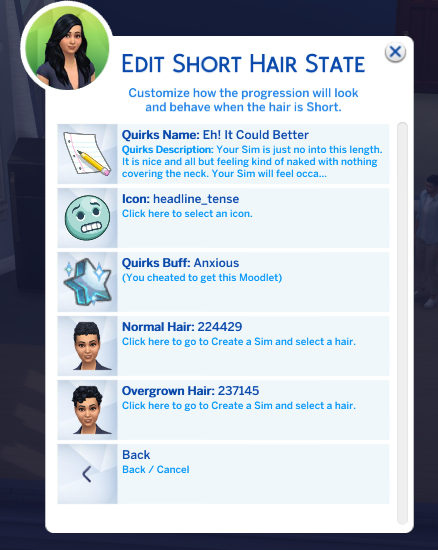 Once completed with each Hair State, Save your Hair Progression with the second to last option in the Creation UI. This will produce a custom file for this mod to "see" whenever it is in your mod folder or in someone else's mod folder. It will look like the below. To share your progression, send a copy of the OHP file. That is all they need for the Progression to show as an option in the first menu.

Quirk System
With this update, enhanced Custom Progressions can have Quirks. This System should influence your Sim's emotions, ambitions, and more. The Game's buff system is really your only limitation in this regard.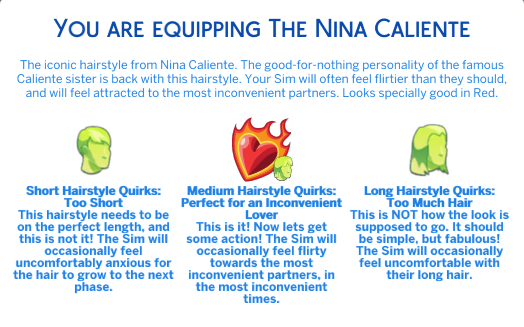 Updated Hair Dying Process
You are now able to choose the hair color you want your Sim to come back with when they go for a Dye Treatment. When you send your Sim for either a Temporary or Permanent Dye, toward the end of the service you will have the option to choose the color you want.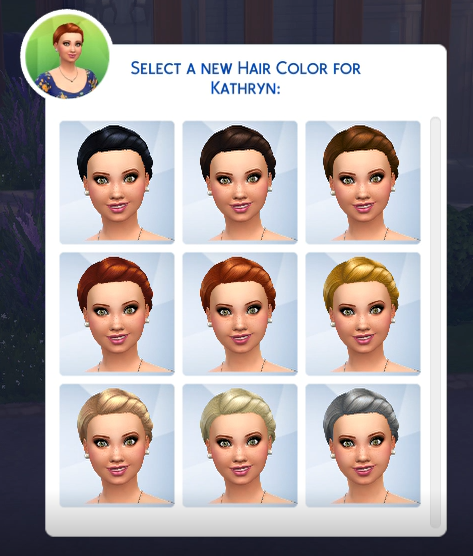 Updated Haircut Process
In addition to the ability to choose the color you want, you also have the ability to choose the length you want to see you Sim to come back with. Just remember the limitations of going from a long length to a short length while not using a Custom Progression will result in a random style. Going from a Long to Medium or Medium to Short will not result in a random style if cc hair is correctly tagged.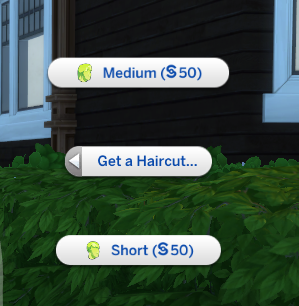 Updated Settings
Within the debug Sim pie menu (shift+click Sim), you now have the option to set the selected Sims to have No Hair Growth, Normal Hair Growth, and Fast Hair Growth. Growth on NPCs, if enabled, only occur when they are around your active Sims. That means, even if you choose the Fast Hair Growth their hair may not show any changes if your Sims hasn't been around them in awhile. Automatically, the mod defaults to a Disabled Hair Growth setting for NPCs.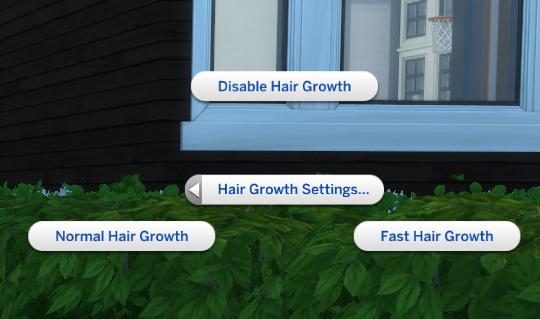 Do I need to activate this mod for it to work?
No, as soon as you load up a save this hair progression takes place. No action required.
Does this mod affect the hair of non-active Households?
Your non-active Households' hair will remain maintained without your intervention. You will have to play the Household in order for their hair to grow with this mod. This is to avoid having entire neighborhoods with people with long, hair.
I have a suggestion on making this mod even more, where do I leave that suggestion?
Please post your suggestions while this mod is in Development, in our Discord channel - #organic (https://discord.gg/W8Erfqu)
What other features are you looking to add to the addition?
We have a few additions we plan on looking into, which are listed below. However, if there's great interest in this and Patron requests for certain features to be added we will look into adding more in the future.
Fine-tune the Touch-Up mirror interaction
Hair Washing Process
Hair Treatments and Oils
and possibly more
Compatible With:
Patch 01/25/2022 PC: 1.83.24.1030 / Mac: 1.83.24.1230
Conflicts/Issues/Notable Items Observed:
BAD HAIRCUTS CAN HAPPEN! Your Sim could come back with clown hair that will make them feel overly embarrassed about when they get home. I mean, who wouldn't! It should go back after their hair has grown out, and they get a haircut.

Your Sim may switch to a shorter-looking style in Overgrown status because the mod randomly chooses the hairstyle. It can't "see" that it is shorter than the previous style. As long as the hair length tag is the same, the mod is doing what it should. If it is a custom progression, the mod will shorten based on what was set for that progression.

When your Sim goes to get a haircut, it looks like they are still home. We know of this issue and will try to take another stab at resolving that soon. When we tried to resolve it with this update, it caused some glitches to the Sim's look...and we don't want that ;-) However, going to get your Sim's hair dyed, will appropriately show them not at home.

CC Hair that is incorrectly tagged in length and color may not run through hair services and growth progressions properly.
Credits:
STRINGS INCLUDED:
Chinese - Simplified
Chinese - Traditional
Czech
Danish
Dutch
French
German
Italian
Korean
Polish
Portuguese (PT)
Russian
Spanish
TOOLS USED:
Zerbu: Mod Constructor (V4)
Mod Support:
If you are experiencing this issue with this mod, please head over to our Discord server channel: #simrealist-mod-support (https://discord.gg/W8Erfqu).
| | |
| --- | --- |
| Updated | 2 days ago |
| Status | Released |
| Category | Game mod |
| Release date | Jul 04, 2020 |
| Author | SimRealist |
| Genre | Simulation |
| Tags | beauty, personal-care, simrealist, sims-4-mods |
| Asset license | Creative Commons Attribution_NonCommercial_NoDerivatives v4.0 International |
| Average session | A few seconds |
| Languages | Czech, Danish, German, English, Spanish; Castilian, French, Italian, Korean, Dutch, Polish, Portuguese (Portugal), Russian, Chinese (Simplified), Chinese (Traditional) |
| Links | Homepage, Patreon, Support, Twitter, Blog |
Download
Click download now to get access to the following files:
SimRealist_-_OrganicHair_0.2.9.1..zip
568 kB
SimRealist_-_OrganicHair_0.2.9.1. (Traditional Chinese).zip
490 kB