(Patreon) Organic - Hair
Mod Summary
This mod will bring a sort of hair progression into the game that makes your Sims' hair grow naturally, almost organically. You can maintain their hair length by making sure you send your Sims off to the Salon (Business Hours: Monday - Saturday, 06:00AM - 06:00PM) for a haircut once it reaches "Overgrown hair" status or you can let it grow out after 6 Sim Days has passed. Once your Sim's hair has grown out, the Sim will default to the next hair length unless they get another haircut before it becomes "Overgrown" again.

Hair Dye
Included in this mod is the beginnings of additional gameplay toward your Sim's hair. We've included the ability to get your Sim's hair dyed permanently or temporarily!
Temporary Dye last 2 days before needing a Touch-Up at a mirror and a quick rinse.
Permanent Dye last until your Sim's hair grows out to the next length or they get a haircut.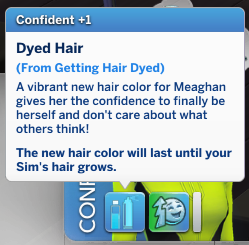 Do I need to activate this mod for it to work?
No, as soon as you load up a save this hair progression takes place. No action required.
Does this mod affect the hair of non-active Households?
Your non-active Households' hair will remain maintained without your intervention. You will have to play the Household in order for their hair to grow with this mod. This is to avoid having entire neighborhoods with people with long, hair.
I have a suggestion on making this mod even more, where do I leave that suggestion?
Please post your suggestions while this mod is in Development, in our Discord channel - #patrons-forum (https://discord.gg/x6bFyNT)
What other features are you looking to add to the addition?
We have a few additions we plan on looking into, which are listed below. However, if there's great interest in this and Patron requests for certain features to be added we will look into adding more in the future.
Fine-tune the Touch-Up mirror interaction
Hair Washing Process
Hair Treatments and Oils
Hidden Traits that make Hair grow slower or faster
Hidden Traits that make Hair Loss likely along with treatments to rectify that
and possibly more
Compatible With:
Patch 11/25/2019 PC: 1.58.69.1010 / Mac: 1.58.69.1210
Conflicts/Issues:
Your Sim will be unable to Touch-Up hair with a Custom Content Mirror
Credits:
Download:
Organic-Hair is currently only available for patrons. Become a patron to get access to the download.
Organic-Hair will be publicly available for non-patrons on December 28th.