(Patreon) Private Practice
Update History
01/21/2021 2.1.0.0-6.0
Fixed a missing image on the "Close" and "Back" buttons of the MyHealthPortal app.
01/20/2021 2.1.0.0-5.0
Sims can now invest in shares of the Private Practice Clinic using the Private Practice Plaque;
Added Annual Thank You 2020;
Added Private Practice Plaque object that can be found on the Community category of Build/Buy;
Removed Annual Thank You 2019 from the Welcome Message.
01/15/2021 2.1.0.0-3.0
Fixed a bug where the Attend Health Checkup whim was not being satisfied by the new Health Checkup event;
Fixed a bug where WhickedWhims (or WonderfulWhims) would cause a Clothes Change issue during the X-Ray Scan;
Fixed a bug where Sick Visits were unable to be completed by Children due to them not being able to use the Medical Treadmill.
12/19/2020 2.1.0.0-2.0
Corrected Pre-Built Venue files. Should be eight items in each folder
Mod Summary
The goal of this mod pack is to rework the Health system of the Sims 4. Exploring the ability to take care of your Sim's Health all under the same roof if you wish. ***REQUIRES SIMS 4 GET WORK***
Public Mod Guide:
https://www.simrealist.com/p-p-guide-menu
Summary of Changes
We added/changed the following:
SICK VISIT APPOINTMENT: Before this update, you were unable to go to the doctor to get a diagnosis for your Sim's Sickness. Now, if the illness is something that is pushed by this mod, your Sim can get a diagnosis of what ails them as well as get medication to cure it.
MULTIPLE SICK VISIT SUPPORT: As with our update with Health Checkups, you can also send multiple Sims to the Clinic to see if they are sick.
AUTONOMOUS EVENT GOALS: Your Sim will now autonomously go about their event goals except for the Check-In, Pee in a Cup, and Check-Out goals. If the Sim should ever deviate from their directions, you can still self-direct them through each goal .
UPDATED HEALTH RESULTS: You can now see your Sim's Diagnosis after an appointment in their MyHealthPortal App.
HIDDEN SICKNESS BUFFS: You will no longer see the diagnosis buffs on the Sim, just the symptoms.
DEBUG INTERACTIONS: Added in several debug interactions. You can access them by Shift-Click -> Private Practice...
Placing or Creating a Medical Clinic Lot
In case you are new to this Private Practice process, this section will get you started on preparing your save for the new options provided by this mod. To get started, you will need a lot with the Private Practice Lot Trait. This can be any type of lot that is non-residential. If you would like just a Clinic, you can use the Generic lot type with this lot trait. I made a test clinic (Newcrest Health Center) for you as well so you don't have to immediately build one. It will provide an example of what you will need for each function of the Clinic and see the potential for additional features to come. You can then build whatever kind of Clinic you would like. To add my test Medical Center to your game, you can either use the tray files included in the mod download and put it in your Tray folder, or you can look up the EA Account ID: SimRealist. When placing a pre-built Medical Clinic or Center, please be sure to go into Build Mode, confirm the correct lot type and trait, and then SAVE before attempting your first appointment.
The release of Private Practice 2.0.0 will include Kate Emerald's Clinics and Center, which l also made available for you to use with this mod. They will be available in the Gallery under the SimRealist name as well. We've also included both the Generic (Newcrest) Health Center and Kate's builds in the download below for your convenience.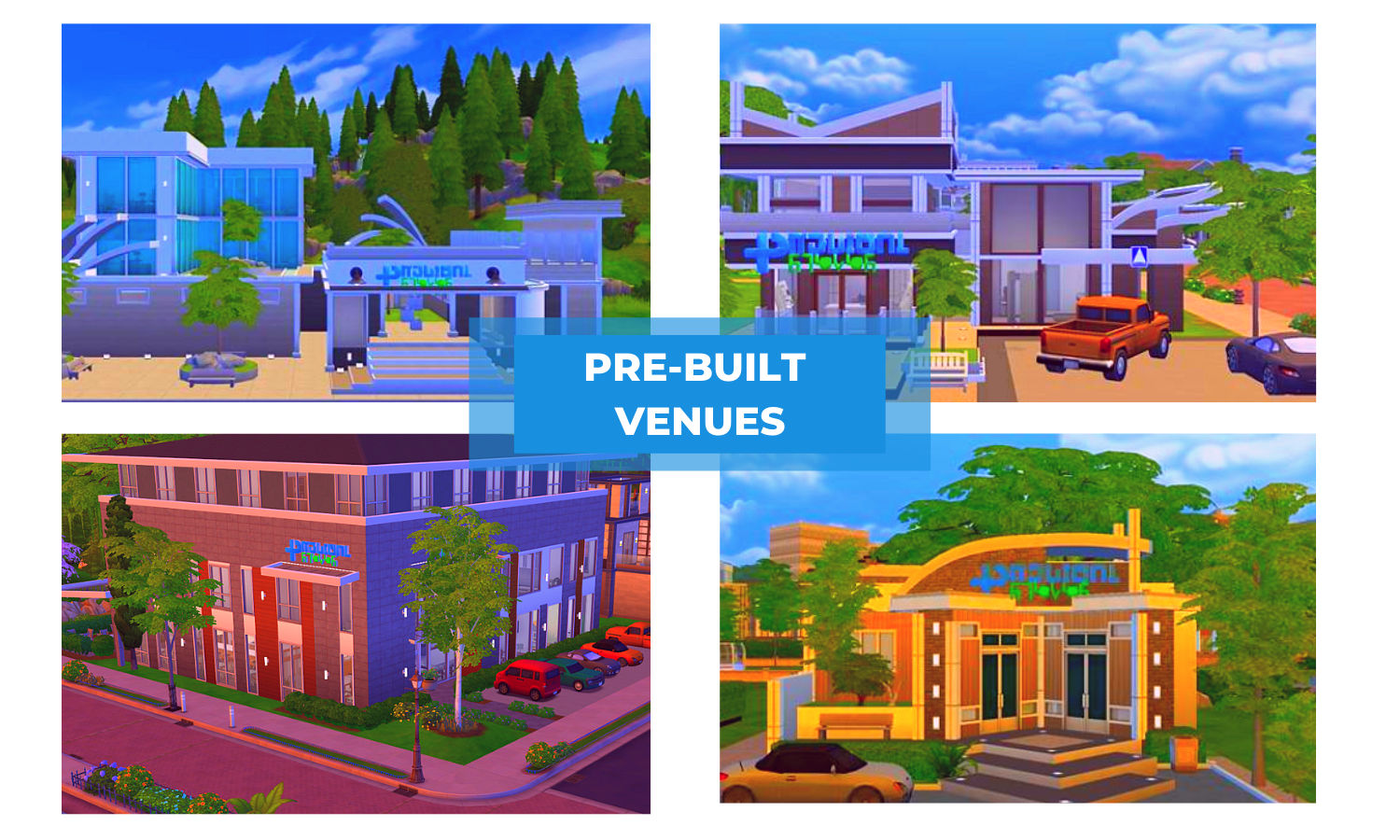 Objects you will need to have a complete Medical Clinic or Center are below. Kiosks and Sample Cart can be found in Community Items. The Private Practice sign can be found in Wall Decorations. The Get to Work Exam Bed can be found under Recreation objects with cheats testingcheats true -> bb.showhiddenobjects.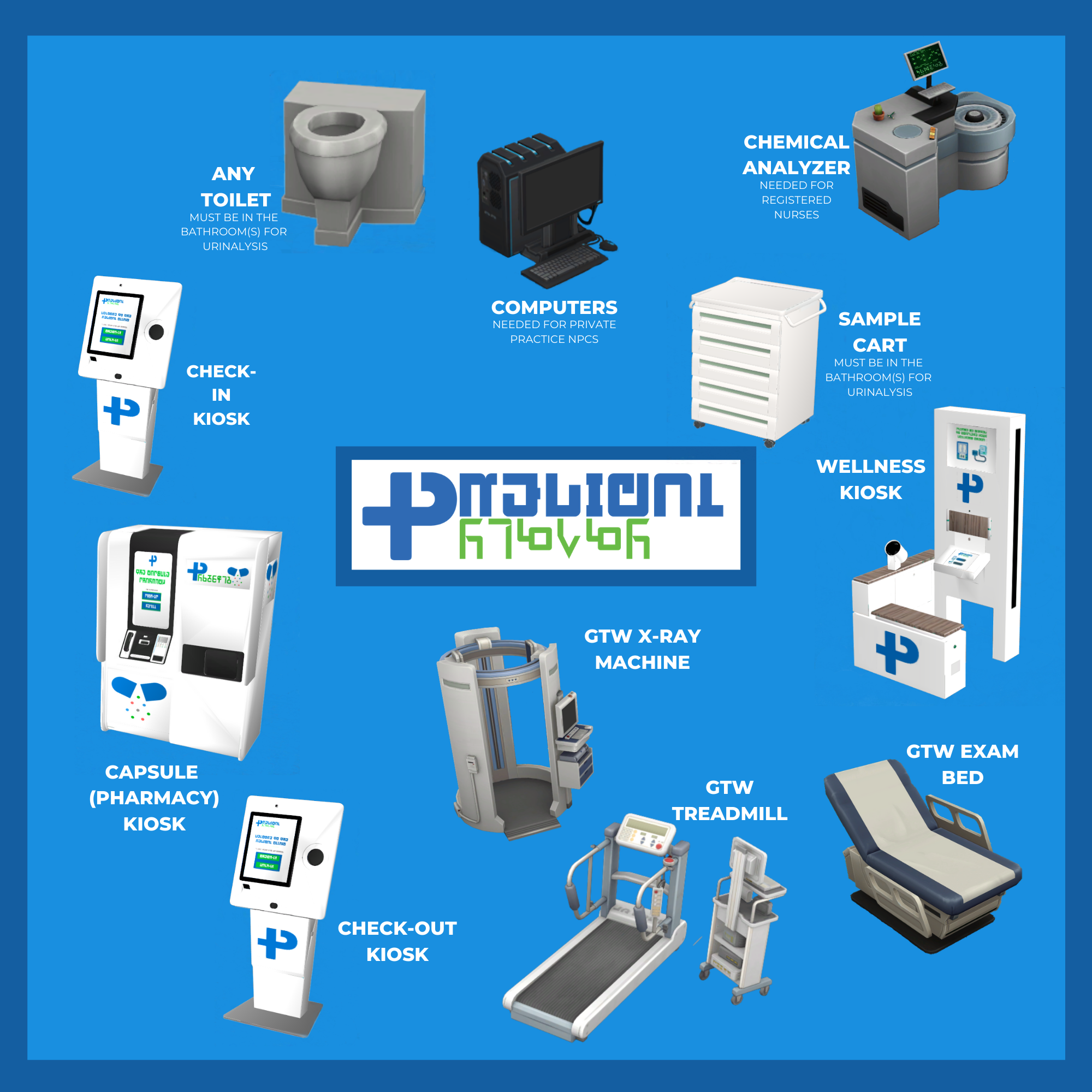 SICK VIST APPOINTMENTS
CREATING A SICK VISIT APPOINTMENT
To set up a Sick Visit, you must first go to a Sim's MyHealthPortal app in the Household phone menu. From there, choose the option to Schedule an Appointment and the mod will guide you through the process of choosing who will be the patient and, if a child is chosen, a Caregiver (required). Then it will ask you what kind of Appointment you would like to schedule. For this update, you now have both a Health Checkup and a Sick Visit Appointment option. You can choose whichever option your Sim needs, but to start a Sick Visit, choose Sick Visit. After this step, you will choose any of the available Clinics to have your appointment. The difference you will immediately see between a Health Checkup and a Sick Visit is that Sick Visits are scheduled asap or within 30 minutes of the appointment request.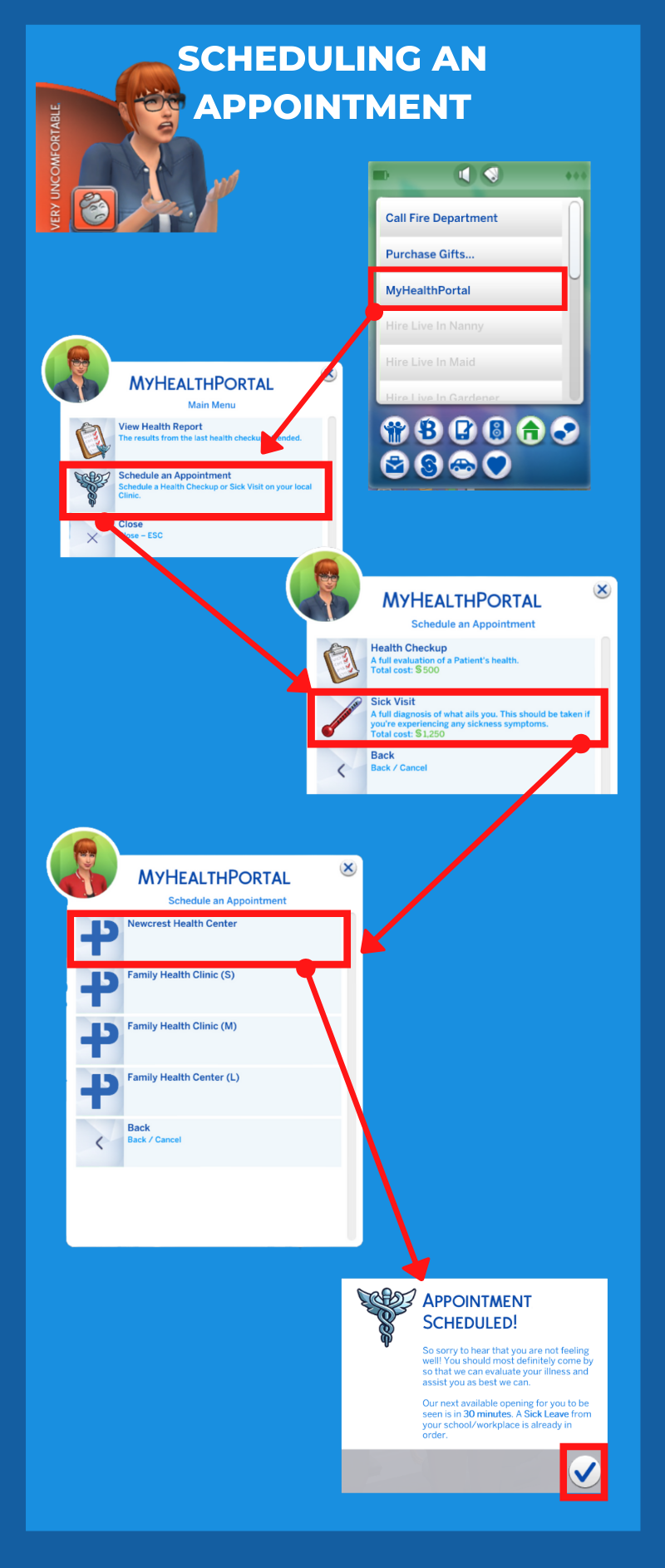 DAY OF APPOINTMENT
On the day of the scheduled appointment, your Sim will get a reminder. All PATIENTS will be put on Vacation so they will be ready when the time comes (mod adds a day of vacation so no days lost). Caregivers will be called away from any job or location they were at for the appointment.
When it is time, you will see a pop-up to start the appointment. Click this option and the mod will send your Sim(s) to the location of their appointment. Once there, follow the Guidance System for this Appointment. It will tell you what you need to accomplish with each patient scheduled.
Sick Visit Process:
Check-in at a Check-In Kiosk
Complete Urinalysis with the Peeing in a Cup interaction at any toilet on the premises. Preferably the bathrooms that have Sample Carts inside for your Sim's ease of use. If none are nearby, your Sim will place it at the closest viable surface.
Complete your Sim's final checks by sending them to the Wellness Kiosk where their weight and blood pressure will be measured.
Your Sim will then go to the next available Exam Bed to wait for a Nurse Practitioner.
A Nurse Practitioner will then take your Sim to a Treadmill and then an X-Ray machine when ready. Please wait for the mod to push this interaction, you need an N.P. in order to complete these tests.
If the Diagnosis should be mild, a Physician Assistant (P.A.) will come by to give your Sim their Diagnosis. If the Diagnosis should be severe, a Medical Doctor (M.D.) will deliver the results. All results can also be found in the Sim's MyHealthPortal app.
Your Sim can finally check-out once their results are delivered. They can do so at a Check-Out Kiosk where they will pay for their visit. Failure to pay will result in an addition to their Household bill.
If the Sim has High or Low Blood Pressure, please be sure to stop by our Capsule Kiosk (Pharmacy). This Kiosk will allow your Sim to buy medication that will assist with this issue. Your Sim will need to take this medication once a day. Failure to keep a handle on this diagnosis could later result in not just a shorter life-term but possible death through our upcoming custom illness, Heart Attack. If your Sim is sick, you can also buy EA's medicine from here as well at any time until your Sim is required to have another Checkup.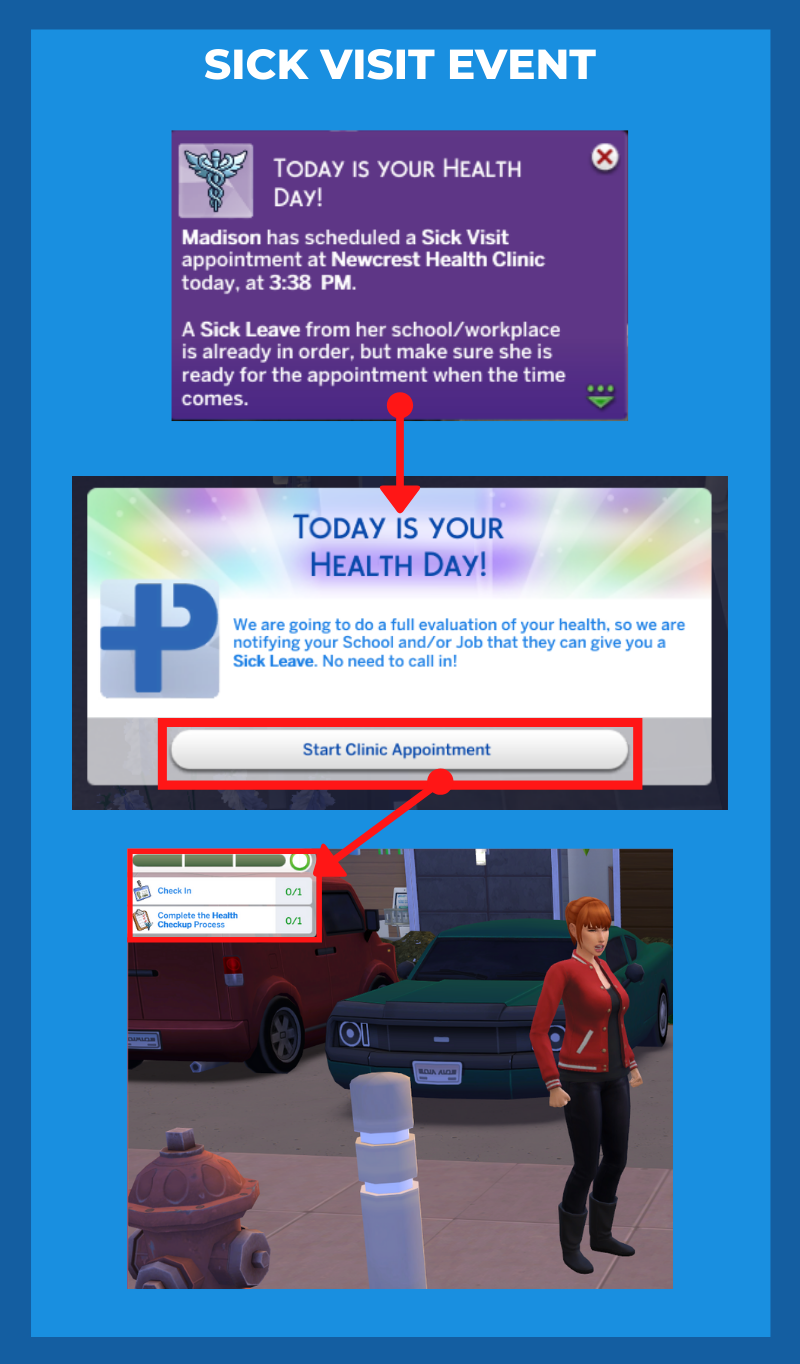 Annual Thank You 2020
In December, we announced that we were planning to do another Annual Thank You gift since we liked offering this to our long-term patrons in 2019. We stepped it up a notch by removing the listing of Patrons from the mod's Welcome Notice and put it in a new object, the Patron Plaque. This Plaque is the reuse of EA's Might Plaque of Honor that came with Get to Work. We customized it to now show the Private Practice logo and make it base game compatible. You can find this Plaque under the Generic Community Objects or just by searching SNBank Plaque.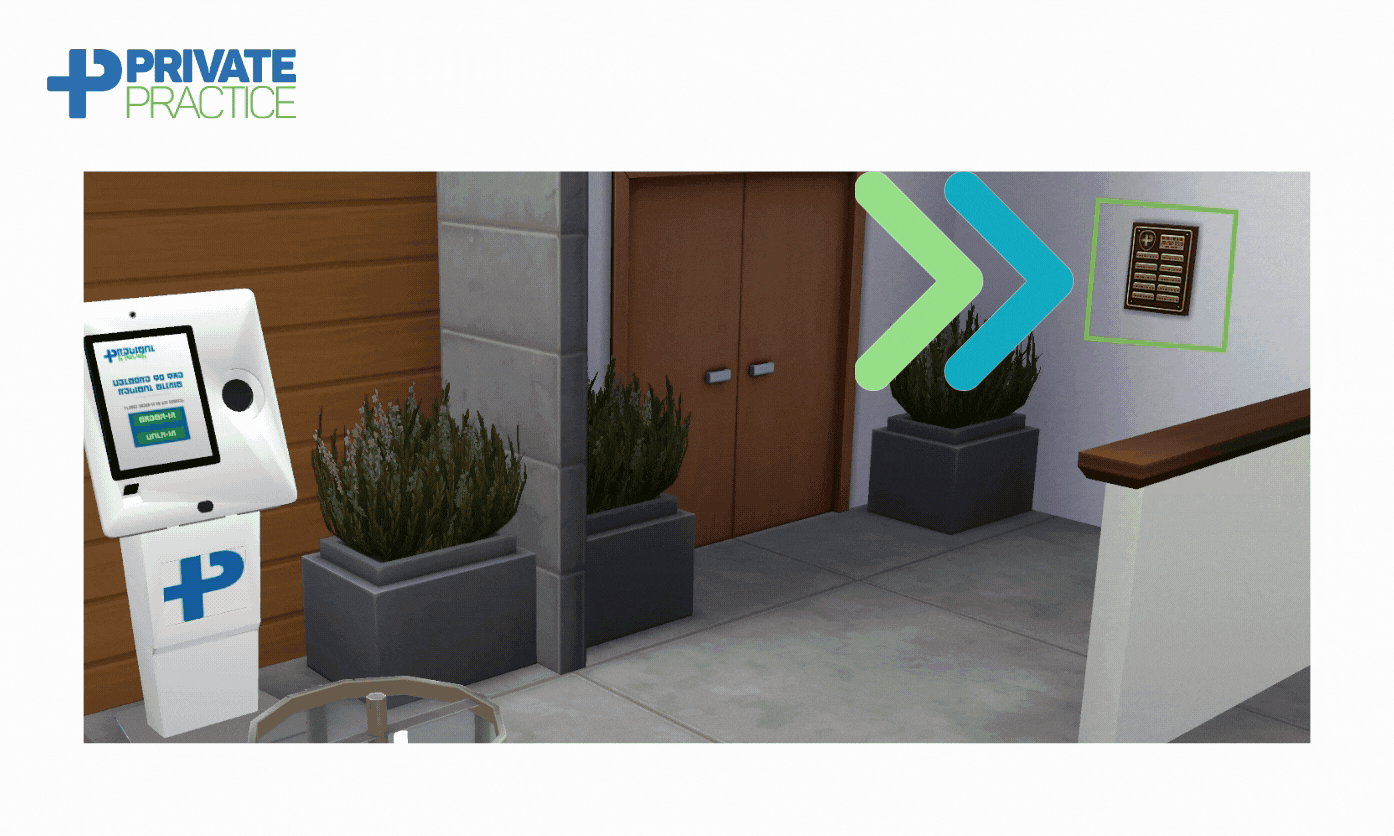 This Plaque not only holds all the Active Patrons of a year or more as of Oct. 1 2020 listing but also a new simple investment feature! Your Sim can now "invest" into a Private Practice Clinic by buying shares. Depending on how many shares that Sim has will determine how much dividend income they will receive each week. We have it set to §125 dividends a week per share (1 share = §2,500). This Dividend will automatically deposit into the Sim's SNB account. This amount will never fluctuate since we didn't want to add in another complex system yet.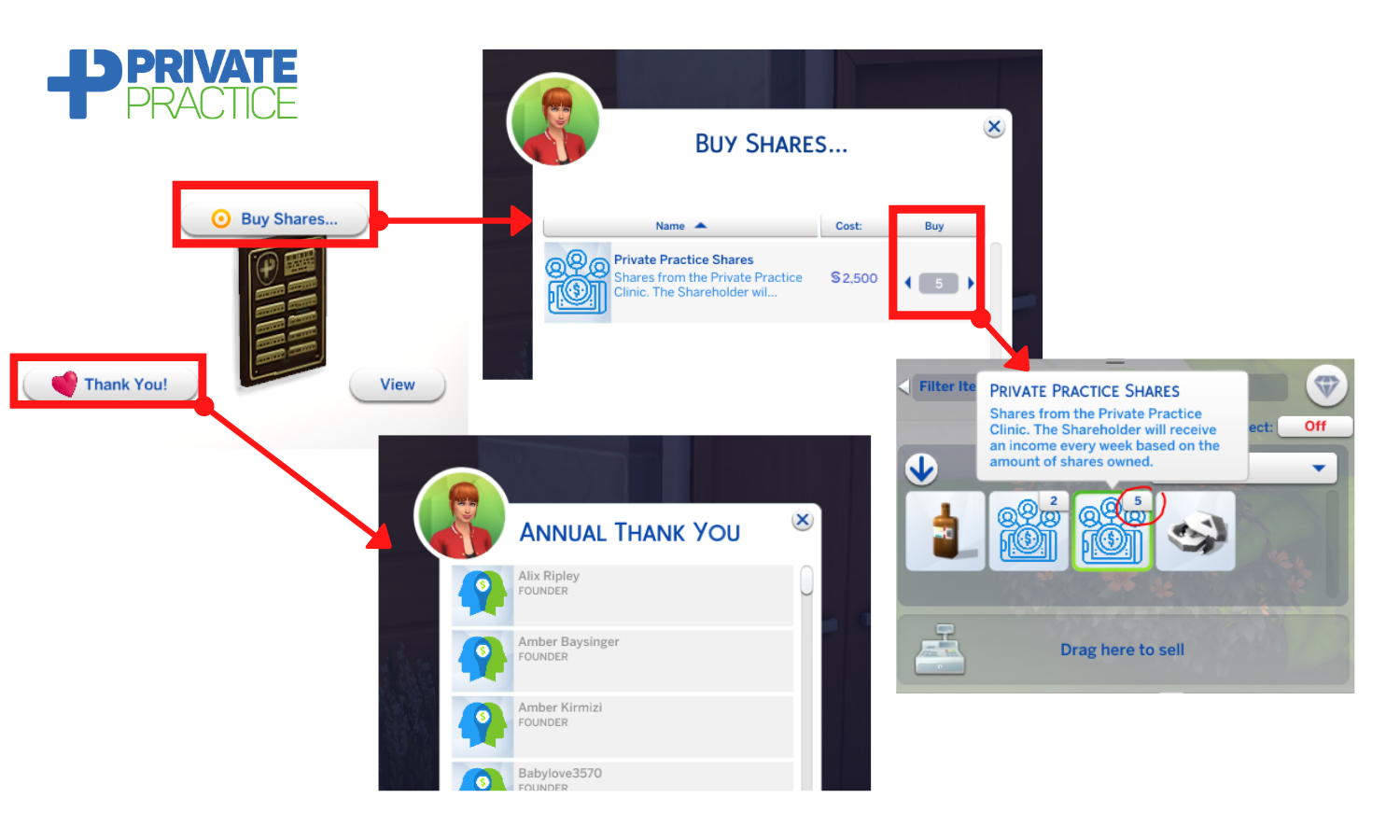 PATRON THANK YOU LEVELS
In the Thank You! option, Patrons that were with us for a year or more are listed according to how long they've been with us and then by name.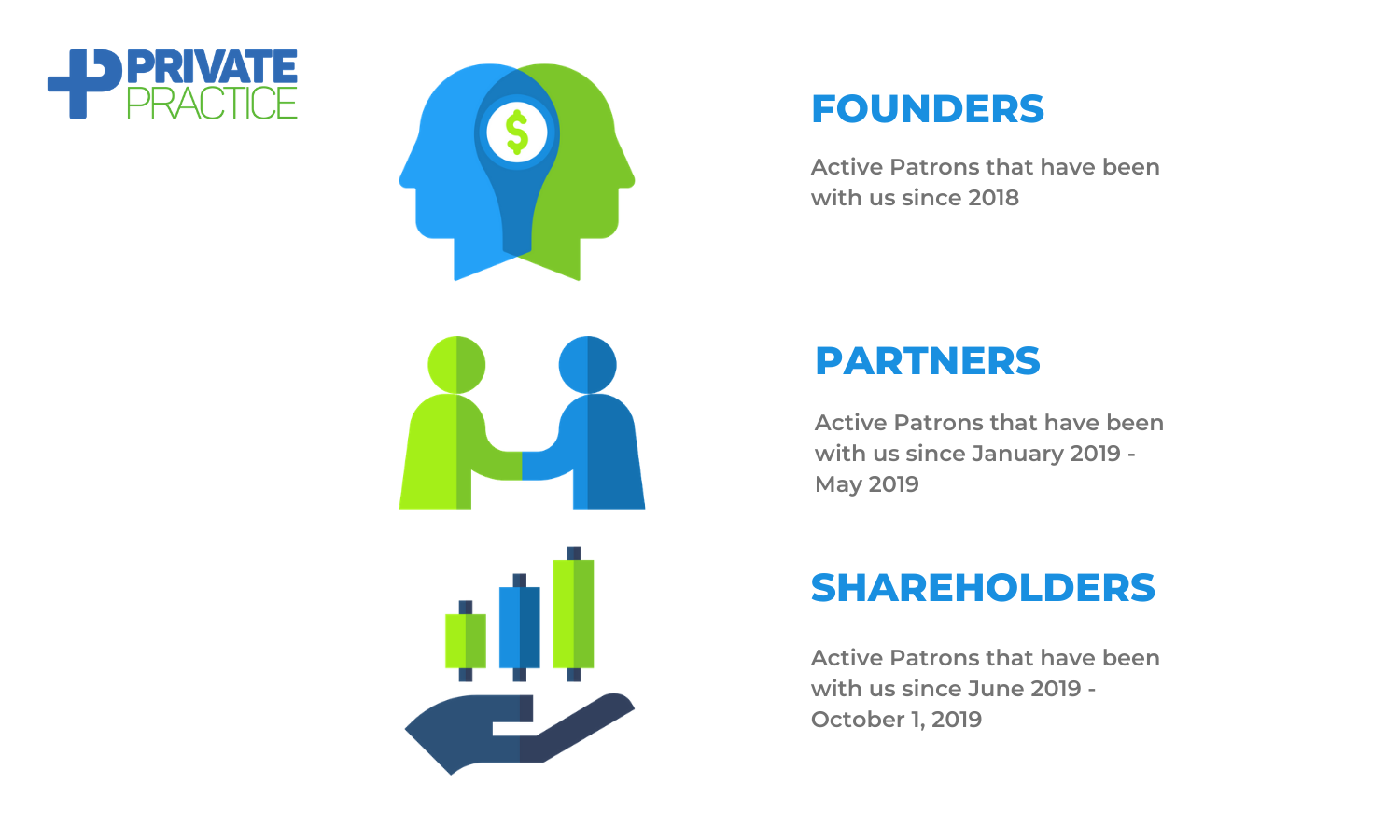 Compatible With:
Patch 01/21/21 PC: 1.70.84.1020 / Mac: 1.70.84.1220
Conflicts/Issues/Notable Items Observed:
Illnesses may go away with one dose of medication, but if that isn't the case try two-three evenly spaced doses.
Sometimes your Sim may put the Urine Sample Cup on another surface other than the Sample Cart. It is best to have the Sample Cart in the bathroom to avoid this, but the RNs will take care of picking it up even if it isn't in the right spot.
Private Practice clinic does not work on LittleMsSam's More Buyable Venue Medical Clinics
Conflicts with any mod that uses this game resource file: S4_E882D22F_00000003_000000000001BDE2_hospitalExamBed_Patient_Sit_Idle_autonomous / 0xE882D22F-0x00000003-0x000000000001B408 / 0xE882D22F-0x00000003-0x000000000001B407 / 0xE882D22F-0x00000003-0x000000000001A519 / 0xE882D22F-0x00000003-0x000000000001BDE2 / 0xE882D22F-0x00000003-0x0000000000019DD6 / 0xE882D22F-0x00000003-0x0000000000019DEE / 0xE882D22F-0x00000003-0x000000000001C3CF
Changelog:
https://www.simrealist.com/p-p-changelogs
Credits:
THANKS TO:
TURBODRIVER: for scripting assistance on push interactions and the game's UI dialogs.
Nisa K: for scripting assistance and advice.
Nies: for the addition of her Cooler Sickness Mod
TOOLS USED:
Zerbu: Mod Constructor (V4)
Scumbumbo's XML Extractor
Neia's Create-A-Career Tool
Blender
Download
Private Practice is currently only available for patrons. Become a patron to get access to the download.
Private Practice will be publicly available for non-patrons on March 27, 2021.
Mod Support:
If you are experiencing this issue with this mod, please head over to our Discord server channel: #patreon-mod-support (https://discord.gg/97hyxrM).
To connect your Patronage to Discord, please follow these instructions: https://support.patreon.com/hc/en-us/articles/212052266-Get-my-Discord-role