(Public) Private Practice


Mod Summary
The goal of this mod pack is to rework the Health system of the Sims 4. Exploring the ability to take care of your Sim's Health all under the same roof if you wish. ***REQUIRES SIMS 4 GET WORK***
Public Mod Guide:
https://www.simrealist.com/p-p-guide-menu
Summary of Changes
We added/changed the following:
UPDATED APPOINTMENT SYSTEM: You can now send your Sims to their Clinic Visits with or without you present. You can also cancel an appointment before going if it isn't convenient anymore.
RECONFIGURED IN-PERSON CLINIC EXPERIENCE: You should see a lot smoother and quicker process if you decide to do an in-person appointment.
INSURANCE: Automatic Health Insurance or Free Healthcare for ALL!
NEW CUSTOM MEDICINE CABINETS AND PILLBOXES: Medications starting to fill up your Sim's inventory or Bathroom? These custom objects will make it easier for you to keep things organized and available for when your Sim needs it most.
PHARMACY AT-HOME: Don't have the time to go to the Clinic to get your Sim's prescription? You can now purchase medication by computer or through our new custom Cabinets and Pillboxes.
PLUS SOME OTHER REQUESTED SMALL UPDATES!

Most of the main parts of the Appointment process are the same as previous iterations but we adjusted it based on the feedback given in the past. Be sure to place at least one Clinic before making an appointment. Please re-read the warning at the top of this post and follow the instructions found at the bottom of this download page.
When you start a new save or a save that didn't have Private Practice loaded in, your Sims will start to experience symptoms of either an illness or allergy. Your Sim's world NPCs will also get ill. You can't send those NPCs to the clinic, they have to run through a Herd Immunity process. Their illnesses should be less frequent after that first exposure. You can handle your active Household though by sending them to the Clinic to be diagnosed and have access to the needed medication.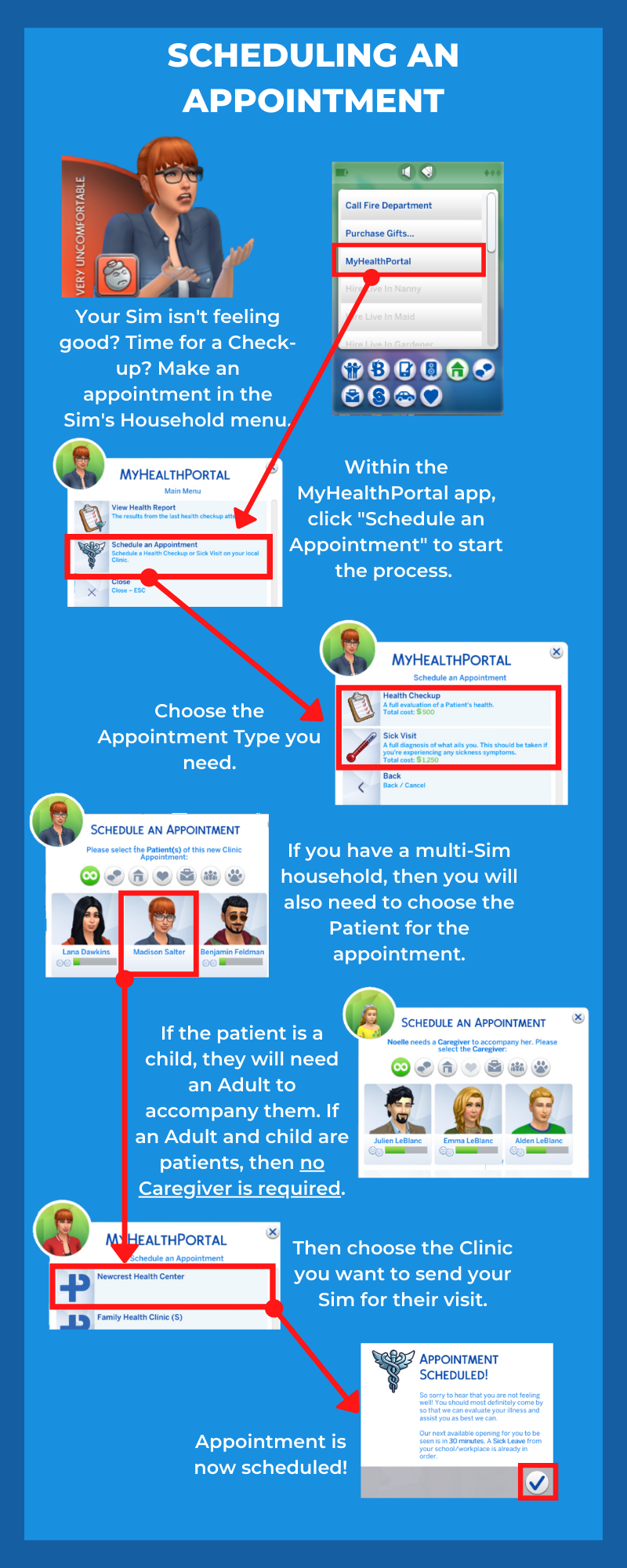 Now, if at least ONE Sim in the Household has a standard Career (not a freelance or one that owns their own business), Check-ups are FREE and Sick Visits are 80% cheaper!

You now also have the ability to make ALL VISITS FREE with our new Free Healthcare cheat that can be found in any active Sim's debug - Private Practice menu. You need to have testingcheats true enabled in order to get this menu.
THIS DOES NOT MAKE MEDICATION FREE.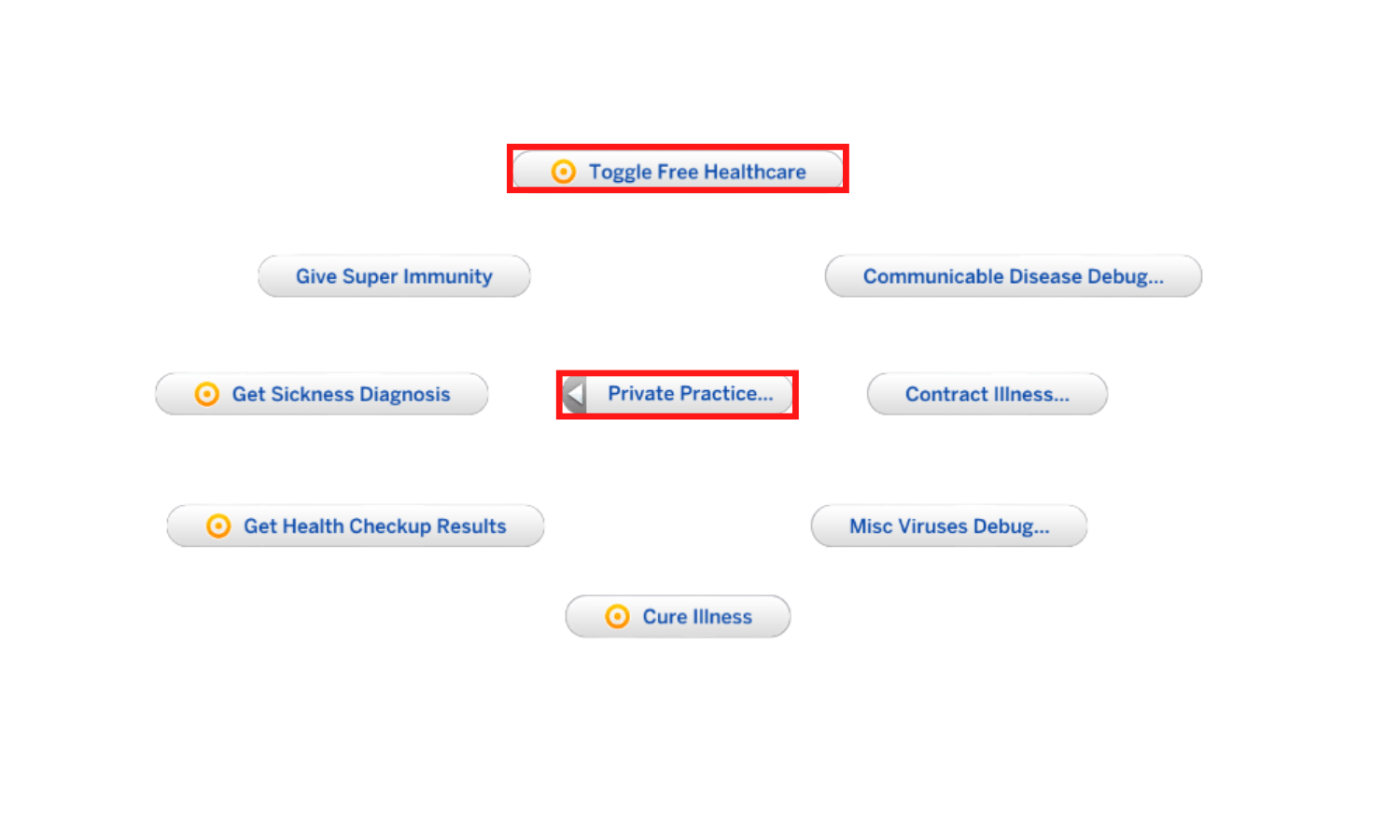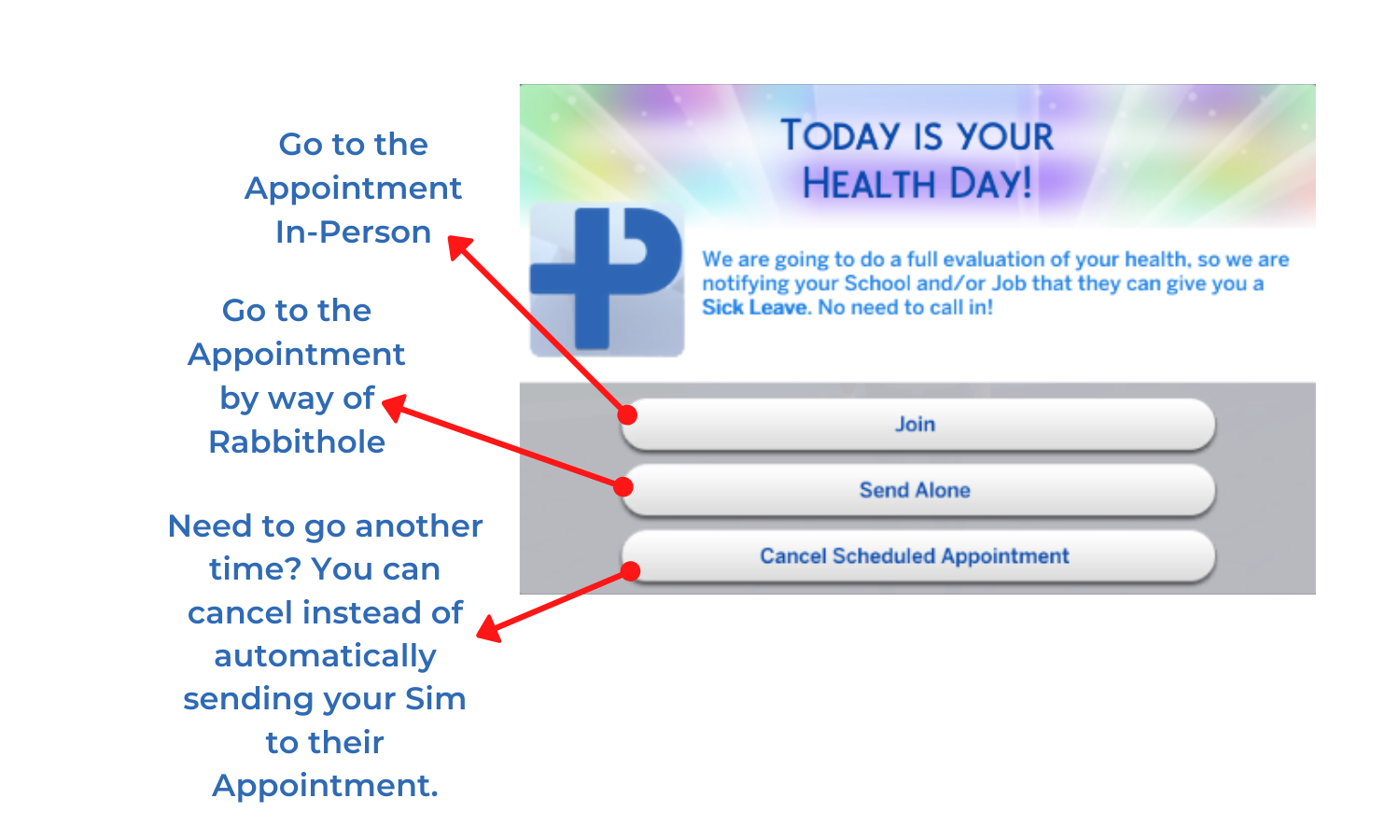 Also in version 2.3, we've fine-tuned the in-person Clinic visit to be more responsive. You'll find your Medical NPCs more readily available which will make the visit quicker for those that want the hands-on experience. Exams should also happen as soon as they are requested rather than waiting for the NPC to finish whatever tasks they are working on.
On the day of the scheduled appointment, your Sim will get a reminder. All PATIENTS will be put on Vacation so they will be ready when the time comes (mod adds a day of vacation so no days lost). Caregivers will be called away from any job or location they were at for the appointment.
When it is time, you will see a pop-up to start the appointment. With version 2.3, you have three options available to you when your Sim's appointment starts. You can go with them, send them off by themselves, or cancel the appointment if your Sim needs to attend to something else. For the In-Person option, the mod will send your Sim(s) to the location of their appointment. Once there, follow the Guidance System for this Appointment. It will tell you what you need to accomplish with each patient scheduled.


Allergies System
This update adds in a new Allergies System based on the regional plant species' pollen and spores that can develop allergic reactions over time. Certain pollens/spores are more allergenic than others (i.e., Mother Plant spores due to their invasive nature).
To start, you will want to set up a Checkup appointment at your Sim's Clinic or Health Center. During this Checkup, their Nurse Practitioner will deliver the results for any allergies that you will need to be aware of when sending your Sim out into the world. Most often, the first checkup will reveal little to no allergies but by design, you should see a change in this report.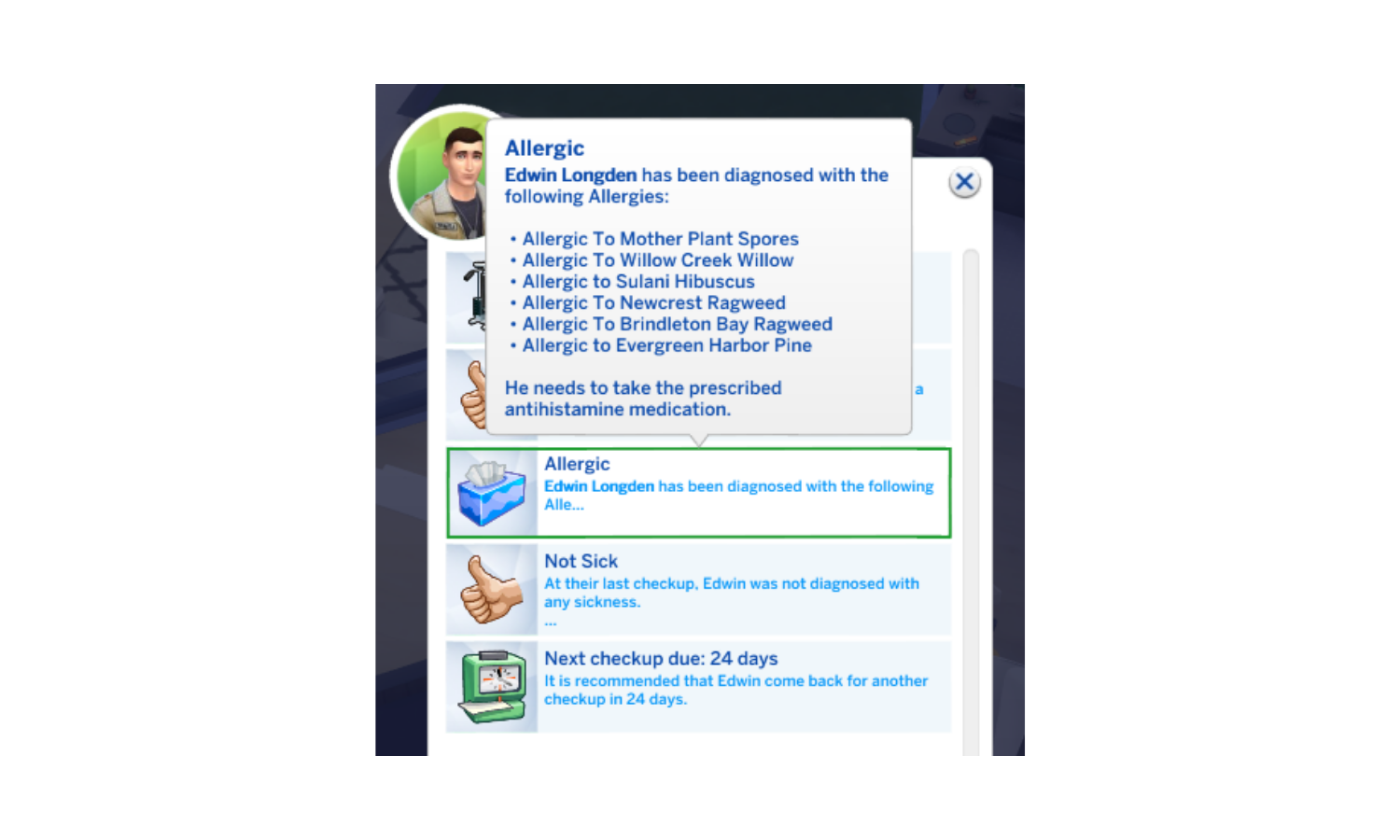 Allergies List:
Newcrest Cypress
Newcrest Ragweed
Willow Creek Willow
Willow Creek Ragweed
Leaf Mold
Britechester Birch (Discover University Pack required for this allergy)
Del Sol Valley Ragweed (Get Famous Pack required for this allergy)
Granite Falls Cedar (Outdoor Retreat Pack required for this allergy)
Guzmania Pollen (Jungle Adventure Pack required for this allergy)
MotherPlantSpores (Strangerville Pack required for this allergy)
Windenburg Ragweed (Get Together Pack required for this allergy)
Windenburg Spruce (Get Together Pack required for this allergy)
Glimmerbrook Spruce (Realm of Magic Pack required for this allergy)
Sulani Hibiscus (Island Living Pack required for this allergy)
Brindleton Bay Ragweed (Cats & Dogs Pack required for this allergy)
Evergreen Harbor Pine (Eco Lifestyle Pack required for this allergy)
Dust Bunnies (Bust the Dust Kit required for this allergy)
As your Sim(s) develop Allergies to the above possibilities, you will notice negative emotional buffs appearing, giving you a heads up that you may need to give your Sim(s) one of the Allergy Medications below.
TREATMENTS (objects found in Build/Buy - search Private Practice):

Cold and Flu System
This mod version introduces a contagious Common Cold and Influenza virus system. Both viruses have their respective seasons (Common Cold is Fall/Winter and influenza is Winter/Spring).
Sims have a chance of bringing home an illness from school or work, or potentially catching a Cold if they're cold or wet (not 100% realistic, but the chance is about the same level as a weather-related illness in the Sims 2). The Common Cold's incubation period may be symptomatic (respiratory symptoms, throat discomfort, and dulled sense of taste), while the flu's incubation is more common, with the virus's effects coming on at once.
Both viruses carry a chance of a fever (Feverish buff from Get To Work), but a cold may bring about head congestion (pressurized buff from Get To Work and occasionally a headache). New storytelling social interactions are included, inspired by the Sims Mobile story events: Ask if Feeling Okay, Offer Tea, Suggest Calling in Sick, Offer Tissues, Ask How to Help, and Criticize For Getting Sick. Traits impact the sims' reactions to such interactions.
TREATMENTS (objects found in Build/Buy - search Private Practice): - Home Remedies: orange juice, green tea, to-go green tea, bee tea, wellness tea, and naps. - Medication:

Infections System
This system introduces Ear, Sinus, Respiratory, and Strep Infections to the game. ll Infections are more likely for sims with allergies from the allergen system.
STREP INFECTIONS
Only strep Infections are contagious and can lead to (a currently very mild form of) scarlet fever if untreated. Strep Infections can be contracted while a sim is at school.
EAR INFECTIONS
Ear Infections are more likely to occur when a sim is swimming, and a Sinus Infection is more likely to occur if a sim is experiencing a moodlet like "Stuffed Up."
RESPIRATORY INFECTIONS
Respiratory Infections are extremely likely for sims who are smokers or exposed to secondhand smoke in games using Basemental's mod.
TREATMENTS (objects found in Build/Buy - search Private Practice):

Additional Viruses
NOROVIRUS - Stomach Flu
Norovirus can be contracted at school or through the "What's Up Chuck?" Parenthood chance card; it can also occur occasionally through an occasional event. It's contagious through a broadcaster and causes symptoms like nausea, vomiting, and diarrhea (faster bladder decay). There is a "throw up" self-interaction for sims with norovirus who cannot find or use a toilet (Child sims, particularly, as they lack the toilet interaction.) Toddlers, who cannot experience vomiting, will instead have a loss of appetite (slower hunger decay), diarrhea (faster bladder decay), general fussiness (faster attention decay), and fatigue (faster energy decay).
TREATMENT: None, except to keep your Sims home and comfortable.
MONONUCLEOSIS
Mononucleosis can be contracted at high school (if they have the "had first kiss" trait, letting them possibly kiss an infected significant other during school hours, other traits that might make them more inclined for such behavior, or the "slob" trait from potentially drinking another student's water), drama club (from kissing scenes and potential water bottle mishaps), or the acting career (same as drama club). A sim carrying Mononucleosis in an infectious period may spread it through kiss tagged interactions. Mono symptoms include sore throat, fever, fatigue (faster energy decay), and chills. After a bout of Mono, however, the sim will be immune to ever getting the illness again.
TREATMENT: None, except to keep your Sims home and comfortable.

With version 2.3.0, your Sim will now have the below custom cabinets available for them to purchase in Build/Buy as well as Pillboxes.
With Cabinets, you get the added function of storing and purchasing our medication if your Sim has gone to their first checkup. If it is a mirrored Cabinet, they still have the same functionality as other mirrors in-game. And we didn't stop there! We added the ability to store and purchase medicine in EA's Base Game mirrored cabinets as well.

All Pillboxes can be stored in the Sim's inventory or on any surface. They will need to be on a surface in order to access the options to Open or Purchase medication due to a limitation of the game.


As mentioned before, you can now purchase your Sim's medication with our new Medicine Cabinets or Pillboxes. In addition to that, we've also added the interaction to computers.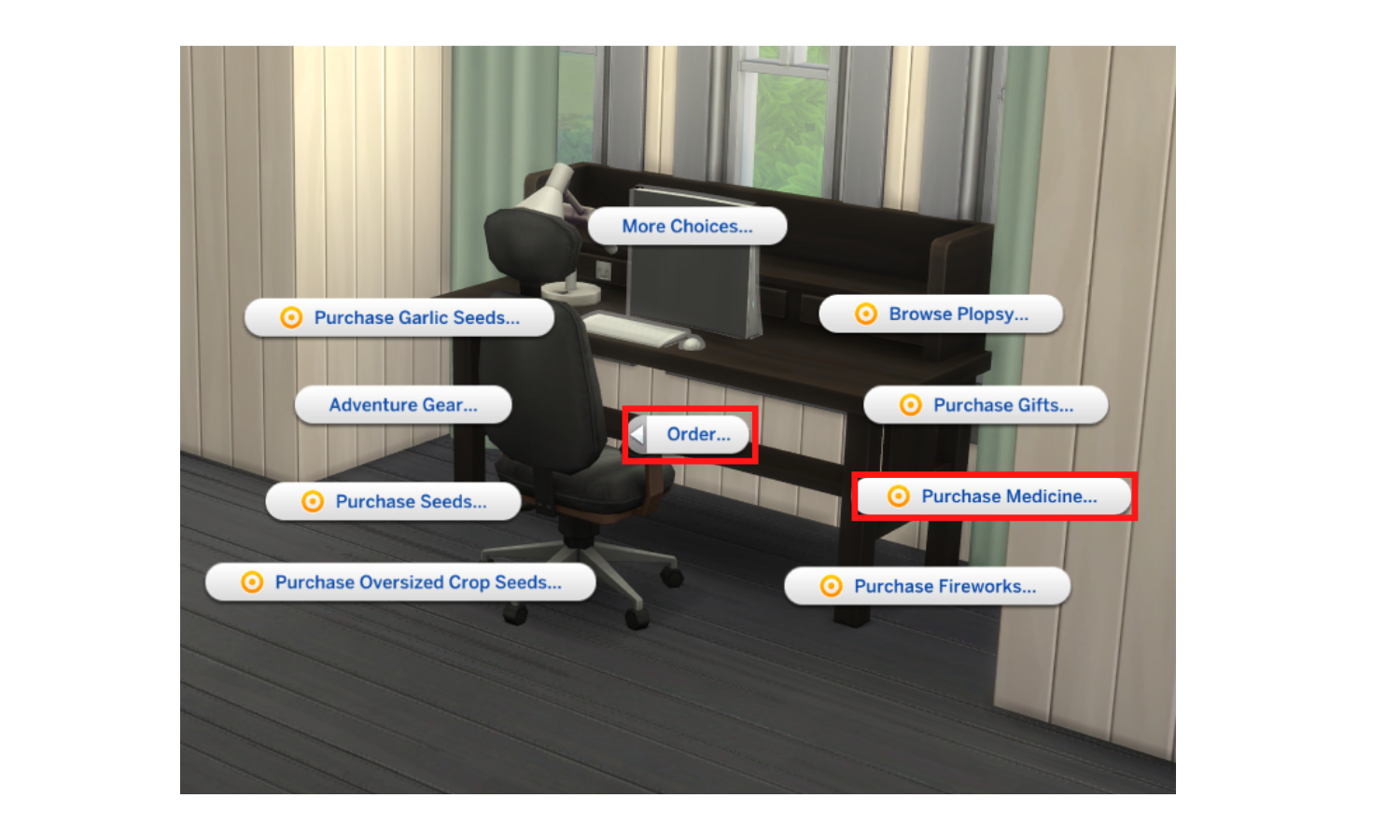 In addition, we added some notable small updates to this mod that we thought would make it even better.
- Added Lifespan Adjustment warning notifications for Overweight, Underweight, High Blood Pressure, and Low Blood Pressure symptoms;
- Added Auto Dose;
Sims will now autonomously take Blood Pressure and Allergy medicine when needed.
- Added Super Immunity cheat that protects a given Sim from all Private Practice custom illnesses;
By using testingcheats true and Shift + Clicking your Sim, you can now enable Super Immunity for the Sim under the Private Practice category.
- Added in-game support information for when the Clinic's Lot Type is set to Residential rather than Generic;
- Added in-game support information for when Check In or Check Out interactions are unavailable due to the state of the appointment event;
- Improved Stay Home from School;
Stay Home From School now only checks for age, allowing for supporting custom schools like those in Education Overhaul.
-Improved overall sickness immunity;
Vampires now have 100% immunity to illnesses;
Cases of Strep Throat now have a chance of triggering a short (4 Days, 75%) or long (2 Weeks, 90%) period of immunity based on age;
Sims who have had a tonsillectomy through HCR will now have complete immunity to strep infections;
Further support for custom allergy medications to prevent PP allergy symptoms from triggering if they have those buffs.
PLEASE RE-DOWNLOAD OUR PREBUILT LOTS! ALL OF THEM HAVE BEEN UPDATED FOR VERSION 2.3.0. They should have all the updated kiosks and certain floors in the bigger lots have been reorganized for Sims who come in large groups and would like to wait it out in the Cafeteria, resting rooms, or clean up in our updated bathrooms.
In case you are new to this Private Practice process, this section will get you started on preparing your save for the new options provided by this mod. To get started, you will need a lot with the Private Practice Lot Trait. This can be any type of lot that is non-residential except for LittleMsSam's Medical Clinic. If you would like just a Clinic, you can use the Generic lot type with this lot trait. I made a test clinic (Newcrest Health Center) for you as well, so you don't have to immediately build one. It will provide an example of what you will need for each function of the Clinic and see the potential for additional features to come. You can then build whatever kind of Clinic you would like. To add my test Medical Center to your game, you can either use the tray files included in the mod download and put it in your Tray folder, or you can look up the EA Account ID: SimRealist. When placing a pre-built Medical Clinic or Center, please be sure to go into Build Mode, confirm the correct lot type and trait, and then SAVE before attempting your first appointment.
The release of Private Practice 2.0.0 included Kate Emerald's Clinics and Center, which l also made available for you to use with this mod. They will be available in the Gallery under the SimRealist name as well. We've also included both the Generic (Newcrest) Health Center and Kate's builds in the download attached for your convenience.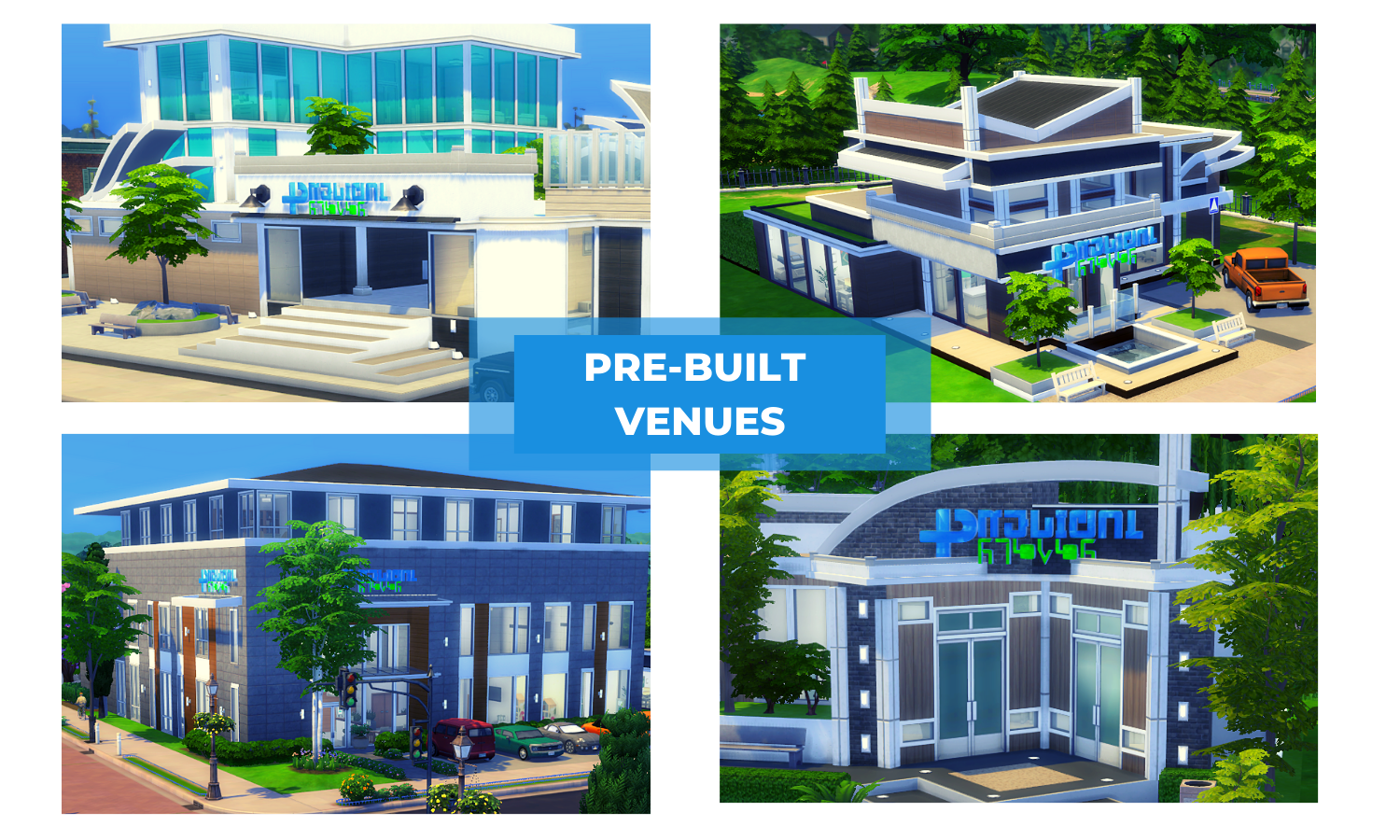 Objects you will need to have a complete Medical Clinic or Center are below. Kiosks and Sample Cart can be found in Community Items. The Private Practice sign can be found in Wall Decorations. The Get to Work Exam Bed can be found under Recreation objects with cheats testingcheats true -> bb.showhiddenobjects.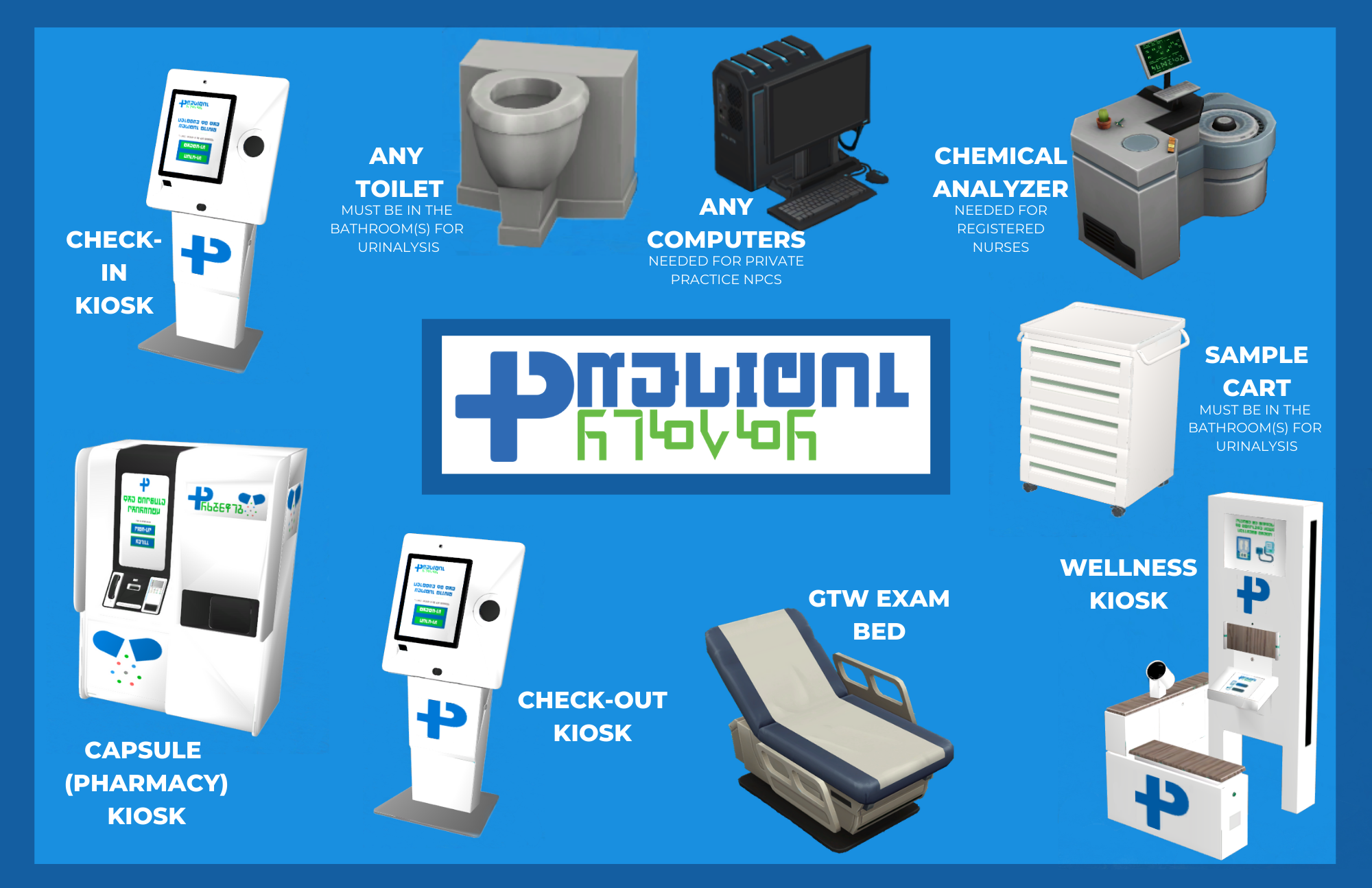 Compatible With:
Patch 09/13/2022 - PC: 1.91.205.1020 / Mac: 1.91.205.1220
Conflicts/Issues/Notable Items Observed:
First-time running this mod will take time for NPC generation for your Clinics. Give the mod time to produce the appropriate amount of NPCs for your Clinic(s).
Sometimes your Sim may put the Urine Sample Cup on another surface other than the Sample Cart. It is best to have the Sample Cart in the bathroom to avoid this, but the RNs will take care of picking it up even if it isn't in the right spot.
Private Practice clinic does not work on LittleMsSam's More Buyable Venue Medical Clinics.
Conflicts with any mod that uses this game resource file: S4_E882D22F_00000003_000000000001BDE2_hospitalExamBed_Patient_Sit_Idle_autonomous / 0xE882D22F-0x00000003-0x000000000001B408 / 0xE882D22F-0x00000003-0x000000000001B407 / 0xE882D22F-0x00000003-0x000000000001A519 / 0xE882D22F-0x00000003-0x000000000001BDE2 / 0xE882D22F-0x00000003-0x0000000000019DD6 / 0xE882D22F-0x00000003-0x0000000000019DEE / 0xE882D22F-0x00000003-0x000000000001C3CF
Conflicts with Lotharihoe's Sim Spawn Overhaul - venuesims-preferlocal
Changelog:
https://www.simrealist.com/p-p-changelogs
Credits:
STRINGS INCLUDED:
Chinese - Traditional
Dutch
Italian
Polish
Portuguese - Brazil
Russian
Spanish
THANKS TO:
TURBODRIVER: for scripting assistance
on push interactions and the game's UI dialogs.
Nisa K: for scripting assistance and advice.
Nies: for the addition of her Cooler Sickness Mod
TOOLS USED:
Zerbu: Mod Constructor (V4)
Scumbumbo's XML Extractor
Neia's Create-A-Career Tool
Blender
Mod Support/Assistance:
If you are experiencing this issue with this mod, please head over to our Discord server channel: #simrealist-mod-support (https://discord.gg/W8Erfqu).
| | |
| --- | --- |
| Updated | 8 days ago |
| Status | Released |
| Category | Game mod |
| Release date | Jun 25, 2021 |
| Authors | SimRealist, roBurky, Victor Andrade |
| Genre | Simulation |
| Tags | medical, private-practice, simrealist, Sims 4 |
| Asset license | Creative Commons Attribution_NonCommercial_NoDerivatives v4.0 International |
| Average session | A few seconds |
| Languages | Czech, English, Italian, Russian, Chinese (Simplified) |
| Links | Homepage, Blog, Patreon, Support |
Download
Click download now to get access to the following files:
(TRAY FOLDER FILES) Medical Clinic Venues 2022.zip
1 MB
SimRealist_-_PrivatePractice_2.3.4.3.zip
10 MB
SimRealist_-_PrivatePractice_2.3.4.3 (Traditional Chinese Ver).zip
10 MB