(Patreon) R|E
Update History
08/30/21
10/15/21
Added Realtors;

Simmers can hire a variety of Realtor NPCs, each with their respective rating, commission, and experience;
Each Realtor NPC behaves differently based on how good they are, including different speech, negotiation tactics, and overall professionalism;
Simmers can Make an Appointment with Realtor to discuss several Real Estate matters;
Simmers can also Fire Realtor during the Realtor Appointment.

Added House Wish List;

Simmers can set a value range, desired Worlds, and desired Lot Traits to get specific house listings that fit their criteria.

Added House Listings;

Realtors will take up to 48 hours to come up with House Listings that fit their client's specific criteria.

Added Home Tours;

An interactive event where the Realtor reveals the house in an elaborate fashion;
Simmers will need to go through the properties selected from House Listings to decide which ones make it to the Shortlist;
Simmers need to appraise the property, ask about the property value, and make a decision.

Added Negotiation Battles;

A tactical turn-based minigame where two parties try to consent on the value of a property;
Several different outcomes;
Simmers can Place Offer, Place Final Offer, Skip Offer, or Accept Opponent's Offer anytime during their turns;
Simmers can Ask Realtor for Advice to get insight on the current state of the game and tips on the next move;
Negotiation tactics vary widely based on the rating of both the player's Realtor and the opponent's.

Added Closing Process;

Simmers will need to pay for the previously negotiated Offer on the house;
Additional fees include earnest money, Realtor commission, and closing fees;
Simmers can Stop Closing if they wish to cancel the agreement.

Added Welcome Message;
Moved Buy Real Estate, Sell Real Estate, and Manage Rental Properties from the Phone UI to Realtor Appointments;
Fixed compatibility with UI Cheats Extension by weerbesu;
Fixed a bug where quitting to the Main Menu without saving would still leave in cached mod data.
Mod Summary
This mod revamps the real estate market in the Sims 4 and expands upon the buy/sell process to later connect with the Sims 4 Financial Center.
Summary of Changes
We added/changed the following:
NEW APPRAISAL SYSTEM: You can now get your Sim's property evaluated with an increased or lowered amount based on Lot Traits, World, and Lot Size. (MORE APPRAISAL FACTORS TO COME!)
NEW FLUCTUATING REAL ESTATE MARKET: Your Sim's lot value will adjust according to the Appraisal factors we add.
NEW BUY/SELL PROCESS: You can now send your Sim through a full Property Buying Progression with a new Realtor NPC that will ultimately lead to a connection to SNB - Financial Center in the event your Sim needs to finance their purchase.
The Initial Process
When you first log in to a new game, everything will appear normal. You can buy or rent your Sim's first place as normal with EA prices. Existing saves will also have the same experience. R|E doesn't step onto the scene until you actively engage the mod with its very own phone menu. This menu will allow you to only Hire a Realtor at the beginning. This Realtor will be on call to handle all your Real Estate Needs, whether that be to buy/sell a home or manage rental properties.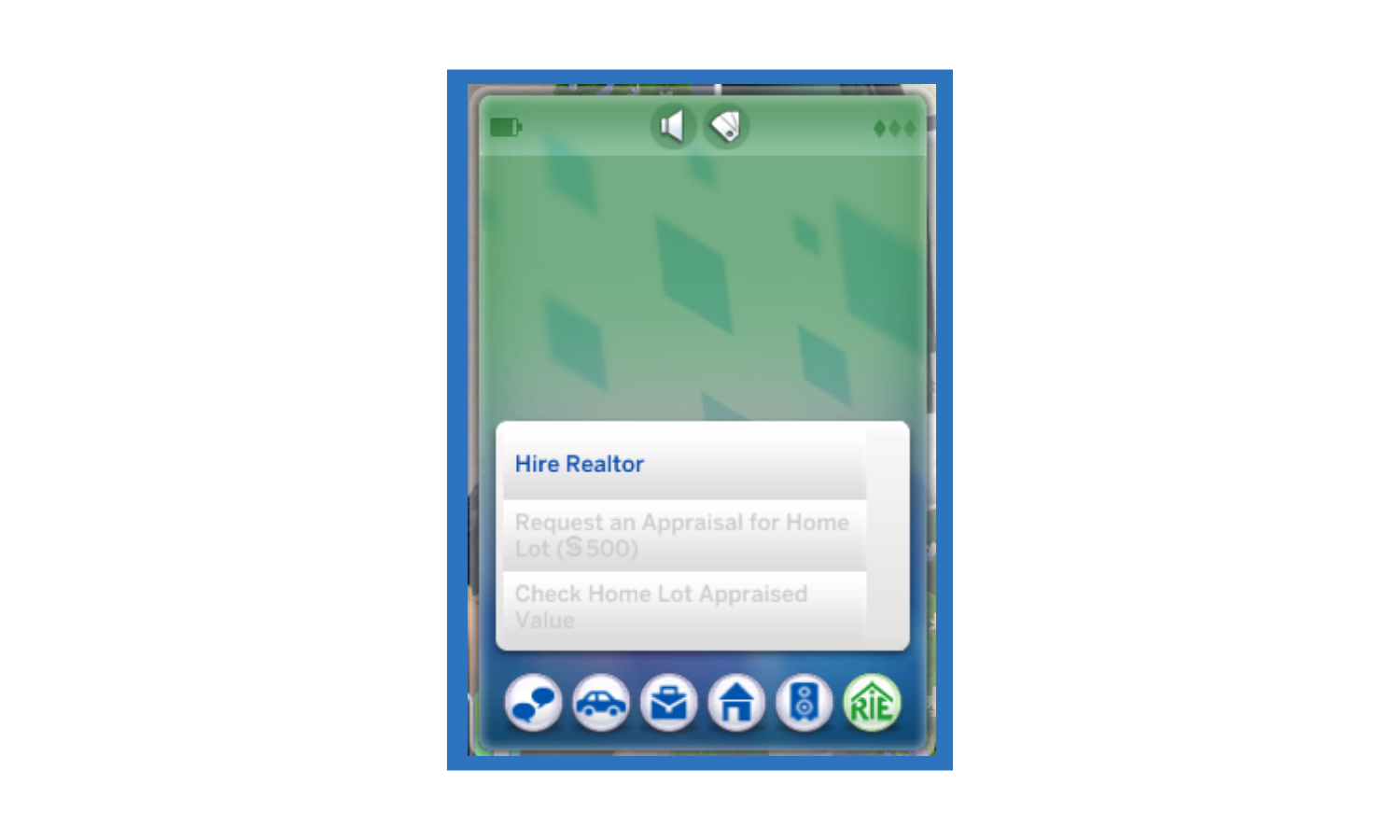 Be careful which Realtor you choose. The better their Rating, the better the service expected. So if your Sim(s) can afford a good Realtor, I suggest you take the plunge and invest in one. They may actually save you money in the long run.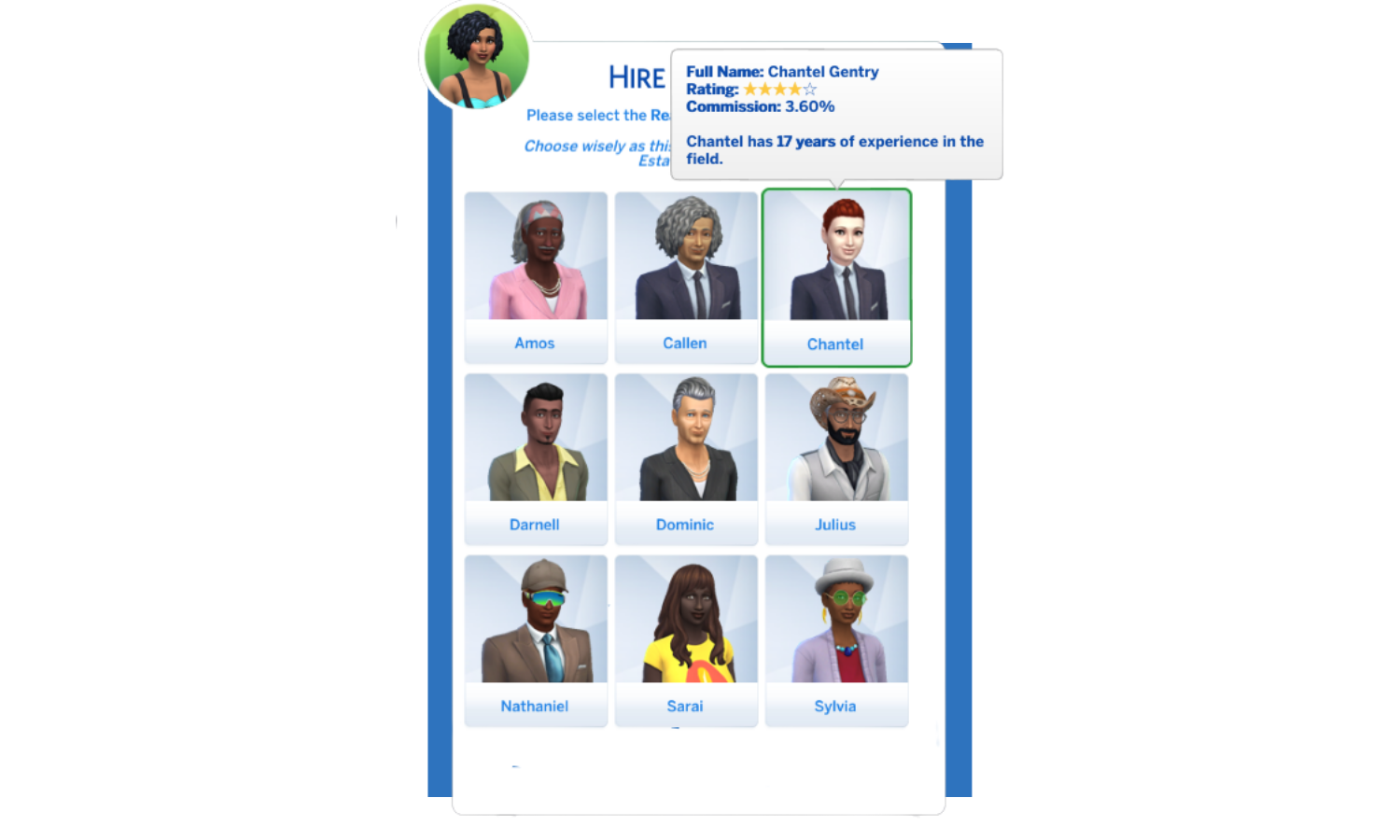 From there, you will want to set up your first Realtor appointment to set your House Wish List or Request an Appraisal of your Sim's current residence.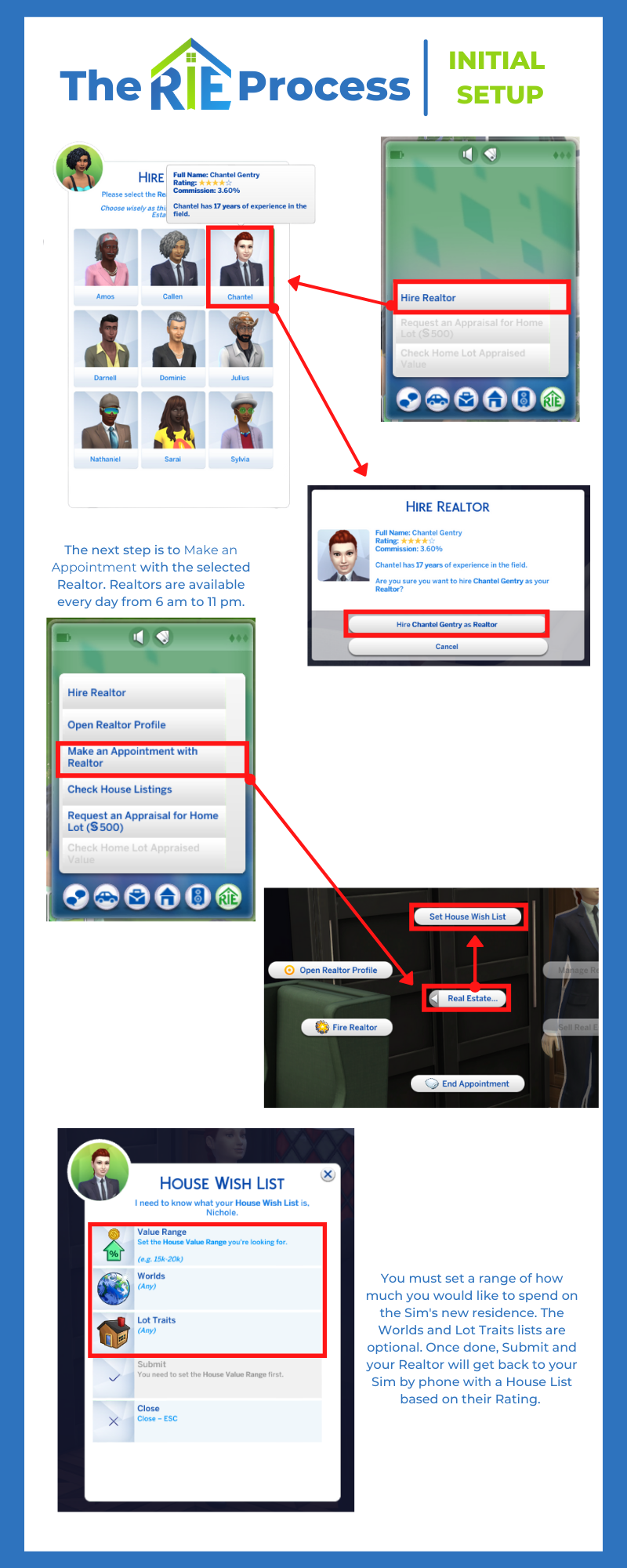 The House Listings Process
Once your Sim sets their House List during their initial appointment with their Realtor, the Realtor will respond with a potential list of houses/lots based on the set criteria. The follow-up call occurs according to the Realtor's rating (within 24 hours for Realtors with 3-5 stars and 48 hours for 1-2 stars). Two options will be made available after this call, Check House Listings and Request an Appraisal for Home Lot. These two options are critical if you plan on buying a new dwelling for your Sim.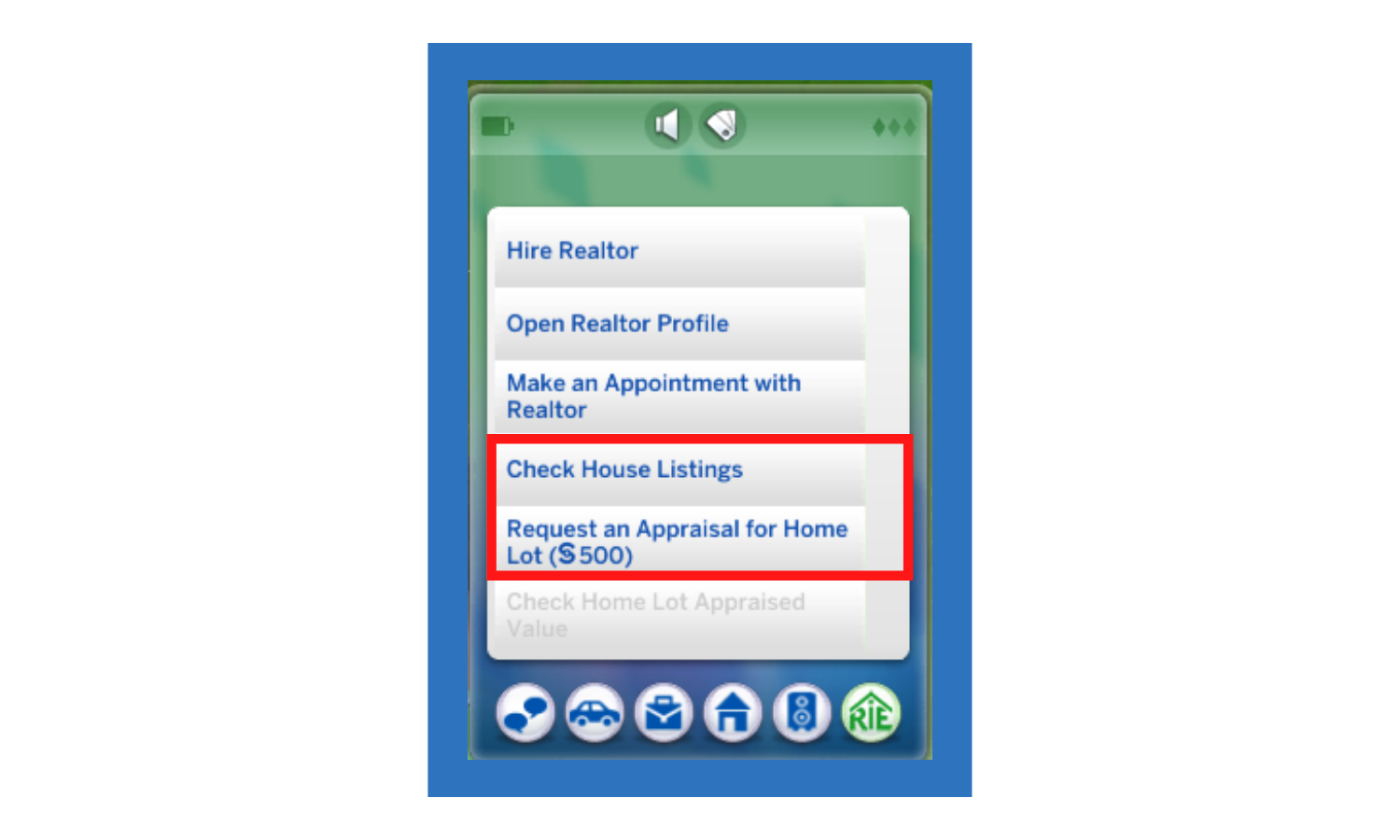 Within the Check House Listings option, you will have the opportunity to do the below interactions that will lead to a closing of a new dwelling/residence.
Appraisal System
As mentioned previously, you will need to "Request an Appraisal for Home Lot" before you can close on a property that went through the Negotiation Battle. You can also complete this task at any time after you set the initial Wish List. This option will be available to you Monday - Friday from 8 am - 5 pm when the new Appraiser NPC's office is open. Once you select this option you will get a pop-up confirming that an Appraiser will be out to assess your Sim's property.
The Appraiser will go around your Sim's property taking pictures and notes (sound familiar? 😂). Once done, you will get a pop-up showing the assessed value you could sell your Sim's property for (in the future, it will be used to allow your Sim to set up a line of credit at an SNB - Financial Center) and the elements that affected that value.
At this moment, only Lot Traits, World, and Lot Size affect the appraised value. Another major update during the 4th Quarter will include additional factors that can make your value higher or lower to create a truly dynamic market system.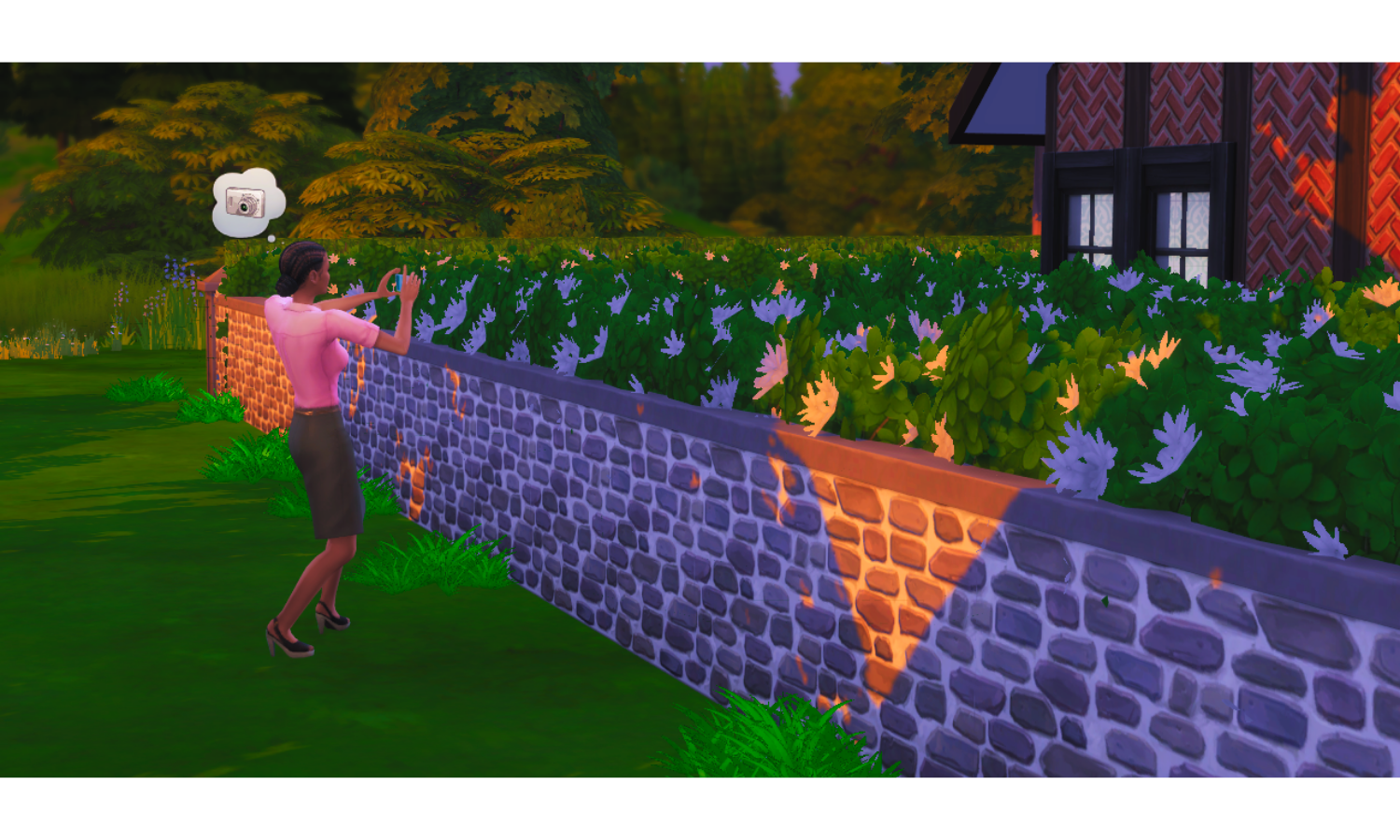 After a lot has been appraised, you can always go back and check the value again in the same phone menu with the option "Check Home Lot Appraised Value."
Selling Property
In order to sell your house for the new appraised amount, you will need to go through the R|E phone menu option - Check Home Listings and then click to start the Closing Process in order to sell your Sims current residence and move into the house chosen to close with. This will start your Sim's move process, so if you are not ready to move, do not click this option. If you want to keep certain furnishings, IT IS RECOMMENDED that you put those items in your Household Inventory manually. We are working to get the inclusion of the Sell/Keep furnishings during this process, so look for it in the next update.
*PLAY TIP: If you want to start a small business of flipping (or buying, renovating, and then selling) for profit, this is a way to do this. Especially when we add in additional factors that adjust the value according to curb appeal. Keep in mind that once you sell, the decorations/furniture will be sold and you can't keep the property fully furnished for other Sims. We are working on this issue.
Conflicts/Issues/Notable Items Observed:
Please take note of the current limitations of the Buy/Sell process in regards to keeping/selling furniture in the Selling Property section.
You can bypass the R|E system with EA's Move system as normal. You just won't be able to see the adjusted property value.
Compatible With:
Patch 09/21/21 PC: 1.79.93.1030 / Mac: 1.79.93.1230
Credits
TOOLS USED:
Zerbu: Mod Constructor (V4)
Blender
Download:
R|E is currently only available for patrons. Become a patron to get access to the download.
R|E will be publicly available for non-patrons on December 18th.
Mod Support/Assistance:
If you are experiencing an issue with this mod, please head over to our Discord server channel: #patreon-mod-support (https://discord.gg/97hyxrM). DO NOT PUT SUPPORT QUESTIONS IN THE BELOW COMMENT SECTION! The Comment Section is more for feedback.
To connect your Patronage to Discord, please follow these instructions: https://support.patreon.com/hc/en-us/articles/212052266-Get-my-Discord-role