(Public) SNB - Financial Center
The Financial Center is an adjacent mod of SNBank that brings a physical bank to the game. Your Sims will now be able to access SNB options, and more, in-person. This keeps to that off-the-grid option where you don't need to use your Sim's cellphone for every SNB service. This mod will also usher in SimRealist Credit options we have planned for later this year.
We are operating on a USE -> WORK -> OWN progression for all our venues. That means right now we are building the ability to USE a bank venue. Next, we will work on the ability for your Sim to WORK at a Bank and then OWN.
To get started, you will need the main SNBank found here:
- itch: https://simrealist.itch.io/snbank
Optional Mods that will enhance your experience are:
-Scarlet's SimCity Loans mod: https://scarletsmods.com/2019/10/06/simcity-loans-2-0/
-LittleMsSam's ATM Cards and Credit mod: https://littlemssam.tumblr.com/post/175407172343/atm-cards-and-now-with-real-credit-function
Placing or Creating a Bank Lot
In order to start with this mod, you will need a lot with the Sim National Bank Lot Trait. This can be any type of lot except for residential. If you would like just a bank, you can use the Generic lot type with this lot trait. I made a test bank (Generic) for you as well so you don't have to immediately build one. It will provide an example of what you will need for each function of the bank. You can then build whatever kind of bank you would like. To add my test bank branch to your game, you can either download the tray files below and put it in your Tray folder, or you can look up the EA Account ID: SimRealist.
Objects you will need to have a complete bank are:
A Bank Computer (Account Manager) Desk Station (found in Community Items)
A Bank Teller Desk and Station (found in Community Items)
A Credit Computer (Loan Officer) Desk Station (found in Community Items)
A Bank Lobby (be sure to have a good size one and only have one entrance and exit so you can attempt to control the NPC traffic).
(Optional) SNB Bank Sign (Found in Wall Decor)
Additional Custom Banks by KateEmerald
I've been watching KateEmerald's builds for a while and all the great work she has done so far for the Sims Community. I reached out to her to assist me in building some custom Bank Venues for everyone to start off with since I wouldn't say I'm architecturally inclined (though I tried with the Test Branch. 😉) and she happily agreed! In fact, you may see more of her work in the future as we add in more venues to go with our mods. Yes, we have plans for at least two more venues this year! Below are your options to download. They all only require the Base Game and sit on 30x20 lots for ease of use. Each of them is made to match the World that they are named for. I've also made these lots available via the Gallery under the SimRealist ID.
WILLOW CREEK BRANCH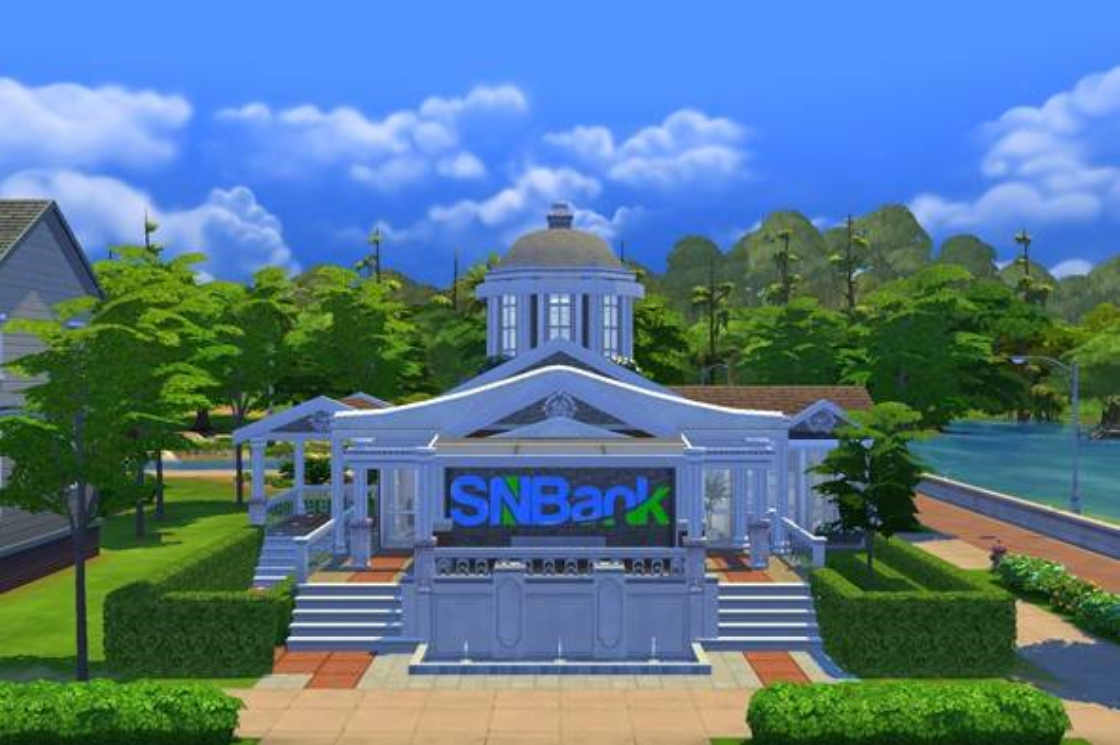 OASIS SPRINGS BRANCH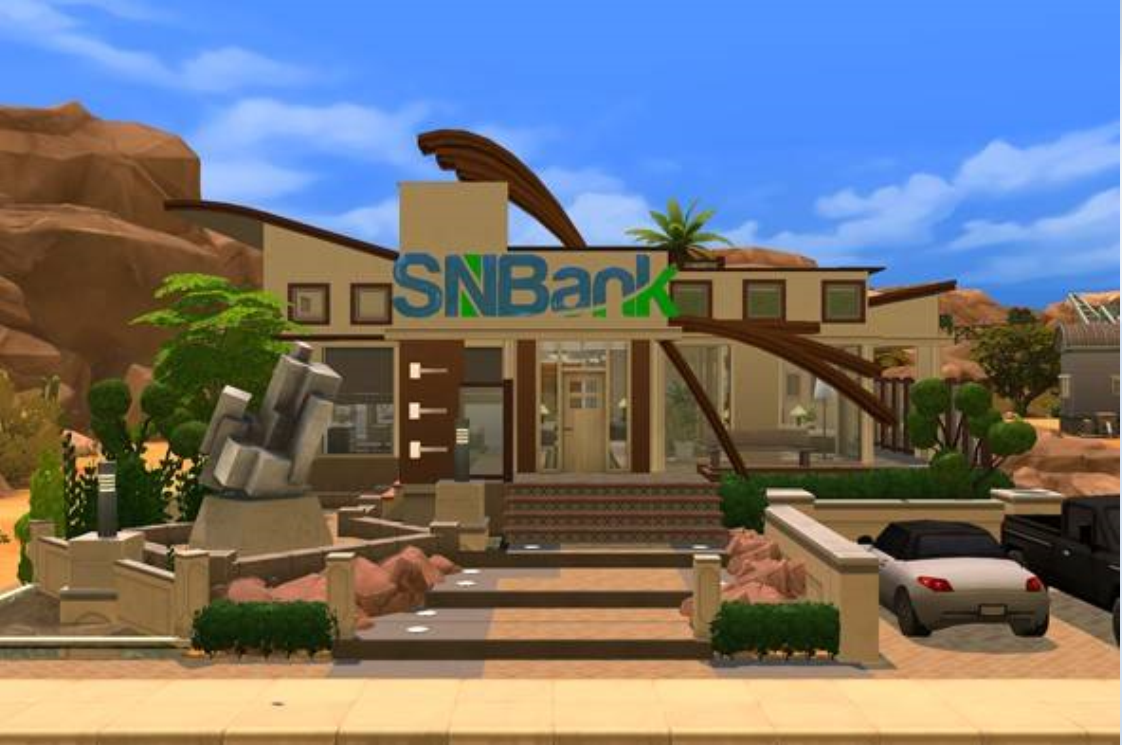 NEWCREST BRANCH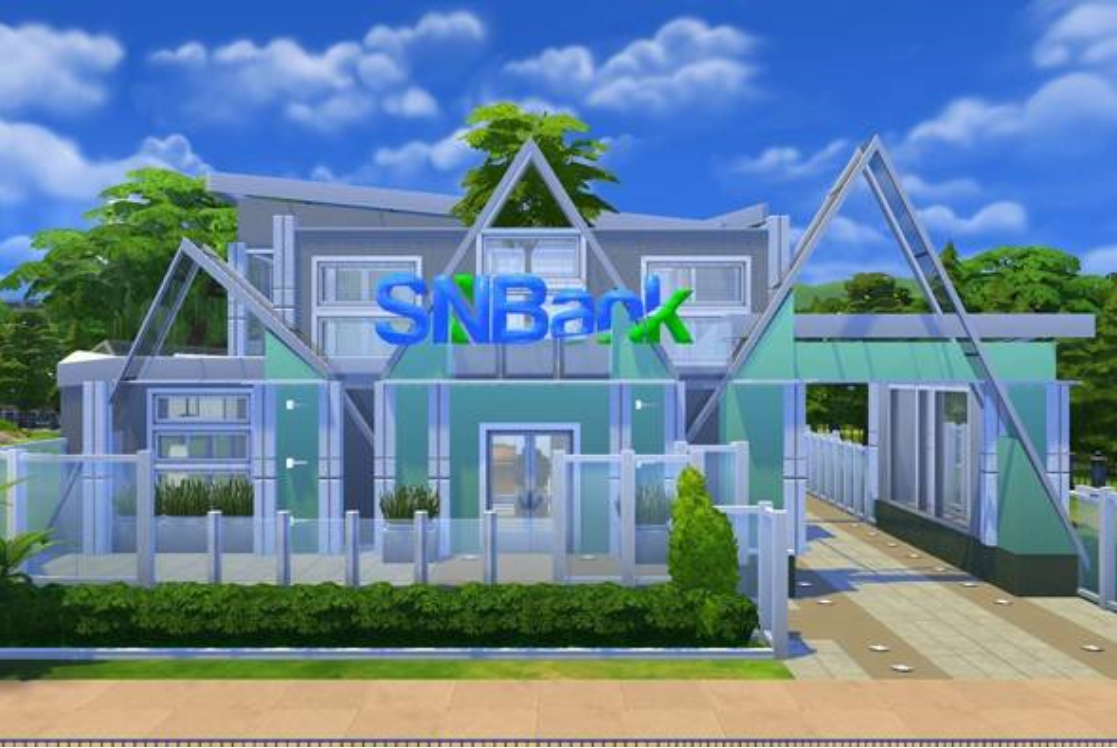 Please check out KateEmerald here: https://www.youtube.com/channel/UCfSA8fw-AoVckUmrkBKR4dw
If you do share your build to the Gallery, be sure to add #snb to your lot description for others to easily find your lot.
How to Use the Bank
ACCOUNT MANAGER
If this is the first time a Sim has used SNBank (the main mod) and they don't have an account, you want to start at an Account Manager's office. There you will be able to Inquire about what Bank Products are available and Open either an SNB account or buy a LittleMsSam ATM Card. You will need an SNB Account in order to use other Bank services.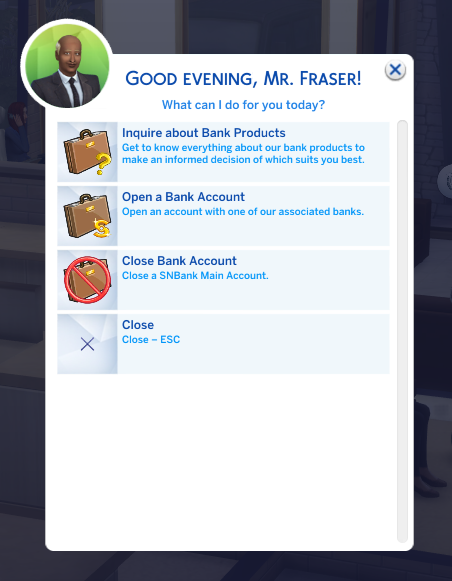 In addition to opening an SNB Bank Account, you can also close one with an Account Manager when you no longer need SNB services or open more SNB Accounts for the rest of your household.
From there, your Sim can either go to a Bank Teller or a Loan Officer. This depends entirely on your Sim's needs at the moment.
BANK TELLER
A Bank Teller will assist your Sim on a number of services starting with the basic deposit and withdrawal as well as make your Student Loan Payment. You also have two new options that allow you to send money to other Sims by way of a limited SimoleonGram or an unlimited Wire. Both come with a fee. What this means is that SNB will require an update where we cap the Send Money feature so that you have to go to the bank to send more than a certain amount with Bank Approval. You know to protect you from future fraud and all. 😉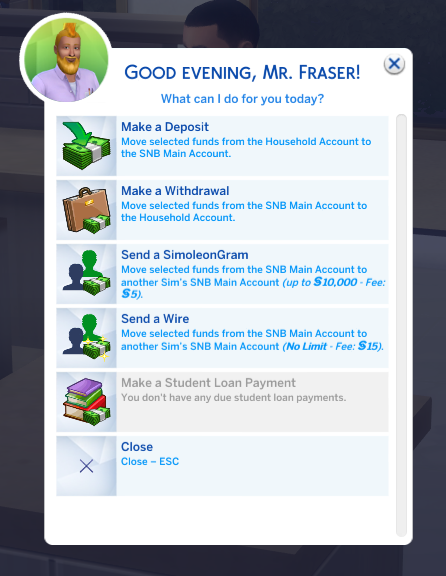 LOAN OFFICER
A Loan Officer is available to assist with your Sim's Credit needs. Right now you need one or both of the Third Party mods we reference which is LittleMsSam's Credit module of her ATM mod and Scarlet's SimCity Loans mod. We plan on implementing our own Credit products in the future in conjunction with another mod we will be creating this year. To get started, click a Loan Officer NPC and the Credit UI will guide you through whichever product you choose.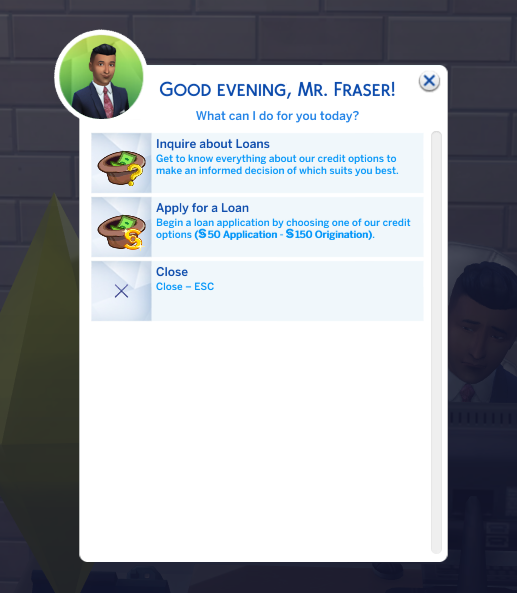 Conflicts/Issues/Notable Items Observed:
If you use our test branch, there have been instances in which it will switch back to the original lot type. All you need to do is switch it back in build mode to what you would like or keep it as is. Leave the lot and come back with your Sim to activate the Bank.
Bank employees on break might stick around and start dancing because they are just so happy to be there 😂.
Be sure to have a good size lobby, Bank Customer NPCs have been known to sit where they shouldn't. With that being said, you should bypass Building Fire Codes and only have one entrance/exit to the building as well.
In order for Tellers to show you will need a bar stool with the Teller Desk.
Compatible With:
Patch 01/21/21 PC: 1.70.84.1020 / Mac: 1.70.84.1220
Credits
Thanks to Scarlet & LittleMsSam for letting us side-load their mod to give everyone an enhanced experience.
STRINGS INCLUDED:
Chinese - Simplified
Chinese - Traditional
Czech
Danish
French
German
Italian
Korean
Polish
Portuguese (PT)
Russian
TOOLS USED:
Zerbu: Mod Constructor (V4)
Mod Support:
If you are experiencing this issue with this mod, please head over to our Discord server channel: #simrealist-mod-support (https://discord.gg/W8Erfqu).
| | |
| --- | --- |
| Updated | 1 day ago |
| Status | Released |
| Category | Game mod |
| Release date | Jul 04, 2020 |
| Rating | |
| Author | SimRealist |
| Tags | banking, simrealist, sims-4-mods, snb, the-sims-4 |
| Asset license | Creative Commons Attribution_NonCommercial_NoDerivatives v4.0 International |
| Average session | A few seconds |
| Languages | Czech, Danish, German, French, Italian, Korean, Polish, Portuguese (Portugal), Russian, Chinese (Simplified), Chinese (Traditional) |
Download
Click download now to get access to the following files:
ALL Financial Center Venues
751 kB
SimRealist_-_SimNationalBankFinancialCenter_0.1.1.1.zip
2 MB
SimRealist_-_SimNationalBankFinancialCenter_0.1.1.1 (Traditional Chinese).zip
2 MB