(Public) SNBank
Mod Summary
Ultimately, this mod intends to create an extensive financial/banking system similar to what we humans have in real life. With our final feature added, we hope to add/boost your storylines in-game or even play out any financial situations that are limited only to your imagination.
Summary of Changes
Complete Overhaul of SNBank: A new separated app like R|E with a whole new UI that covers a complete code change.

Multiple Account Ownership: Your Sims can now have multiple accounts to categorize or budget with intention rather than all in one lump sum.
New Account Options: Your Sims can now have multiple checking and savings options with tier options.
Shared/Joint Accounts: Sims can now share any of their accounts with anyone they know.
New Transfer System - Transfer | S2S: Deposit, withdraw, and transfer funds to anyone you know, all in one place!
Basic Estate Planning: Additional options to prepare a Sim's accounts for management after death.
New Account Management: Manage and customize your accounts at any time within the new SNB app!
Updated Direct Deposit: This oldie got an upgrade with this version. Your Sims can now customize which income type goes into which of the new accounts and how much.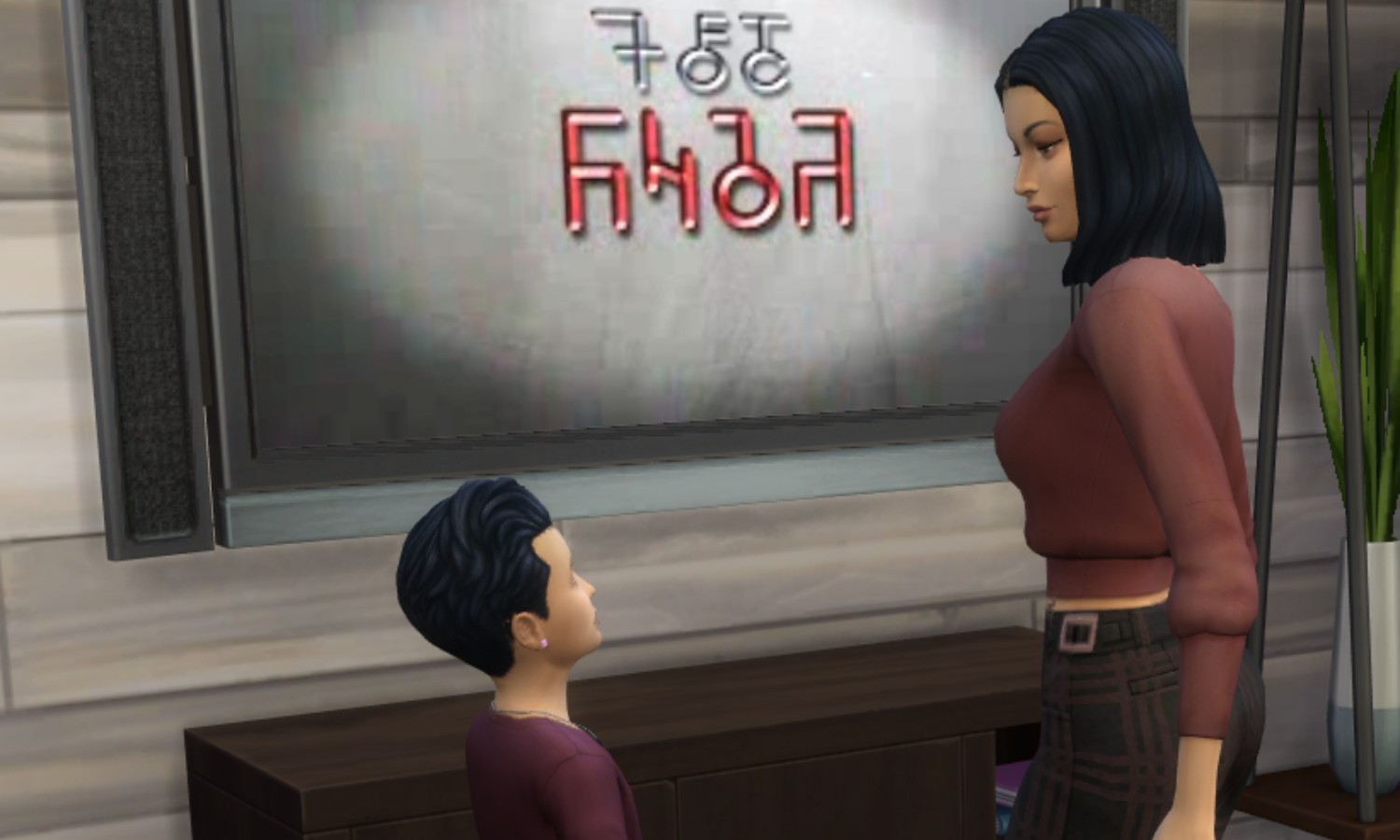 Meet the Dewan Family! Sabina and her son Aryan recently moved to Evergreen Harbor to start up their new life. Sabina will start a new career as a Vet Resident to open her own Vet Clinic later. At the same time, Sabina received a letter from Sims National Bank about a change in their Core provider.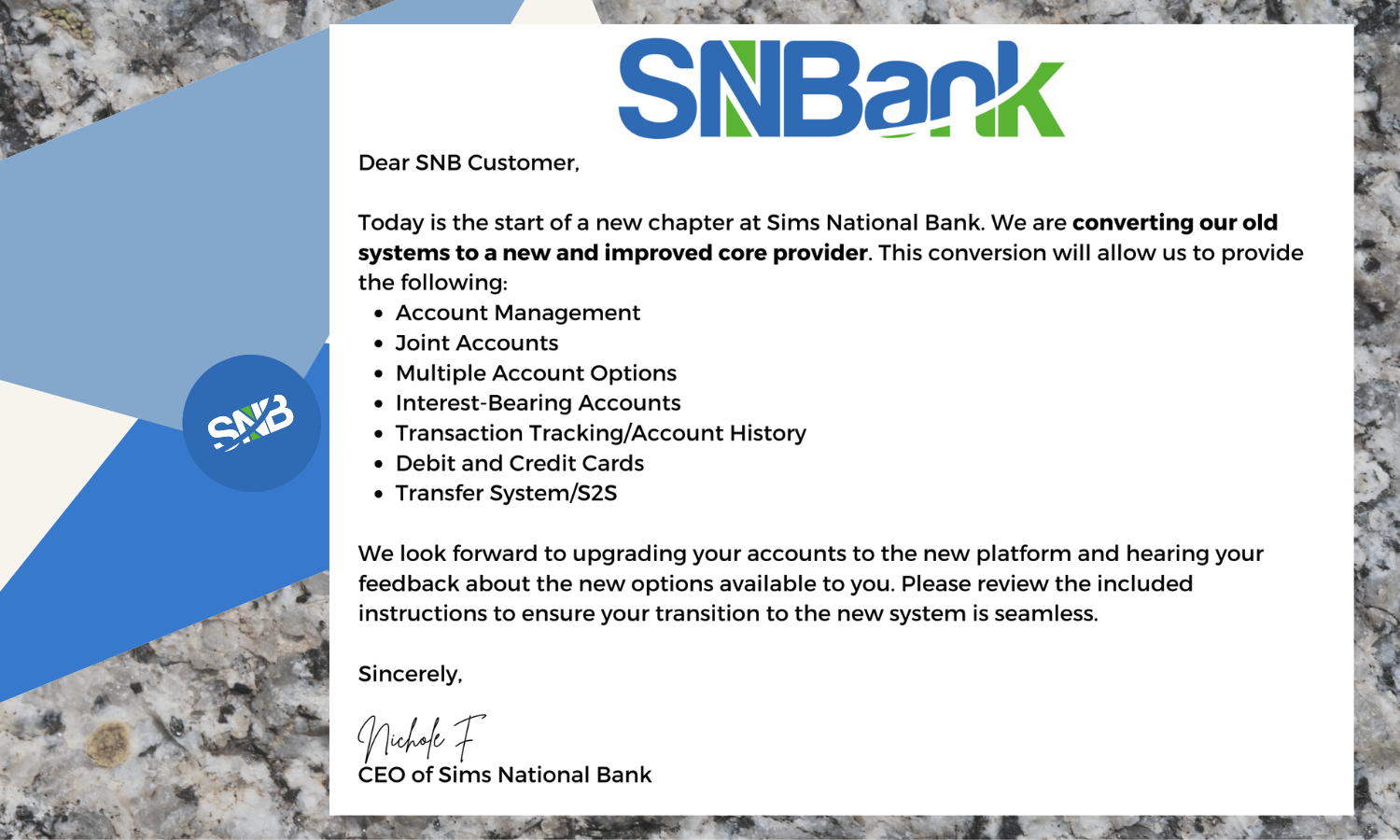 This update came at the perfect time so she can set aside money from her side hustles to pay for her and her son's living expenses and deposit the weekly Wel-Fund benefit her family receives while she has a no-pay job and saves up to buy her clinic. Sabina rushes to open up the new SNB account to check out the new Account Management option and open a couple more savings accounts.


In the event that your Sim had SNB accounts from the prior system, we built-in a process to upgrade their accounts to the new system by simply keeping the old data.package in your mod folder. This initial version of 3.0 will always have the data.package to ensure all Simmers with existing accounts migrate over their Sims' accounts. Subsequent updates after this initial version will NOT include the data.package as it isn't needed after this initial transfer.
A successful transition to the new code or new account system should look like the below: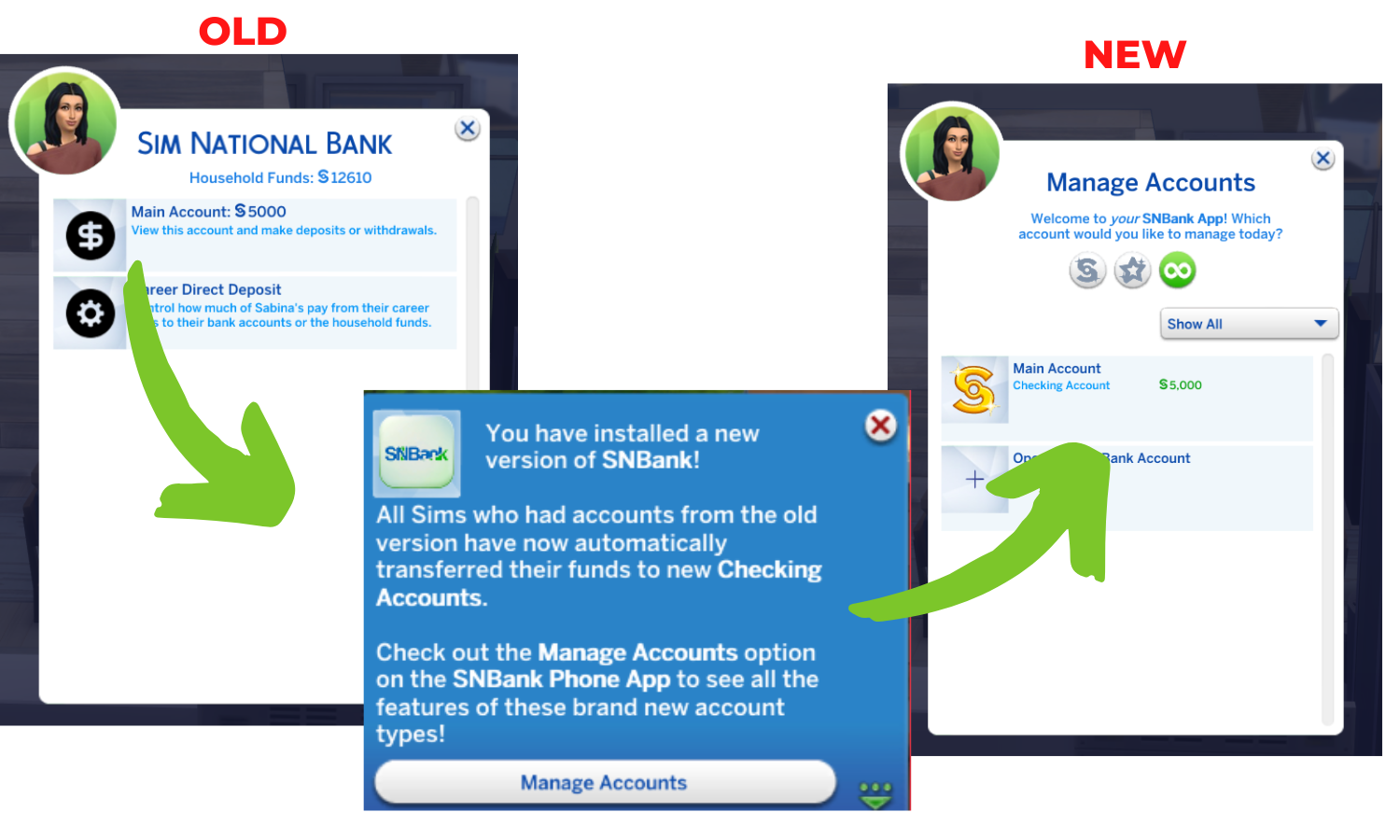 For all new saves and Sims without old SNB accounts, you are good to go to start using SNB 3.0.0 without the data.package or need to do the above process of updating prior accounts.

With version 3.0, your Sim can now own multiple accounts. And not just one type of account; your Sim can have multiple types. There are two ways to open a new account. You can do so through the phone App option called "Open New SNBank Account" or within the "Manage Accounts" option.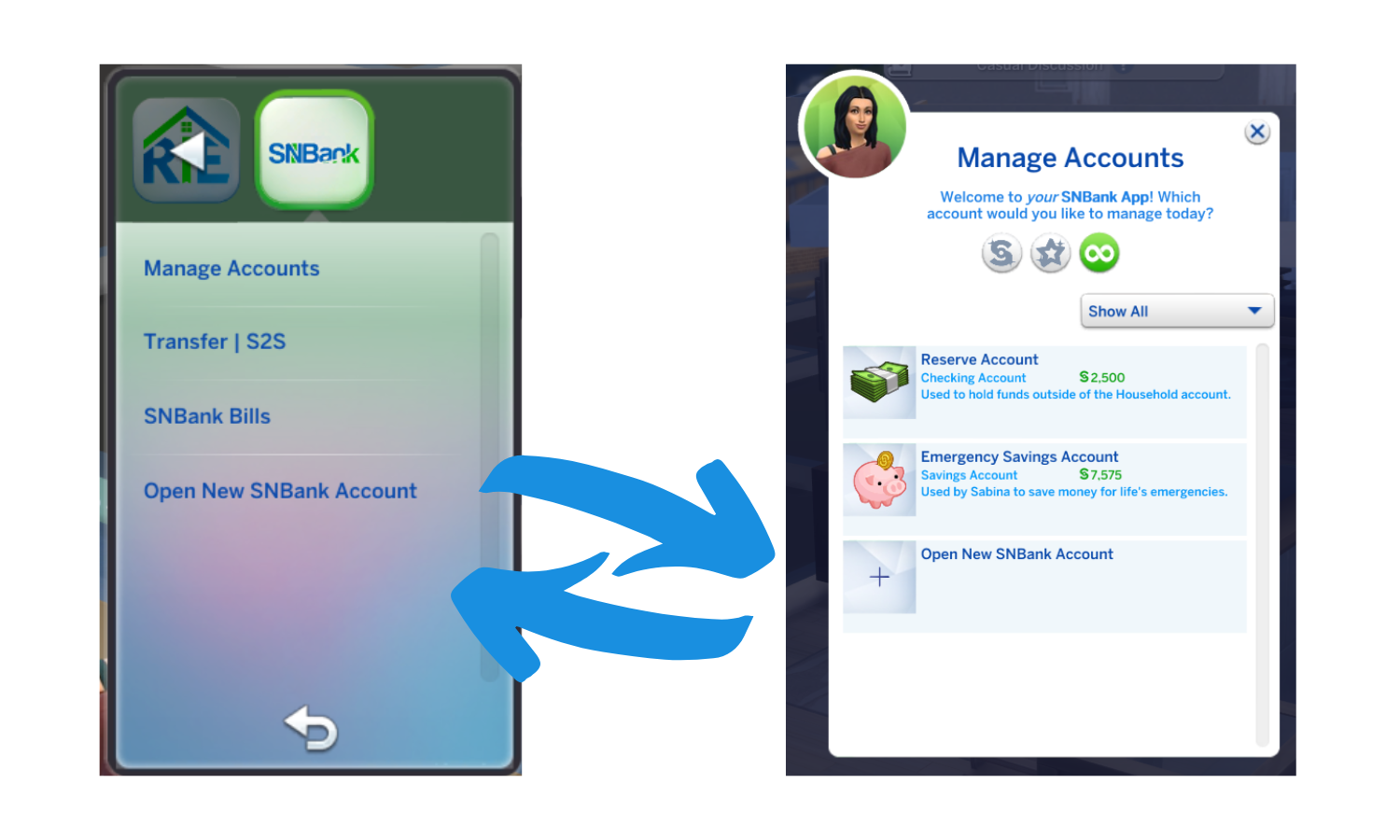 If the Sim never had an SNB account, they should see the initial welcome message. If they had an account, they would start the process from the "Open New SNBank Account" screen to select the account type they want to open.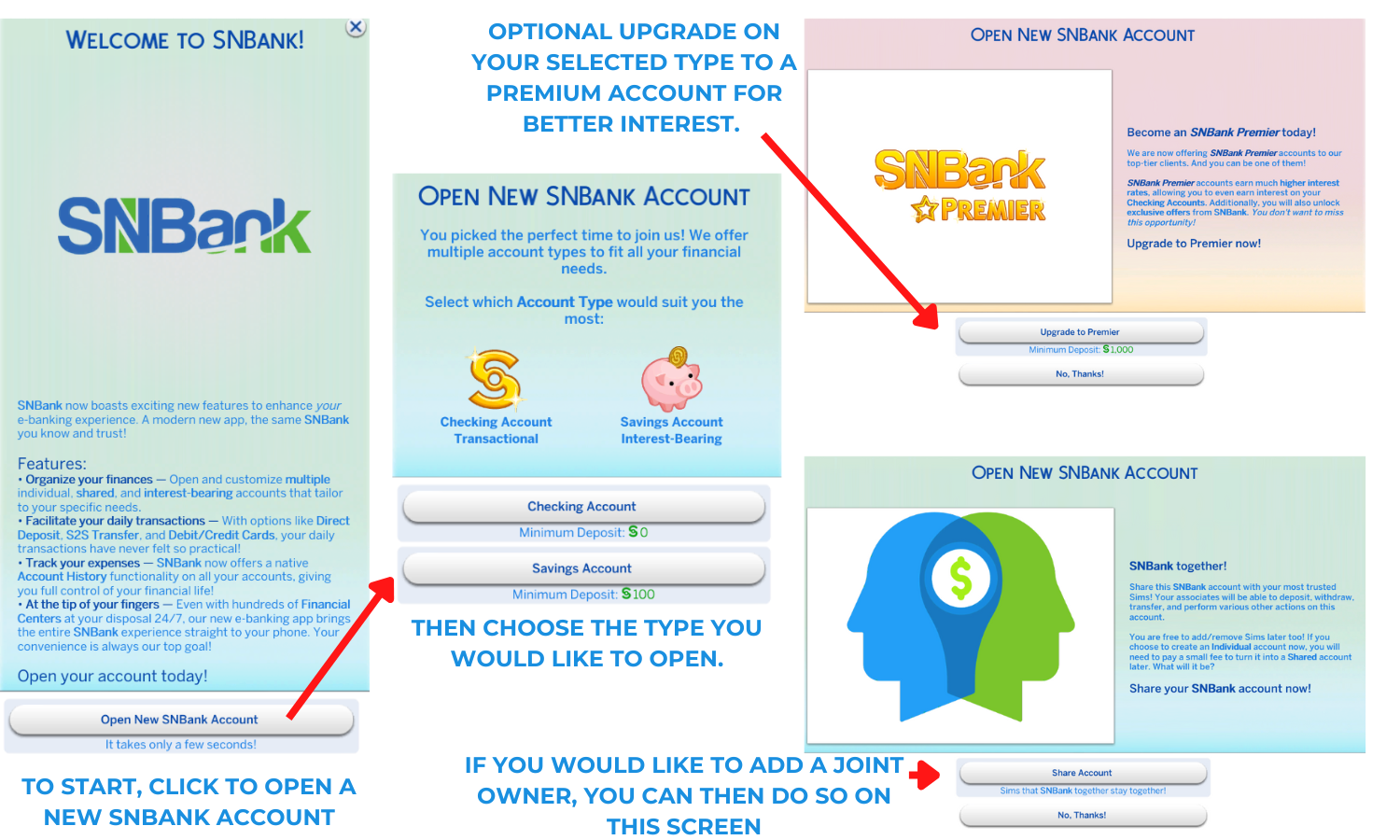 The account types that are available to open with the new and improved SNB app are the following: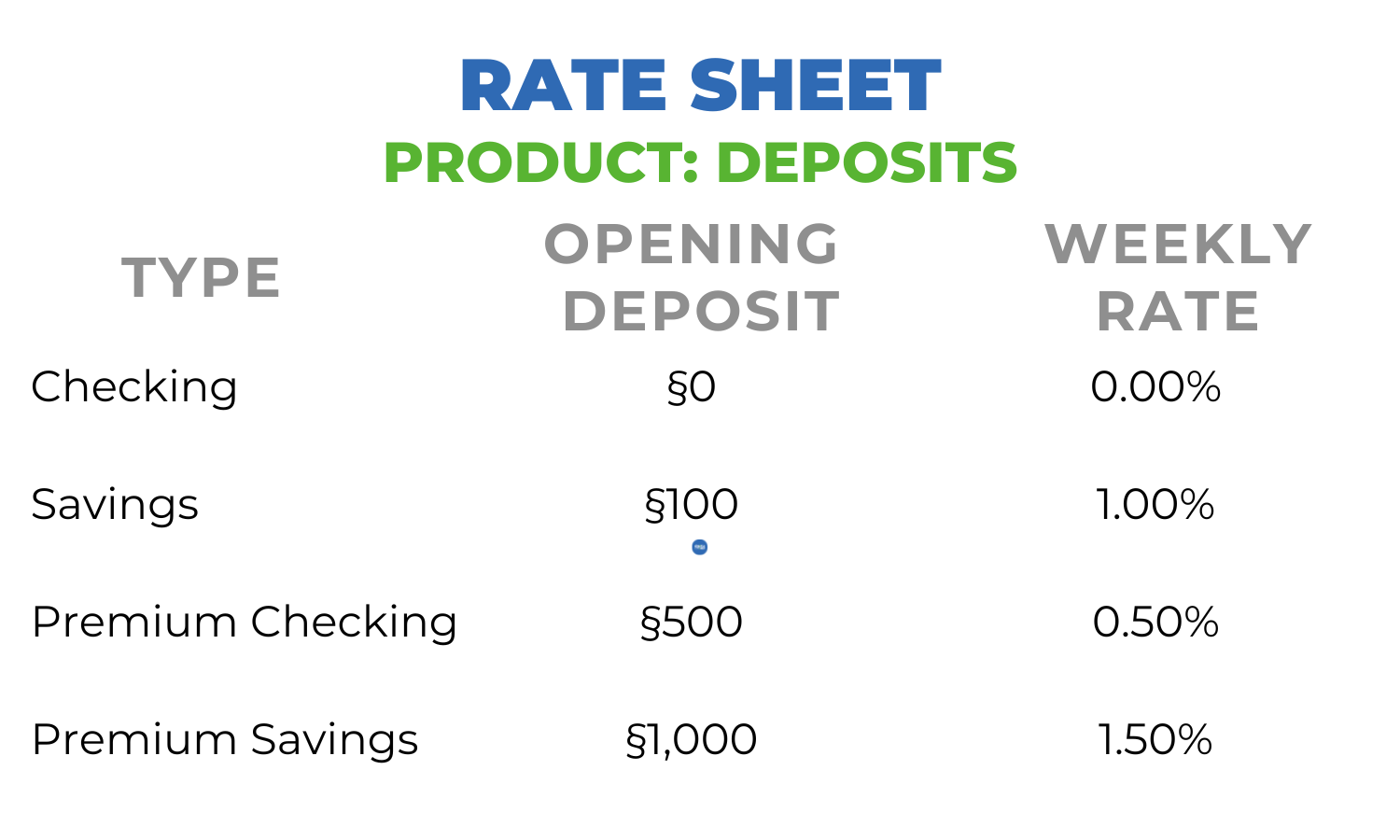 Sabina now has all the accounts she needs better to organize her money and plan for the future. During the whole account opening process, she came across a new feature that would allow her to create an account for her son so that she could set aside some money each week toward his education and life after college.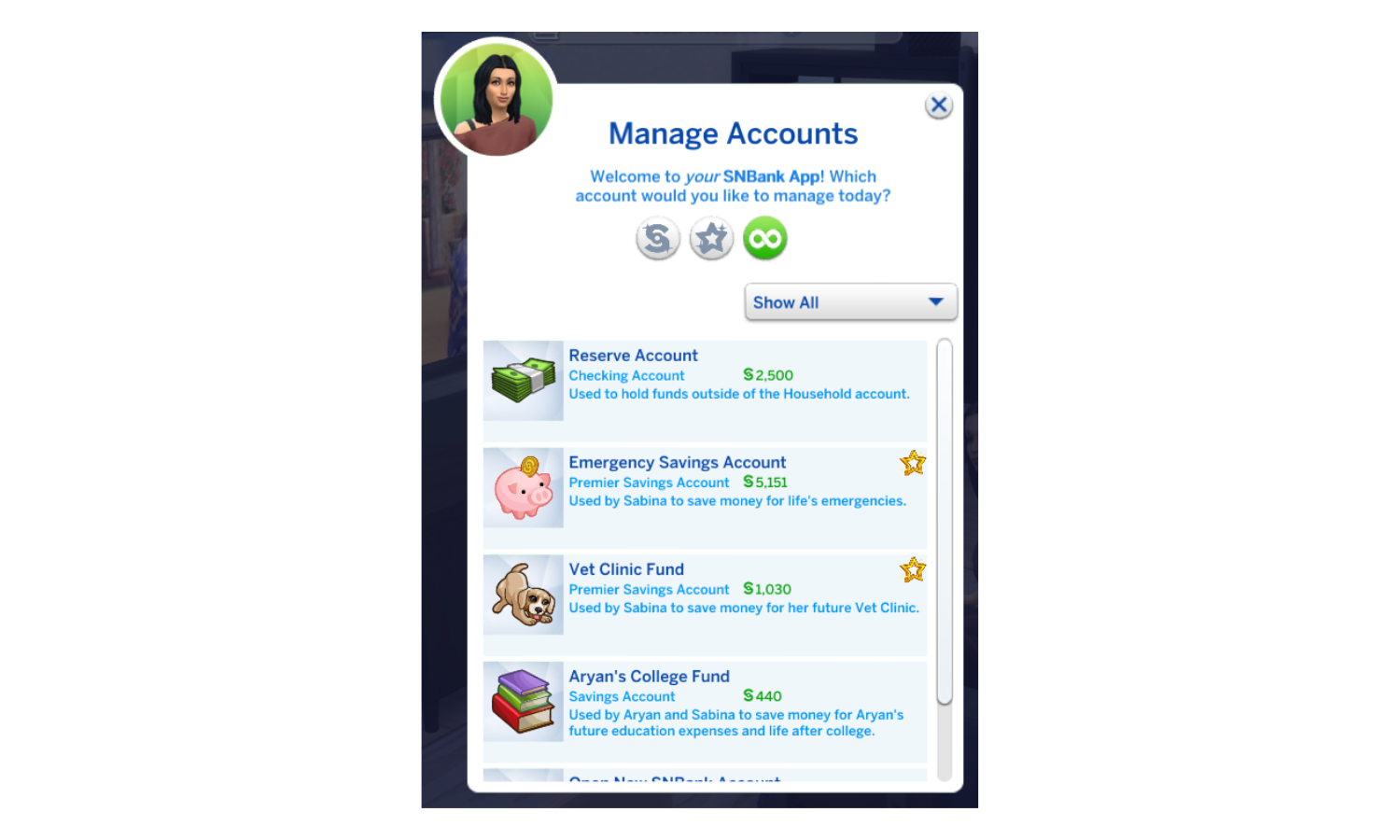 She noticed that within the Account Management feature, she is also able to add more owners to the account. Nani Dewan wants to be able to chip in on weeks Sabina is unable to, so Sabina goes about adding her through this feature without ever having to go to the bank! She could just as easily remove Nani if need be as well. Now Nani can see the account to make deposits or withdrawals if needed without having to go through Sabina when helping take care of Aryan.


Your Sim can set up Shared/Joint Accounts at the creation of an account. They can also add or remove owners via the app's Account Management feature. In the example above, Sabina adds her mother to her son's Education Fund account to help build up his savings and be available to take care of any payments needed if she is unavailable. This is represented in the image below.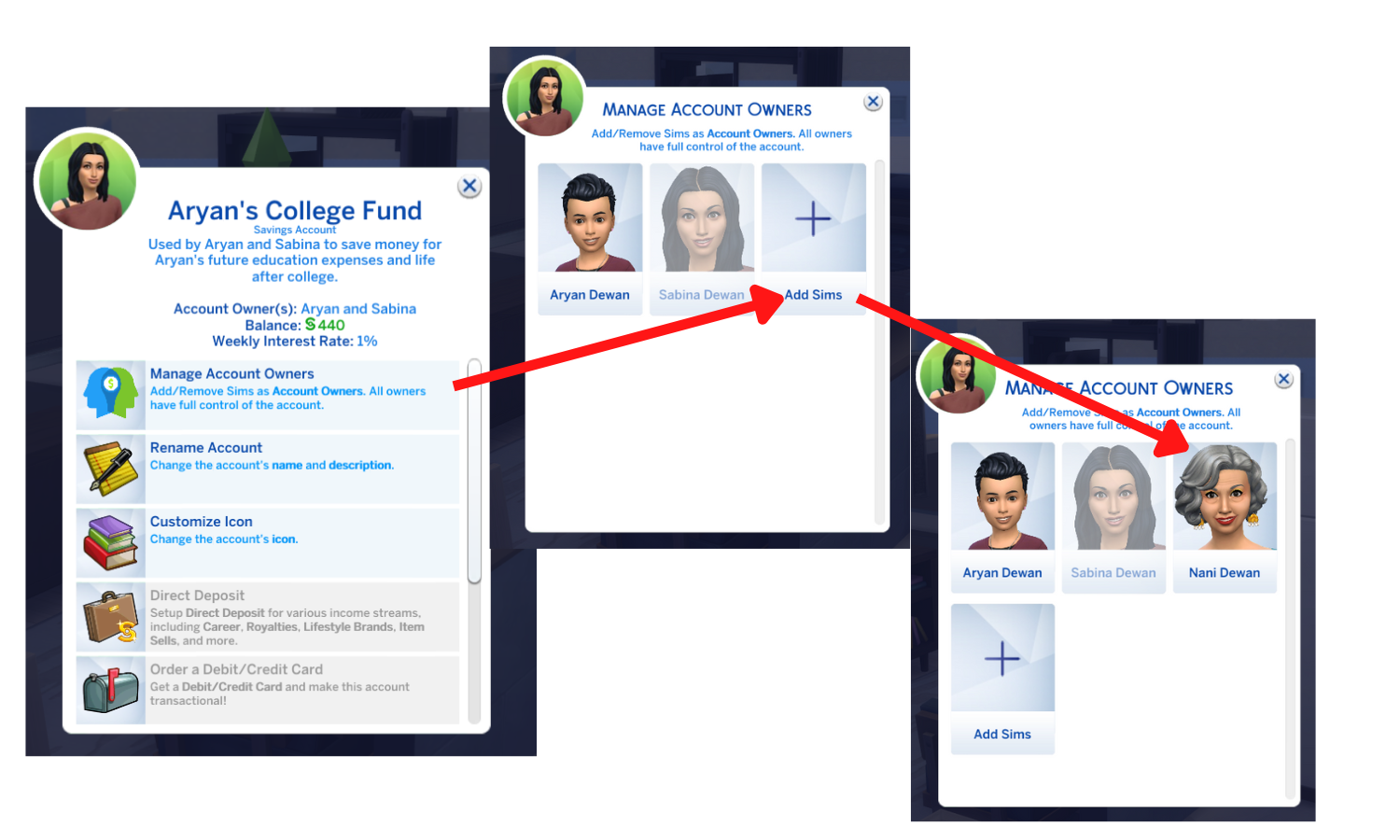 Your Sim should now not feel locked into the account ownership they originally started with and have an account that adapts to their needs as their lives shift.

We've also changed how Transfers work. Previously, if the Sim receiving funds didn't have an SNB account, the mod would set one up. In this case, you would need to set one up, or the only option available would be the other Sim's Household account. With this latest update, you should now be able to send money to a specific account that the other Sim has or to another account the sender has, all in one window. Transfers or Sim 2 Sim will eventually have reoccurring transfers to make money management much easier.

Nani went home to look over her finances to see what she could do to help her daughter and grandson while she still could. She was near the end of her days and wanted to ensure her remaining family was set for their next chapter in life.
She started by going into the Transfer menu option and selecting to move money from her Household account to her grandson's savings account. He is still young, and she felt Sabina should have enough to cover him once he is in college and starting his career, so she only sent §75,000. After that, she did a series of transfers via the S2S system to deposit funds into her daughter's other accounts. She wasn't listed as an account holder.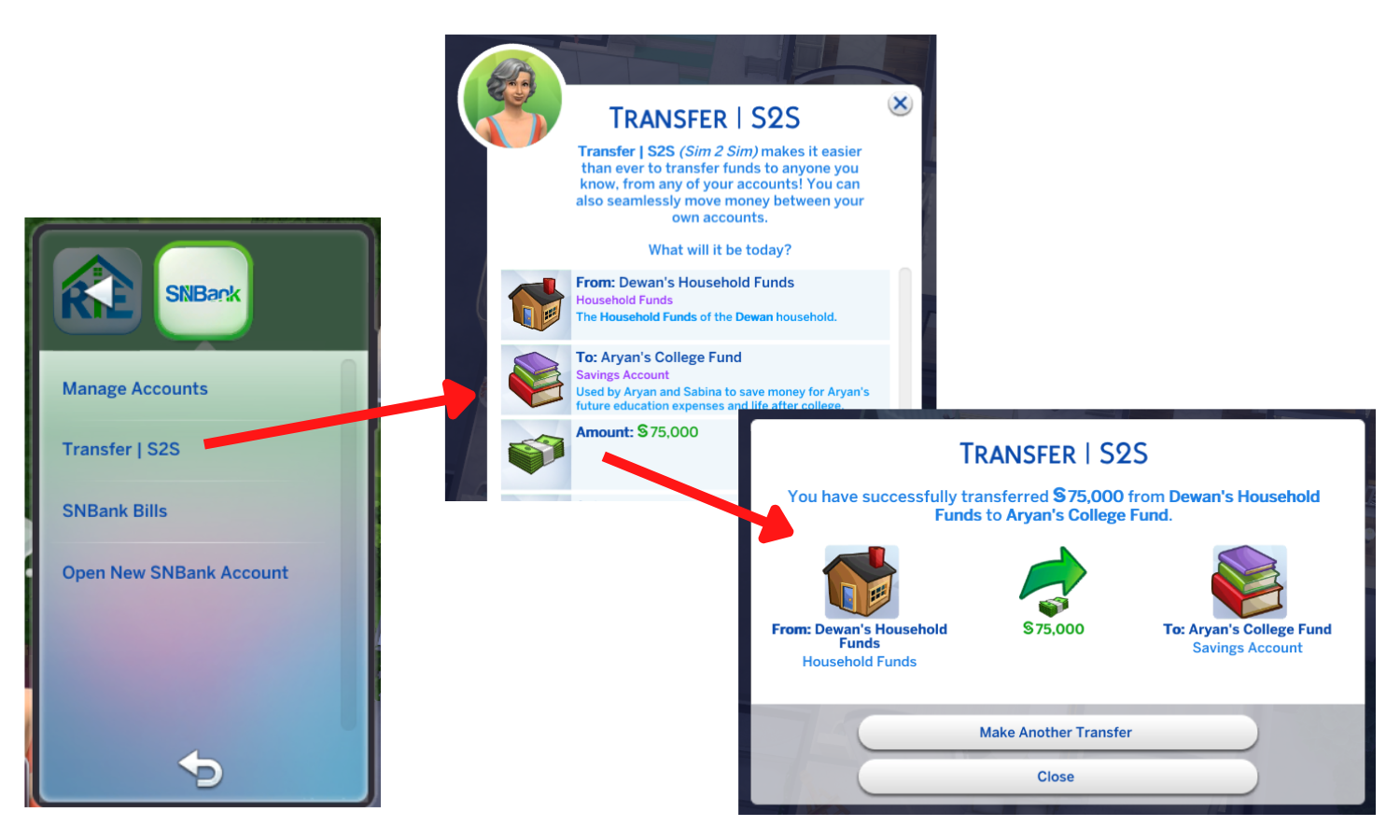 Feeling super satisfied with the end result, she called up her daughter to let her know about the deposits and to not worry about getting any side hustles so she could focus on her studies. She also invested a chunk of money into Sabina's future vet clinic. She may not be around when she opens the doors of her first clinic, but she wanted Sabina to feel that support regardless. It would've been what her husband would've wanted.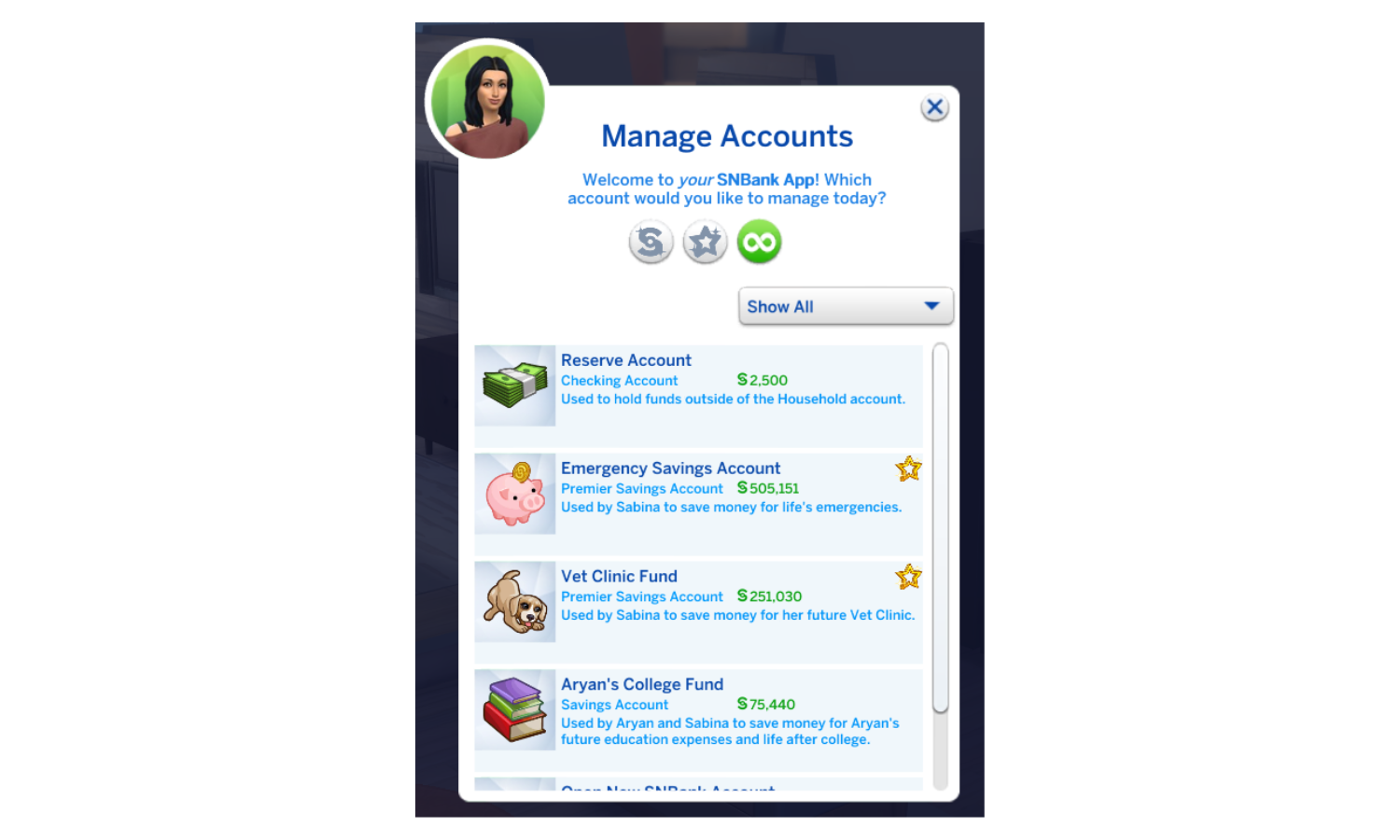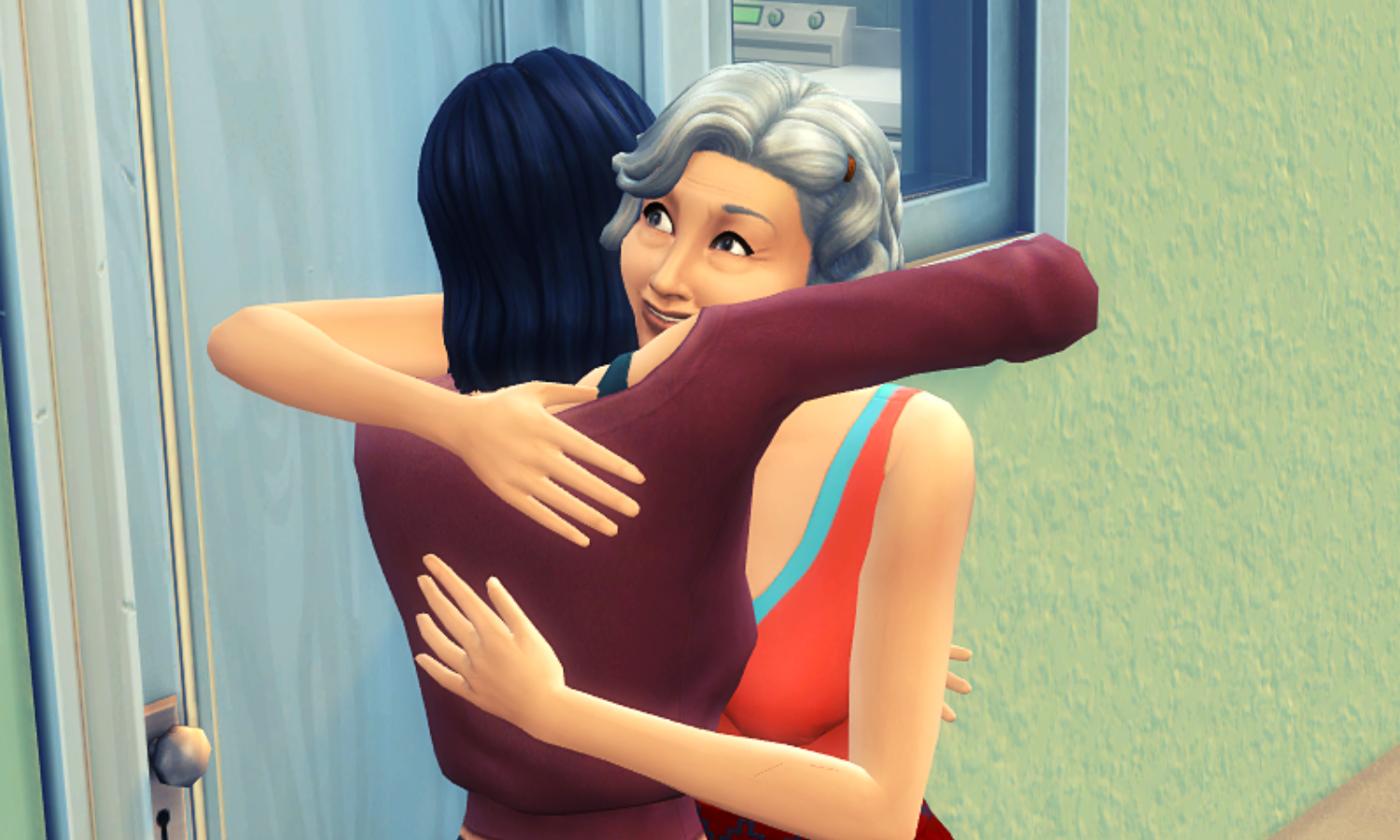 We've made some minor adjustments to plan for the death of a loved one. There are two ways to tackle this subject, add the planned Executor as an account owner for all the accounts associated with the Sim who is getting close to their end of days or do nothing if the Sim is an active household member.
If the family member or friend does not live in the active household, adding them as joint/shared account owners makes for an easy transition of wealth without the money going to the local government.
If the loved one was an active household member, and you don't have joint accounts set up, then the SNB account will add the remaining household members to their account as account owners to do with it what they will.

As Nani was leaving to go back home, she felt her time had come. Since she set Sabina as an account owner on her personal savings account, Nani's remaining funds are now Sabina's. This made things easier for her to make arrangements without touching the funds Nani gave her and her son to survive on in the coming days. She doesn't know what she is going to do without her mom, but she is happy that she was able to get in one more hug and have that time with her.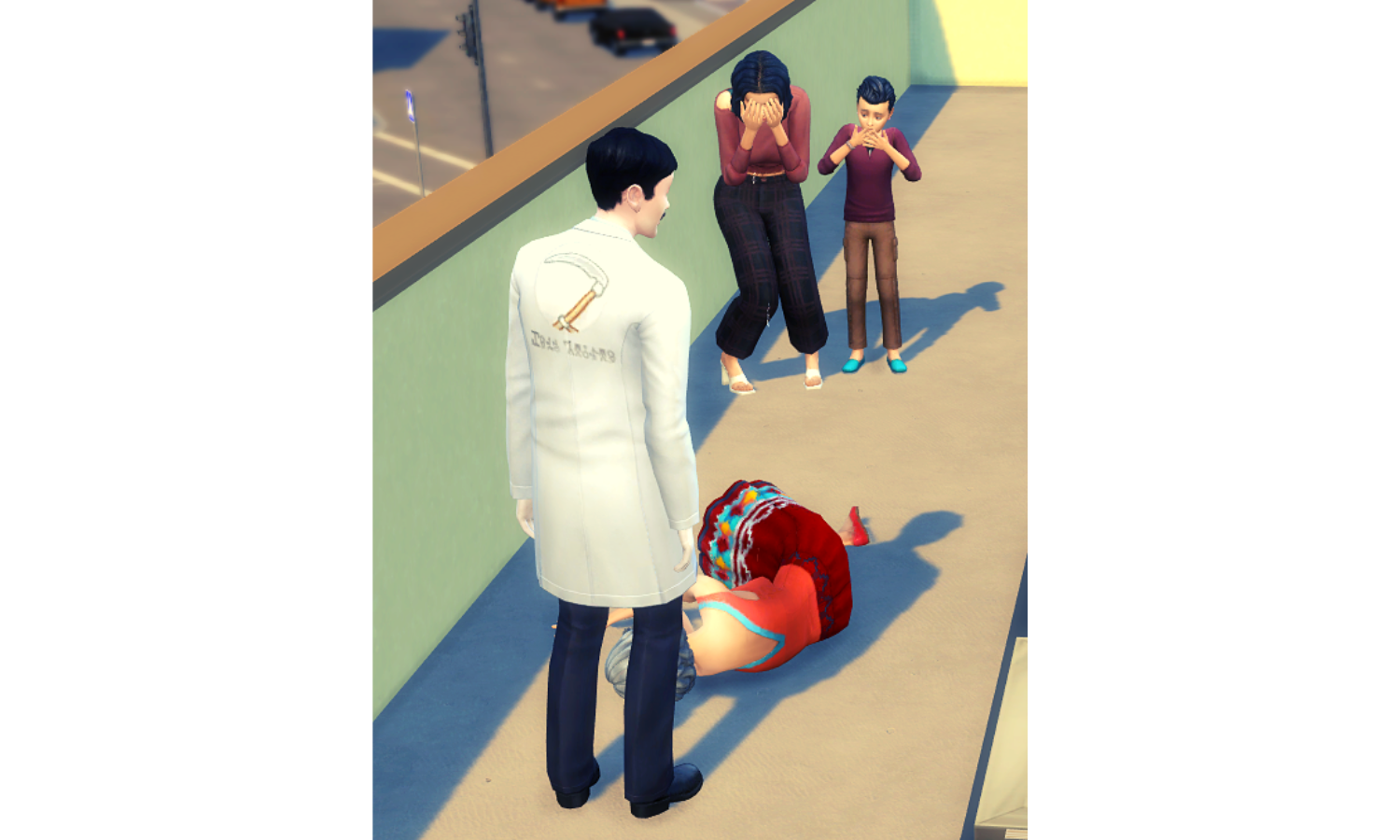 Within the "Manage Account" option, your Sim could do the following activities:
Within the Direct Deposit option, you have the below categories in which to automatically deposit to your Sim's accounts. You will need to address them for every account that you would like money to deposit directly.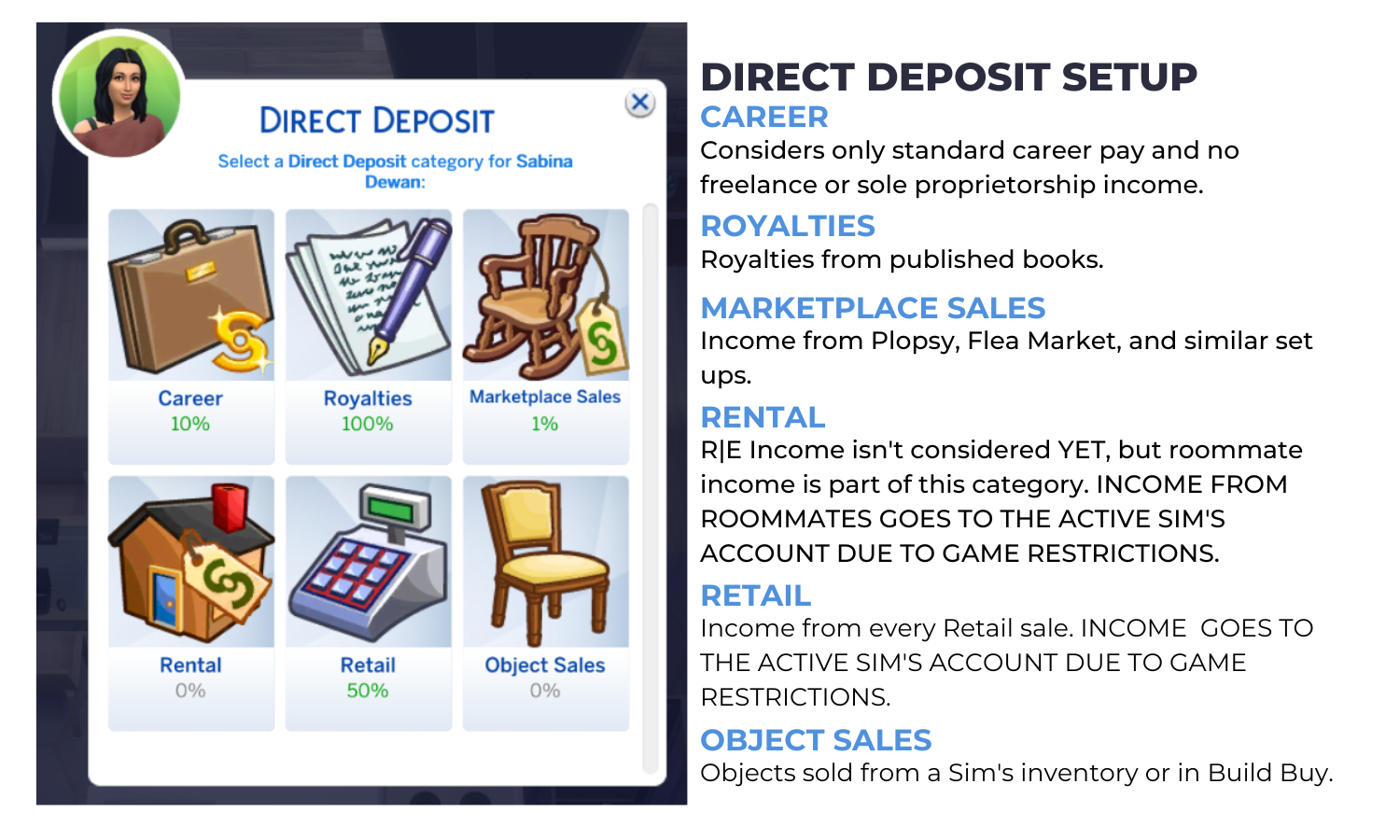 **ALIMONY AND CHILD SUPPORT ARE NOT SUPPORTED YET**


Every account is covered by the Sim National Bank up to §9,999,999. This means that you can only put up to that amount in each account. This is a game limitation that resulted in a cap on each account. Anything beyond that will require an additional account to be opened.
Don't like the SNB menu music? You can simply turn it off with cheat snb.music off. This will hold while in-game. You'll need to re-enable each time you would like the music to stay off while playing. Keeping in mind that the music only plays for the initial account opening and should play with existing accounts that you are utilizing with your Sim. If you miss the music, you can simply re-enable it with cheat snb.music on or start the game back again after exiting.

Some things of note with this version are to be made aware of when installing in relation to the other two mods in this mod suite, SNB - Bills and SNB - Financial Center.
SNB - BILLS
You can now access Bills within the SNB app in addition to the Home phone menu. This adds a level of convenience that we hope to improve upon in subsequent updates.
SNB - FINANCIAL CENTER
You can now open, maintain, and use your new SNB accounts for loans.

In an upcoming update, we plan to add in the following SNB features:
Debit/Credit Cards
Account History
Conflicts/Issues/Notable Items Observed:
Conflicts/Issues/Notable Items Observed:
Direct Deposit still doesn't take place when off the Sim's home lot. Household data is inactive when you leave the lot.
Compatible With:
Patch 04/26/2023 1.97.62.1020 / Mac: 1.97.62.1220
Credits
STRINGS INCLUDED:
Dutch
French
German
Italian
Korean
Polish
Portuguese (PT)
Russian
Swedish
TOOLS USED:
Zerbu: Mod Constructor (V4)
Mod Support:
If you are experiencing this issue with this mod, please head over to our Discord server channel: #simrealist-mod-support (https://discord.gg/W8Erfqu).
| | |
| --- | --- |
| Updated | 17 days ago |
| Status | Released |
| Category | Game mod |
| Release date | Oct 10, 2020 |
| Rating | |
| Authors | SimRealist, roBurky |
| Tags | banking, simrealist, Sims 4, snb |
| Asset license | Creative Commons Attribution_NonCommercial_NoDerivatives v4.0 International |
| Average session | A few seconds |
| Languages | Czech, Danish, German, English, Spanish; Castilian, French, Italian, Korean, Dutch, Polish, Portuguese (Portugal), Russian, Chinese (Simplified), Chinese (Traditional) |
| Links | Homepage, Blog, Patreon, Support |
Download
Click download now to get access to the following files:
SimRealist_-_SimNationalBank_3.0.1.1.zip
26 MB
SimRealist_-_SimNationalBank_3.0.1.1 (Portuguese(PT) Version).zip
26 MB