(Public) SNB - Bills
I'm super excited to release the first version of this addition to the SNB mod, Bills. This addition is the initial project offering from our newest Developer, Victor Andrade. I hope you like this addition. We plan to add more features to this soon!
To learn more about our new Developer, check out our most recent blog post: https://www.simrealist.com/post/team-update
Mod Summary
This small add-on will revamp EA's billing system by splitting out Water & Sewer, Electricity, Trash, Cable, Internet, Cellphone and Property Taxes. Each bill creates an adverse effect if not paid.
Mod Guide:
Summary of Changes
0.2.0.0 version of SNB - Bills is the addition of a Home Services setup process where a Simmer can add (for a fee) or remove services their Sim isn't using. This update also adds THREE more bills your Sim will have to pay (Cable, Cellphone and Internet) along with a few small enhancements that were requested.
Home Services Setup
When a Household first moves into a new home, you will have to set up any Home Services (Electricity, Water, Trash, Cable, Cellphone and Internet) that you want your Sim to have. This will be the same issue of Households that were previously using SNB - Bills. Everything will reset to accommodate this change (we will even have a small pop up to warn you again once you get the game/save loaded).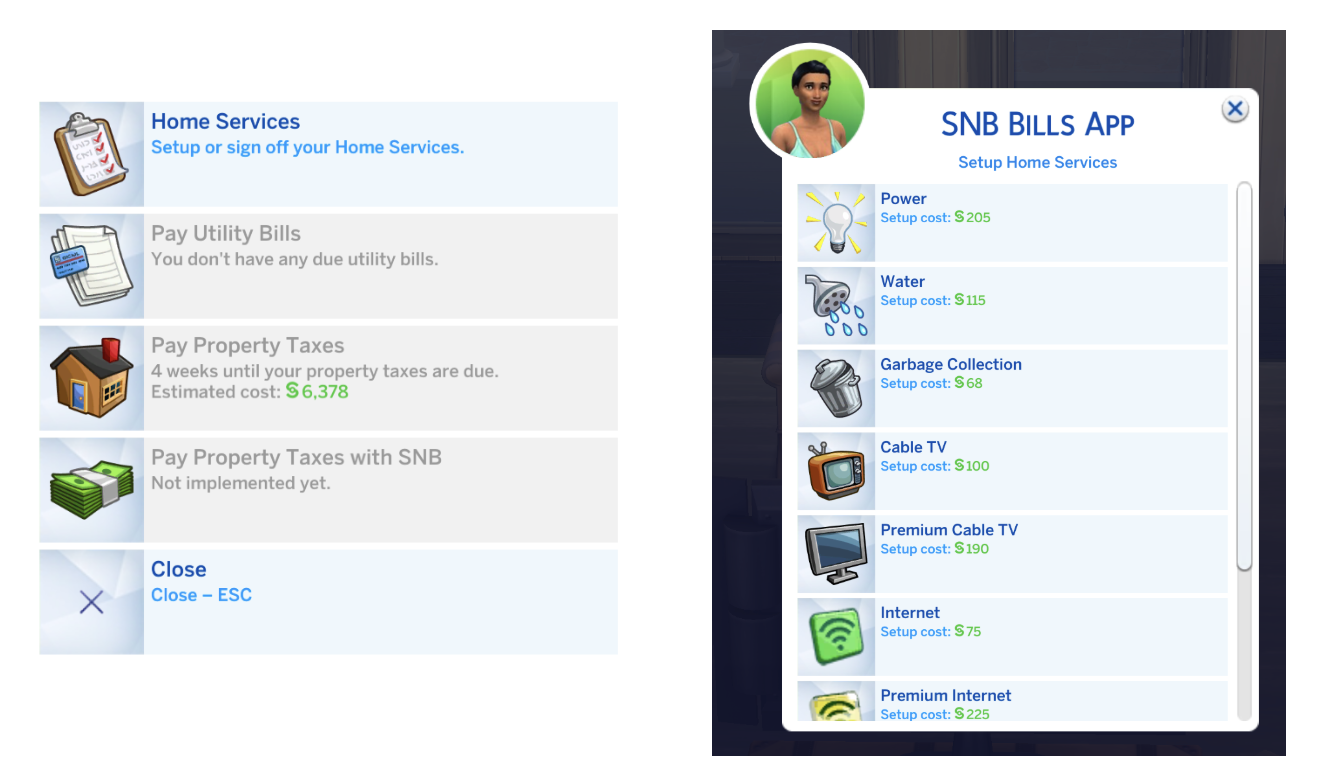 If you should ever change your mind about having a service, you can also cancel them on the same menu.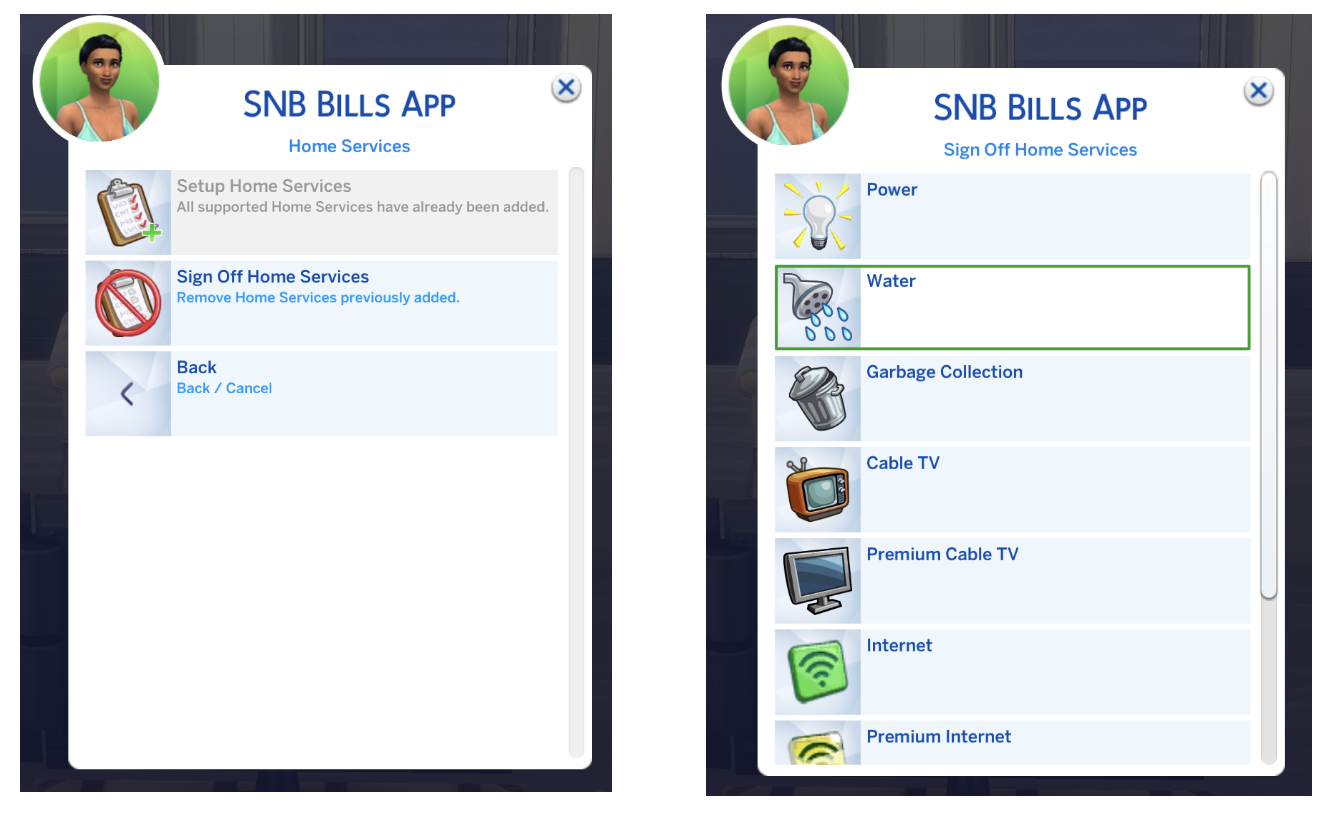 Three New Home Service Bills
CABLE
If you don't set up this service, your Sim will only be able to watch Movies under the assumption that they own those movies. However, if you do want your Sim to have this service there are two options - Basic or Basic + Premium. With Basic your Sim just gets a limited amount of channels, especially if you are just playing on the Base game where all your Sim will be able to watch is the News or Kids Network. With Premium, you get to access to a lot more channels as you might expect. You will need to subscribe to both to get all channels.
CELLPHONE
Another service that requires you to set up before you have the option of using it. Don't worry about your Private Practice, SNB, and SNB-Bill options. Those are still available so that you can still set up your Bills, handle your SNB accounts and go for a checkup like normal. We just shut down everything else from working until you sign up to use the phone.
INTERNET
With this service, your Sim will be able to do online interactions. If you sign up for electricity, you will still be able to complete some computer-based options but anything that relates to online activity will be turned off until you sign up for Internet services. You will also have the option to have Premium speed at an ADDITIONAL cost. This Premium version will give your Sim's lot the Fast Internet trait automatically. You will not be able to add this Lot trait without subscribing to this service and you will not be able to remove it without removing the service. You will need to subscribe to both to get the internet and the benefits of the Fast Internet Lot trait.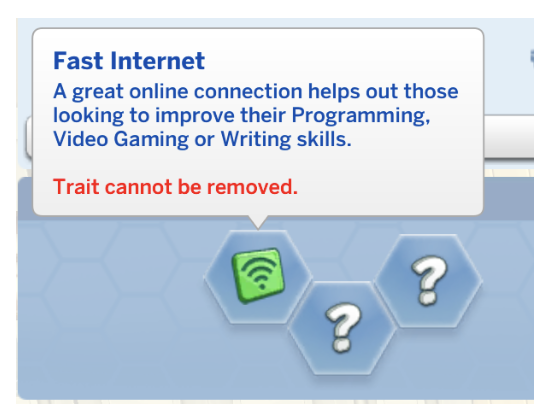 Other Notable but Small Updates
Teens can use the Bills App now
Property Taxes for Rentals (Apartments from City Living) are paid by the Landlord now.
Mod updated from a Tuning mod to a full Script mod which makes this mod compatible with all mods!
Pay bills through the Bill message; You no longer have to get your Sim to open the App. This is a quicker way of paying while they are in the middle of doing something.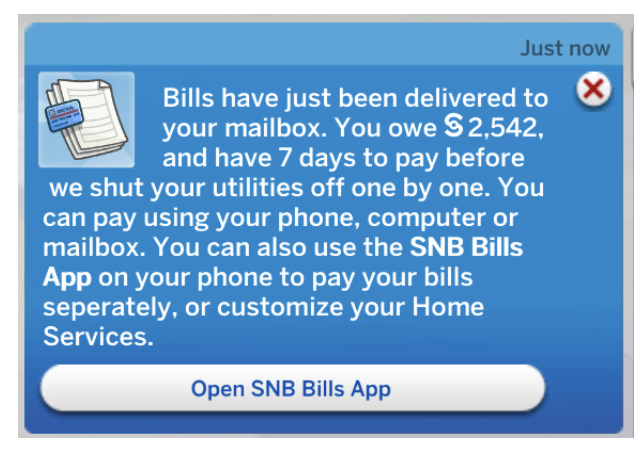 Do I need to activate this mod for it to work?

No. You are no longer able to opt into this. As soon as you load up a save, Bills will be enabled.
I have a suggestion on making this mod even more, where do I leave that suggestion?

Please post your suggestions in our Discord channel - #snb (https://discord.gg/x6bFyNT)
Can I install this mod and only use it for certain families or saves?

No, this mod will automatically activate requiring Simmer input on starting up Home Services.
Do I need to have SNB installed in order to use this addition?
No. The Bills Add-On was initially created as a stand alone addition.
What other features are you looking to add to the addition?

We have a few additions we plan on looking into, which are listed below. However, if there's great interest in this and Patron requests for certain features to be added we will look into adding more in the future.
SNB Mod Integration
Set up Home Services in Packages or All Services at once option
Settings (User Mod Customization)

Child Support Feature (with MCCC or separate)
Autopay embedded into the mod for those that don't use MCCC
Adjust Bill Amounts (with MCCC or separate)

Income Taxes
Homeowner's Insurance and Natural Disasters (tenuous)
Conflicts/Issues/Notable Items Observed:
If you have a mod that utilizes the game resource file 9E6855238398DE94_sims.bills.xml, it will cause your bill service to reset. One notable mod is within LMS's Random Mods => Seasons folder, LittleMsSam_RSM_LoweredThermostatCostsOnBills.package)
Your Sim will still be able to use the toilet when they are not signed up for Water. They will just not be able to flush...
If speakers are playing when the Electricity goes out it will continue to play until turned off. This is an EA bug and not something we plan on fixing with this mod in case it is taken care of in a patch.
If you miss a bill payment, interest will be added to that bill. You don't want to miss a bill.
Long Lifespans will see Property Taxes taken place more often since it is currently set to occur every 4 weeks.
Compatible With:
Patch 01/16/2020 – PC: 1.60.54.1020 / Mac: 1.60.54.1220
Credits
Victor Andrade: SR Mod Developer
Nichole: SR Mod Producer
roBurky & scripthoge (Mod The Sims) for assistance in the development of this additions
Use of BraveSim's Smarter Trash Emptying custom tuning to overwrite the E882D22F!00000000!0000000000003430.Empty_Trash.InteractionTuning file.
Mod Page Wall Paper and Icons by Freepik from flaticon.com
Translators:
Tools Used:
Zerbu: Mod Constructor (V4)
| | |
| --- | --- |
| Updated | 5 hours ago |
| Status | Released |
| Category | Game mod |
| Release date | 21 days ago |
| Rating | |
| Author | SimRealist |
| Tags | banking, bills, simrealist, sims-4-mods, snb |
| Asset license | Creative Commons Attribution_NonCommercial_NoDerivatives v4.0 International |
| Average session | A few seconds |
| Languages | Czech, Danish, German, English, French, Russian |
| Links | Blog, Patreon, Support, Twitter |
Download
Click download now to get access to the following files:
SimRealist_-_SimNationalBank_Bills_0.2.1.1.zip
174 kB